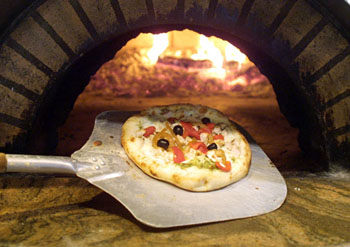 Photograph by George Sakkestad

Meditative Mediterranean: Sunnyvale's Faz is known for its old-country flavors and modern details.

Dazzling Faz

One of the most stylish dining rooms to grace a South Bay hotel complex, Faz makes it all look deliciously simple

By Christina Waters

EVERYBODY'S GOT A SHORT LIST of their most consistent dining places--the places they know they can go and always leave feeling satisfied. Faz is on mine. Quietly glamorous, spacious and comfortable, armed with a mighty kitchen and a staff to match, this place just never disappoints. Last week, even though we arrived at the very end of the dining hour, we were treated like favorite cousins and the kitchen produced a wonderful meal from appetizer platter to voluptuous desserts. The colors of a Mediterranean sunset lend their glow to the multitiered dining arena, cascading around a tiled exhibition kitchen and attractive bar area. Faz spared no expense adorning itself with sophisticated lighting ideas, plush carpeting and floral arrangements even Martha Stewart couldn't re-create.

I always look forward to the bold and satisfying Mediterranean Platter ($9.95) where spice-laden dolmas share top billing with definitive tabouli, babaganouj, myriad exotic olives and hummus worthy of a pasha. Our server seemed happy to accommodate us and quickly brought a flute of serviceable house brut ($6) and an enormous pour of Robert Mondavi Pinot Noir 1998 ($7). A basket of warm pita arrived, which we scooped into the ungodly, sensuous purees of eggplant and chickpeas, and topped with bits of pungent, not-too-salty feta. Dill filled our nostrils from the tabouli and firepower exploded with each bite of pepperoncini. In short, this is a destination appetizer, designed to be shared by two people who want to get to know each other better and who love eating with their fingers.

Andrea Bocelli was busy seducing us with melodies as beautiful as the appetizer. And at exactly the moment we were finished--not too soon, and not a minute later--our waiter produced two entrees that looked, well, good enough to eat.

Jack had ordered one of the house kabob specialties, of intensely flavorful tenderloin of lamb ($17.95). The luscious spit-roasted meat was arranged along a saffron-tinged avenue of basmati rice, opposite a bright row of green beans and crimson bell peppers. A huge roasted tomato punctuated this vibrant dish, whose very existence required another flute of champagne. We both loved this generous entree, but we also grew immediately fond of an order of linguine with sea scallops ($14.95). How they can provide so many huge, moist sea scallops for this price, I'll never know. But there were at least a dozen popping up here and there amid the tangle of perfectly cooked linguine, rosy with sun-dried tomatoes, garlic and a lightly (very lightly) cream-flecked marinara. Pasta heaven, I'd say, and Jack agreed. Pasta, some roast meat, garlic and tomatoes--yes, these are flavors that provide primal satisfaction.

Something sweet to finish isn't a bad idea either, and Faz does lovely desserts. Deciding to indulge in some exotic liqueur with which to accompany our warm apple tart ($5.95), we split a goblet of that wonderful witches' brew, Fernet Branca--an Italian bitters that conjures images of cauldrons bubbling in an ancient Etruscan forest. The bite of the unusual drink--reminiscent of distilled roots with top notes of mint--was the perfect companion for the warm sweet apples and their soft, caramel-infused crust. Though it was moments before closing, the kitchen pulled together a respectable dessert experience. Three generous scoops of unsweetened whipped cream adorned the apple creation, each scoop topped with a huge, deep purple olallieberry, and a few mint leaves. Whatever the behind-the-scenes story, the impression we got-- and that's what counts in tastebud land--was that the kitchen wanted us to have a happy dessert experience, and pulled off a creative presentation to brilliantly achieve that goal. Just writing this works up my appetite all over again for one of those unbelievable dolmas. And the pasta. Maybe I should just move into the Sheraton.

That way I could dine at Faz for every meal of the day.
---
Faz - at the Sunnyvale Sheraton
Address:1108 N. Mathilda Ave., Sunnyvale
Phone: 408.752.8000
Hours: 6:30am-10pm daily
Cuisine: Mediterranean; wood-burning brick oven specialties
Entrees: $13.95-$24.95
Full bar; banquet; outdoor patio
---
[ San Jose | Metroactive Central | Archives ]