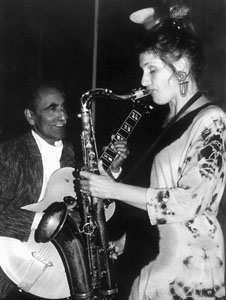 Love Notes: Musical couple Mad and Eddie Duran jam together.





Creative Synergy

Saxophonist Mad Duran channels her artistic energies into music and a partnership on and offstage

By Marianne Messina

AMAZONIAN in both stature and energy, blond saxophonist Mad Duran embodies how a woman gets ahead in a sax man's world: obsessive industry, dollops of creativity and a supportive mentor. Together with her husband, jazz guitarist Eddie Duran (who has backed Barbra Streisand and Pearl Bailey, Benny Goodman and Charlie Parker), Mad runs Mad Eddie Records, for which she writes the liner notes, does the artwork and handles the marketing. On the couple's latest album, From Here to the Moon, Mad plays alto, tenor and soprano saxophones, plus flute. And she still has time for interior decorating.

"I'm a very creative person," she says from her home office. "I've painted every surface space in here an interesting color. My front room is orange, bright orange; it looks like it's on fire, but it's a great room to do the creative thing in."

When Mad graduated from the University of Miami School of Music, her parents told her, as she puts it, "The party's over; go get a job." Duran started as a waitress, taught herself French cuisine, and shortly became a chef. "Not for long," she adds, "because it was too institutionalized. I couldn't get creative. I don't like routine." She ended up running her own catering service, designing menus, setting prices, overseeing a small staff.

At 28, when Mad was debating the course of her future--music or catering--she met Eddie Duran. A generation older, Eddie was already a local jazz legend, and he was playing regularly in San Francisco with the hottest jazz players in town.

"I played for him a little bit and he said, 'Well, you have some talent but you need a lot of work,'" Mad recalls. Eddie also told her she could make a life out of music and that he was willing to help if she was willing to work. That's all it took to send Mad into high gear.

For the next two years, she did nothing but practice. "I couldn't get it fast enough," she says. On From Here to the Moon, a nice sampling of bebop and bossa nova tunes, you can hear bursts of this same creative overdrive in Mad's solos.

Now that the Durans have played together for over a decade, Eddie will say he prefers working with Mad to working solo. Her input helps him hear sounds for his compositions. Likewise, Mad draws inspiration from Eddie's amazing proficiency in the form. In music as well as temperament, Eddie's laid-back ingenuity and Mad's restless drive make them almost perfectly complementary.
---
Mad and Eddie Duran play Stanford's Second Sunday Jazz Series with their quartet, Sunday, June 10, at 7:30 pm, Campbell Recital Hall, Stanford. Tickets are $18-$20. Call 650.725.ARTS.
---
[ San Jose | Metroactive Central | Archives ]