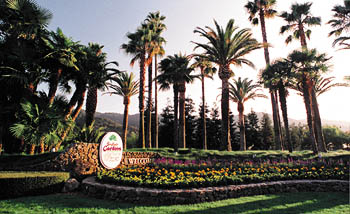 Trunk Show
What's a man with a passion and a million bucks to do? Build an oddly themed theme park, of course.
By Kelly Luker
THEME PARKS for Wild West aficionados. Theme parks for thrill seekers. Theme parks for fish lovers. From Sea World to the Wild Animal Park, almost every twist of nature has been exploited to sell a few tickets, get a few suckers coming through the gates. Almost.
Then along comes Michael Bonfante and his trees. And, apparently, a heartfelt desire to share his branched beauties rather than exploit them.
Twenty years after Bonfante began to dream it, the gates are finally swinging open to Bonfante Gardens, a 75-acre theme park in Gilroy celebrating the arboreal splendors of the world.
But Bonfante, who made his money building up the family grocery business into a 27-store chain called Nob Hill Foods until he sold it to Raley's Foods in 1998, understands that most people may not share his love for urban accents found on every street corner in town. He thought about it, then decided to surround his passion with other people's passions: fattening food, silly rides, animatronic entertainment and lots of opportunities to spend cash. But that's merely the carrot--or corndog--on the stick.
Once folks pass through the gates and fill up on barbecue and soda, figures Bonfante, they might just start appreciating the greenery that surrounds them.
Although the snacks or mascots like Rita Rabbit are not in place yet, most everything else is. Bonfante's marketing person, Pamela Rogers, is happy to wander through this chunk carved out of the Hecker Pass foothills, pointing out the various raisons d'être for the grocery guy's park.
The highlights, scattered between the ponds, gre.enhouse and other plants, are the beloved and world-famous "Circus Trees." Created by an eccentric farmer named Axel Erlandson, the 74 trees were grafted, trained and pruned to grow in bizarre and twisted shapes. After Erlandson died in the '60s, many of his trees began to wither from neglect in the following decades.
Fortunately, Bonfante had caught the arbor bug by the '80s, and arranged to have the 25 remaining trees shipped from their home at the former "Lost World" theme park in Scotts Valley to the future horticultural theme park in Gilroy.
Although Erlandson's curly-cued tree trunks are eye-catching, the weirdly coifed conifers throughout the Gardens are also worth a double take. Imagine if Jean Paul Gaultier cut loose with a pair of pruning shears and arboreal girdles--the result might be trees disciplined to resemble candy canes, icicles, hands and skateboard ramps. It is not topiary, but for the purist, there is plenty of that, too.
Bonfante gives a nod to his Gilroy roots when it came to designing the rides. Kids and youthful adults can get their kicks on the Garlic Twirl, the Artichoke Dip or the Mushroom Swing, or take antique model cars through the South County Backroads, replete with miniature billboards and services stations from days gone by.
The day is blazingly hot, a precursor of summer days to follow, but refreshing breezes blow off the numerous ponds and waterfalls dotting the five gardens that help define the theme park. Subtropicals, annuals, edibles, camellias and favorites of Michael's wife, Claudia, each have their own showplace.
We try to get an interview with the tree lover himself, but Rogers demurs, pointing out that the man behind the vision is too busy working to visit.
"When we say Michael Bonfante is 'building the park,'" explains Rogers, "we mean he's literally building the park."
While the success of Knott's Berry Farm or Great America may elude Bonfante Gardens, it will win loyal followers for its offbeat, hometown charm. It may be one of the few theme parks in the world neither conceived nor owned (yet) by a huge conglomerate. And despite its rather substantial entry fee ($28.95 for adults), Bonfante Gardens has been set up as a 501(c)(3) community charity.
"The idea is to inspire people to love horticulture," says Rogers.
And inspiration always seems to come easier with a corndog clutched in the hand.
---
Bonfante Gardens Theme Park, 3050 Hecker Pass, Gilroy, opens to the public June 15. For more information, call 408.840.7100.
---
[ San Jose | Metroactive Central | Archives ]