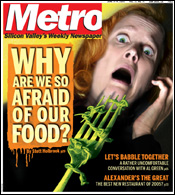 For the Week of
June 8-14, 2005
Cover Story: The Taste of Fear:
Eat, drink and be very afraid. As the psychological fallout from the recent Wendy's debacle proves, being frightened of our food is the American way. Does it really have to be like this?
Fingered by Folklore: Urban legend history points the way toward a healthy skepticism of food scare stories.
News: Hardware Warriors:
An unusual link to Silicon Valley's cultural and technological history, the Electronics Flea Market is practically a subculture in itself.
The Fly: Fixing a Hole.



Silicon Alleys: Flush With Success.
Techsploits: Not Born Violent.
Rev: Ethanol Dreams: Blume has been into ethanol since the early 1980s, when he and friends used to gather day-old donuts and boil them down to extract the sugar.



River Run: 'Vanishing Worlds' show at Cantor preserves ritual artifacts of endangered Amazonians.



Wizard's Vision: Master animator Hayao Miyazaki looks back on a world speeding to war in 'Howl's Moving Castle.'
Like Waiter For Chocolate: No good deed goes unpunished in 'Après Vous.'
Kill Me, Killer: French hybrid slasher 'High Tension' takes a long, talky low road to bloody payoff.
Pooch: 'Lords of Dogtown': the chairmen of the 'boards, fictionalized.
Liman's Lemon: Brad and Angelina shoot blanks in seriously unfunny assassination comedy 'Mr. & Mrs. Smith.'



True Grit: When Al Green is on a roll, watch out.
Rhinestone B-Boy: Hip-hop's illest party rocker Z-Trip shifts gears.



The Mark Of Isabel: Novelist Isabel Allende cuts a new swath through the myth of Zorro.



Alexander's the Great: New East-West steakhouse could be the best new Silicon Valley restaurant of the year.
Live Feed: Food for Man and Beast.
5 Places to Love: Halal Restaurants.



Ready, Set, Godot: Avner the Eccentric practices the art of existential miming in his new show, 'Exceptions to Gravity.'
A Current Story: SJ Stage and Electric Company Theatre cut through the static in 'Brilliant,' the high-energy tale of inventor Nikola Tesla.



Please don't forget to write! Metro welcomes letters. Like any great work of art, they should be originals — not copies of letters sent elsewhere. Include address and daytime phone (for verification purposes only). Letters may be edited for length and clarity or to correct factual inaccuracies known to us. Postal: Metro Letters, 550 S. First. St., San Jose, CA 95111. Fax: 408/298-0602. Email: letters@metronews.com. Emailers, please include name, city of residence and phone number. Letters printed will list email address unless otherwise specified. Letters to the editor are not currently published in the online version of this paper.