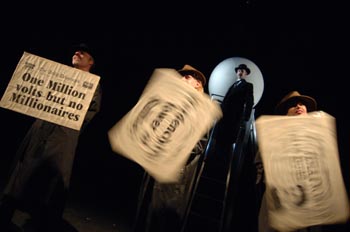 Ripped From the Headlines: Nikola Tesla (Jonathon Young, rear) makes the front pages thanks to sensationalizing reporters in 'Brilliant!' at San Jose Stage.

A Current Story

SJ Stage and Electric Company Theatre cut through the static in 'Brilliant,' the high-energy tale of inventor Nikola Tesla

By Marianne Messina

VANCOUVER-BASED Electric Company Theatre's Brilliant! The Blinding Enlightenment of Nikola Tesla is powered by a chain-reaction of mixed-media scenes, dosing the audience with that Tesla state of mind: concepts fly fast, everything clicks and you're high on ideas. In one act, the production (a joint project with San Jose Stage Company) shuttles us through several aspects of the eccentric life and brilliant mind of scientist and inventor Tesla (Jonathon Young), also taking on related social issues such as the relationship of government or capitalism to innovation.

The production is high-spirited (some scenes are accompanied by technobeats) and creative. When Tesla friends Robert and Katherine Underwood-Johnson go row boating, we see Kim Collier (Katherine) and Kevin Kerr (Robert) wearing full-sized cutout boat hulls around their waists, stepping so their shifting hips create a wave effect. One clever scene imitates pre-talkies newsreels. Bodies make erratic, high-speed movements; white lighting flickers (Adrian Muir, light designer; Alfred H. Rudolph, operator); dramatic piano music plays; and newsreel titles like "Tesla Unlocks the Secrets of Mother Earth" glow on a screen.

Two onstage projection surfaces (one scrim, one waist-high sphere) produce cinematic effects (video design by Amos Hertzman). Title credits appear on the screen after the introductory scene, as if to usher in an epic film. Other times, the screens barrage the audience with hypertext—dates and lists of Tesla inventions flash behind the Voice of the Future (Anthony F. Ingram) as he narrates more factoids, like how the government seized 300,000 of Tesla's "documents, patents and plans," within days of his death.

In a way, the play compartmentalizes Tesla's life (1856-1943). Scenes flash by us—of his brilliance one minute, his enemies the next, his failed relationships the next. The Robert and Katherine Underwood-Johnson scenes show his difficulty relating to average people. (Tesla prefers the company of pigeons: "I love this bird as a man loves a woman. And she loves me.")

The Thomas Edison (Anthony F. Ingram) scenes look at the inventive process and at professional rivalry. Voice of the Future brings out social questions: for example, should a gifted inventor "pursue the market or go deeper into [his] research?" Uncertain chronology and data-overload conspire with this fragmentation to send anyone who doesn't have a solid background in science history scrambling to the seven pages of program notes on Tesla's life (put together by dramaturg Johnny Miller) looking for coherence.

But once you know that Tesla spoke eight languages, had eidetic memory and impressed his elementary school teachers with calculus, you have the luxury of accessing the play's depth. Once you realize that the man was simply one of those gift boxes that arrive periodically on the planet's doorstep, the play asks, what do we do with the gift? The sad revelation that comes out of Brilliant! is not that a man ahead of his time is a lonely thing, but that the world moves so slowly it can never take full advantage of such exceptional people. A century later, medical innovation is still subject to the capitalistic myopia of J.P. Morgan, who backed out of Tesla's "broadcast power" project because he saw no way to meter and charge for it; automotive fuel innovation labors under the same short-sightedness as Edison's when he refused to retool his infrastructure to accommodate Tesla's more efficient design. Brilliant! never lets its inventiveness slip into the self-conscious gimmickry of much that is deemed "experimental." While remaining fresh and passionate, it provokes thought and wonder.
---
Brilliant! The Blinding Enlightenment of Nikola Tesla, an Electric Company Theatre production presented by San Jose Stage Company, plays Wednesday-Thursday at 7:30pm, Friday-Saturday at 8pm and Sunday at 2pm through June 26 at the Stage, 490 S. First St., San Jose. Tickets are $20-$42. (408.283.7142)
---
---
Send a letter to the editor about this story to letters@metronews.com.
---
[ Silicon Valley | Metroactive Home | Archives ]