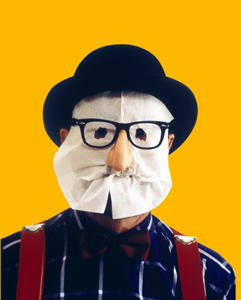 Photograph by Dixie Sheridan

The Silence of the Mime: Silence is golden for body artist Avner the Eccentric.

Ready, Set, Godot

Avner the Eccentric practices the art of existential miming in his new show, 'Exceptions to Gravity'

By Marianne Messina

IT MAY SEEM ODD that a theater company would conclude its season with a mime act. Of course, Avner ("The Eccentric") Eisenberg's Exceptions to Gravity, which starts previews this Saturday at San Jose Repertory Theatre, is more like a mime/clown/juggling act. And even the International Conjurors have spotted ingenious morphs of standard magic tricks in Avner's show.

Still, most people associate theater with words, and Avner generally operates in the silence of the mimes, although, as he admits, "I don't think of it as a silent show, and people aren't particularly aware that it's a silent show."

Avner's visual conundrums and body contortions fit nicely with vaudeville clown-sounding music—like a slippery clarinet over a tubby tuba bass.

"It's like going to see [Marcel] Marceau perform," Eisenberg says. "I don't think there's any place in the show where talking would be a more efficient way to communicate—I don't explain the theory of relativity."

Whether he's ducking from the crashing sticks of a runaway juggle or delicately using chopsticks to feed himself a napkin, Eisenberg sparks the imagination. He makes you see things that aren't there.

But his show is not without theme, plot and character—all the things we have come to expect from theater. In fact, Avner's favorite description of his show is "Waiting for Godot with tricks," a comment made by an Irish critic while the show was in Dublin.

"I love Waiting for Godot," says Eisenberg. "It expresses the sort of existential nature of the human condition." And he believes that Exceptions to Gravity is working through similar themes. "The show is all about waiting and, in a kind of subtheme, the things we do to avoid responsibility."

Avner almost seems to say that the words in most theater can sometimes function as a crutch. "In terms of acting theory," Avner explains, "the body always tells the story, and the words just repeat what the body is already saying. And this really comes from my training with my teacher, Le Coq. It's very much a physical rather than psychological approach."

Jacques Le Coq stressed immediacy, improvisation and acute sensitivity to the natural patterns of movement. When teaching workshops on "eccentric performing," Eisenberg, like Le Coq, is more interested in bringing out the character of the performer than in obsessing over skills.

He likes to tell the story of the student who couldn't juggle, but who produced the best juggling routine in her class because she made the balls project individual personality.

Avner tries to build relationships with his objects—household objects like brooms and chairs. "I've never been a fan of constructing something just to tell a joke. I'd much rather take something ordinary and, in dealing with it, have it tell its own joke by acting in a way that surprises."

As for improvisation, Avner the Eccentric will snap up any little sound or action his audience gives him and work it into the act—coughers and latecomers are two of his favorite prey. He loves to bring an audience into the act and often tumbles into the house to draft participants. That seems to be fair warning: Well before the show is probably a good time to muzzle the cell phone.
---
Exceptions to Gravity, a show by Avner the Eccentric, presented by San Jose Repertory Theatre, previews Saturday at 8pm, Sunday at 2 and 7pm, Tuesday at 8pm, Wednesday at noon and 8pm and Thursday at 8pm (June 11-16). The show opens June 17 at 8pm and runs through July 17, at 101 Paseo de San Antonio, San Jose. Tickets starts at $22-$52. The opening night show also features a reception at Eulipia Restaurant at 5:30pm for $90. (408.367.7282)
---
---
Send a letter to the editor about this story to letters@metronews.com.
---
[ Silicon Valley | Metroactive Home | Archives ]