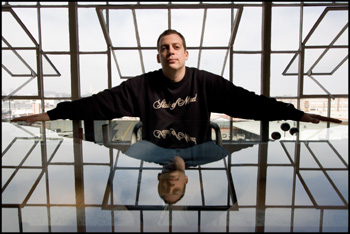 Tripping: When will a DJ record a studio album as good as a live set?

Rhinestone B-Boy

Hip-hop's illest party rocker Z-Trip shifts gears

By Todd Inoue

ON THE NEW Motown Remixed CD, high profile DJs and producers raid the Motor City label's vaults with superb results. MOCEAN WORKER takes RARE EARTH's "I Just Want to Celebrate" back to the future. EASY MO BEE recalibrates the TEMPTATIONS' "Just My Imagination (Running Away With Me)" to the streets of New York. With DJ JAZZY JEFF, DJ SPINNA, DJ SMASH and GREEN LANTERN aboard, Motown Remixed is essential summer listening.

One of the standouts is DJ Z-TRIP's restitching of the JACKSON 5's "I Want You Back." Z-Trip isolates and layers the song's golden elements—the guitar riff, the tambourine, a childish Michael vocal, the greasy bass line—and then installs a breakbeat that recasts the original bigger than before.

"I Want You Back" is an excellent example of what makes Z-Trip such a great DJ. His sets highlight a subversive connection of styles, an intuitive sense of timing and deep knowledge of genres. He has shown this in the beginning on his rock-meets-rap track "Rock Star" on the Bomb's Return of the DJ compilation. His coming-out party, Uneasy Listening, with DJ P showed Z-Trip in a spirited vortex—blending PINK FLOYD's "Run Like Hell" over a breakbeat, MADONNA's "Like a Prayer" spinning on top of the INCREDIBLE BONGO BAND's "Apache." Even METALLICA's "For Whom the Bell Tolls" is spliced with MIDNIGHT OIL's "Beds Are Burning." At the time, about five years ago, this all-vinyl, limited-edition CD was the shit. Now every DJ with a ProTools program and DSL line thinks they're Joe Mashup. Z-Trip does it cleaner, smarter and with heart.

Z-Trip recently released his first major-label studio album Shifting Gears. There are a few burners on here. "Listen to the DJ" with JURASSIC 5's ZAAKIR is like an old CASH MONEY AND MARVELOUS track. "Take Two Copies" is solid flow and cuts. There is a gang of guests on here—BUSDRIVER, MURS, SUPERNATURAL, Linkin Park's CHESTER BENNINGTON, even Palo Alto rapper LUKE SICK. It's a good hip-hop album that should appeal to "Scion-hop" heads and Linkin Park fans.

If there is a twinge of disappointment, it is that Shifting Gears cannot compete to Z-Trip's DJ sets. Fans will go through all manner of hoop-jumping to find live MP3s or to see a set (which Z-Trip will do at LIVE 105 BFD this Friday). What's missing on Shifting Gears is the spontaneity, the intangible moments that produces so many "a-ha" moments during a typical Z-Trip DJ set. Shifting Gears is the product of multiple takes and months of fine tuning and sample clearances. That equals a sterile environment, not fitting of someone who feeds off unpredictability. DJ Z-Trip is far more effective as the primary narrator, not the backup to MCs. I like Shifting Gears, but I love Uneasy Listening, Live in LA, the Anti-War Mix and the Live at Uprock CDs and MP3s better. And best believe I'll be staking out a spot for his set at Shoreline on Friday.

Motown Beatdown

On a connected note, DJ SMASH is touring behind the Motown Remixed album. The tour comes to San Francisco's Pink on June 9. ... This weekend, THE RECORD MAN in Redwood City presents its annual parking lot sale, at which more than 35,000 vinyl records will be on sale for $1 each. The digging runs from 9am till 3pm on Saturday and Sunday, June 11­12. Visit www.recordman.com for info. ... And a shout out to local FINGERBANGERZ DJ GOLDEN CHYLD, who was tapped to open for Z-Trip on his upcoming tour, which kicks off this July.
---
Send a letter to the editor about this story to letters@metronews.com.
---
[ Silicon Valley | Metroactive Home | Archives ]