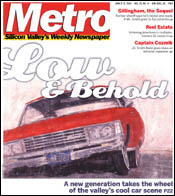 For the Week of
June 9-15, 2004
Cover Story: Low & Behold:
A new generation takes the wheel of the valley's cool car scene.
Lowrider for Life: Marcos Gaitan tried to get out, but his love of the auto kept pulling him back in.
News: Dawn of the Dead
Vacant for four long years and once targeted for demolition, downtown's largest cinema space will return June 18 promising to be better than ever.
The Fly: This week's political bites.
Coyote Ugly: Why is the 'Mercury News' calling the city's vision for Coyote Valley sustainable when it isn't?



Biter: Looking for reality at 'Wired' magazine's NextFest.
Techsploits: Disasters wrack the pseudoscientific world.
Rev: My friends and I arrived in our city car, tattooed with bumper stickers but otherwise shiny clean.



War of the Words: 'Control Room' goes behind the scenes as Al Jazeera covers the Iraq war.
Short Cuts: The Ann Arbor Film Festival Tour arrives at KFJC—weird, strange and beautiful work on display.



Big Willie Style: How salsa gorda is re-energizing a new generation to tropical dance music and giving recognition to veteran bandleaders like Willie Rosario.
Aural Fixation: Dashboard Confessional incites a cathartic purging of demons at the Event Center.
Father's Day: Local bluesman J.C. Smith rejuvenates a family tradition.
Prodigy Power: Symphony bids farewell to the Center for the Performing Arts with sensational young soloist.
Club Life: Nova Alliança Hall in San Jose.



Bread Winner: Pulling the tablecloth from under San Jose Coffee Shop's split personality.



Rubble The Right Way: San Jose Stage Co. goes back in time for 'Ug: A Stone-Age Musical.'



Please don't forget to write! Metro welcomes letters. Like any great work of art, they should be originals — not copies of letters sent elsewhere. Include address and daytime phone (for verification purposes only). Letters may be edited for length and clarity or to correct factual inaccuracies known to us. Postal: Metro Letters, 550 S. First. St., San Jose, CA 95111. Fax: 408/298-0602. . Emailers, please include name, city of residence and phone number. Letters printed will list email address unless otherwise specified. Letters to the editor are not currently published in the online version of this paper.