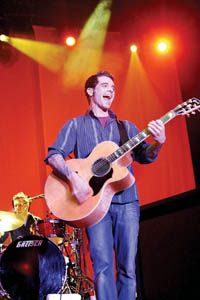 Photograph by George Sakkestad

Dear Dashboard

Dashboard Confessional incites a cathartic purging of demons at the Event Center

By Sarah Quelland

IT LOOKED LIKE the 2004 version of the Summer of Love or an indie-rock fashion show last Thursday (June 3) inside the SJSU Event Center. A couple of young girls done up like extras on an '80s street movie (think Tuff Turf) pranced around in high heels working the room with a sign promising "Free Kisses," which were collected by more than a few people. Inspired by their success, a group of guys began sporting their own sign that read, "Girls Free Kisses" but no takers were spotted. Groups of young people and young couples were dressed to impress for one of the concert events of the summer: Dashboard Confessional headlining the Honda Civic Tour. With Val Emmich, the Get Up Kids, Thrice and Dashboard, the Event Center was the place to be Thursday night for anyone in their teens and early 20s.

Dashboard founder and frontman Chris Carrabba may wear his heart on his sleeve, but at Thursday's show he proved that just because he's sensitive, it doesn't mean he's weak. One song into his set, which opened with "Swiss Army Romance," he stopped to retaliate against aggressive Thrice fans who were taunting him. "You're real brave out there with your middle fuckin' finger," he said angrily, taking off his guitar, stepping back and casually taking a drink of water. "Come on up here, tough guy. Come on. Do it. Let's go. Let's go!"

It was a little surreal seeing the clean-cut singer/songwriter all riled up and ready to rumble. Almost unbelievable, really. As the conflict continued, Carrabba assured his fans, "We'll get to the show in a second, I promise you." After several minutes passed, without any action, Carrabba relented. "As it turns out, I'm a pussy, but this guy's not brave enough to say it to my face," he said, resuming the concert.

The rest of the night continued without incident as Carrabba and his band mates played no fewer than 20 songs for the crush of fans on the floor and the folks that sat rapt with attention and admiration in the stands. One of the rituals of a Dashboard show is crowd participation, and throughout the night, Carrabba would stop singing and listen to the chorus of voices loudly singing his words to him. "You guys sound amazing. Thanks for singing along," he said after "Rapid Hope Loss."

Dashboard hit the mainstream consciousness with its latest, A Mark, A Mission, A Brand, A Scar (Vagrant Records), and the group played about half that album, including "As Lovers Go, "Carry This Picture," "Bend and Not Break," "Am I Missing" and "So Beautiful." As enjoyable as the new material is though, early fans still wanted early songs. After "The Places You Have Come to Fear the Most," Carrabba asked the crowd, "So what's it gonna be, old or new?" The overwhelming, resounding response was "OLLLLDDD!!!!" so the band launched into "Saints and Sailors" off 2001's The Places You Have Come to Fear the Most.

Following a new piano ballad titled "So Long, So Long" and "This Brilliant Dance," which Carrabba dedicated to Thrice, the firefly effect of hundreds of cell phones lighting up could be seen from a bird's-eye view when the band started "Screaming Infidelities." More than just the fans inside the Event Center were witness to Carrabba's ache as he sang "Well, as for now I'm gonna hear the saddest songs and sit alone and wonder how you're making out / But as for me, I wish that I was anywhere, with anyone, making out."

A spirited clap-along accompanied "If You Can't Leave It Be, Might as Well Make It Bleed" and the band gave the audience a slight breather before returning for the encore. During "The Best Deceptions," Carrabba took the opportunity to advocate safe sex to his fans. "Have sex. It's fun," he told them. "Wear a condom. It's smart. Don't die."

Dashboard ended the night with "Vindicated," a song on the Spiderman 2 soundtrack and, Dashboard's biggest single to date, the sweet, joyous and lusty "Hands Down." "You guys have been amazing," Carrabba praised the crowd. "Have fun this summer and take care of each other."

HOT TOPIC: The Pacific Art Collective presents a PAC Session this Saturday (June 12) at Johnny V's with live music by 9 Red Sun, Kennedy Heights, Nuralisis and Ted Schram plus live painting, a spoken word open mic and various DJs. Visit www.pacificartcollective.com.
---
Send a letter to the editor about this story to letters@metronews.com.
---

Dashboard Confessional Photo Gallery
Photographs by George Sakkestad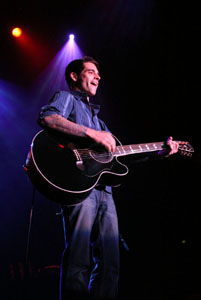 Dashboard Confessional frontman Chris Carrabba gets ready to roll.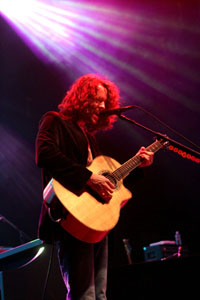 Guitarist John Lefler gets caught in the head lights.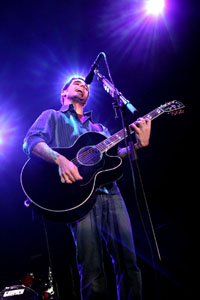 The high beams hit Carrabba.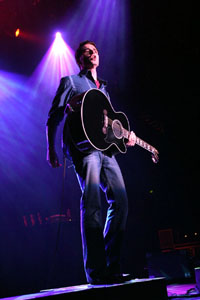 Carrabba puts on the brakes.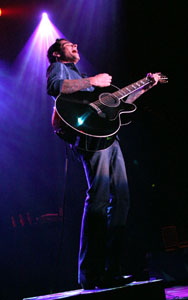 Carrabba drives the show forward.
[ Silicon Valley | Metroactive Home | Archives ]