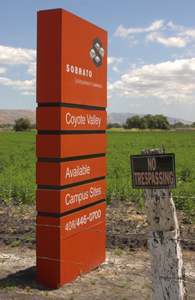 Photograph by Dave Lepori

More, More, More: Like it or not, a large portion of the Coyote could soon be home to tons of concrete and steel.

Coyote Ugly

Why is the 'Mercury News' calling the city's vision for Coyote Valley sustainable when it isn't?

By Najeeb Hasan

DEVELOPING COYOTE VALLEY, the last relic of San Jose's rural past, has become the next big thing in the city. Coyote Valley, slated to accommodate 50,000 jobs, 25,000 homes and upward of 70,000 residents, will be the city's last major project—Santana Row, dozens of times over. New York may be the city that never sleeps, but San Jose seems destined to be the city that never stops building, a municipality well-versed in pulling rabbits out of a bottomless development hat.

Indeed, after a portion of the valley's 6,800 acres narrowly escaped the not-so-sexy prospect of becoming yet another high-tech campus when Cisco bailed out of building its headquarters there three years ago, city planners are now gushing about planting an entirely different development philosophy in the valley's soil. Yet eyebrows do tend to raise when a city can put on its stupid-growth hat one day and a smart-growth hat the next.

The mantra for the newer, smarter Coyote Valley development has been to create a community where "people live, work, learn and play." Words such as "historic," "unique," "vibrant" and "balanced" are bandied about to describe the seemingly inevitable future for the valley. The bottom line is to make the development the only place in the South Bay where residents don't have to rely entirely on their cars.

And so, the San Jose Mercury News, guardian of one of the most unbalanced cities in America, could perhaps be excused for unabashedly extolling the virtues of developing the valley in an editorial published last month. To the Mercury News, developing the valley was something that would be "unprecedented" in the nation, an undertaking akin to planning a new town that, designed "from scratch," could avoid "the traffic jams and suburban sameness typical of most Silicon Valley cities today."

Easier praised than done, no doubt, but the problem with the Mercury News editorial, which clearly supported the city's latest vision for Coyote Valley, was not in its advocacy but in its facts.

Mirroring the city's selling point that the valley will be a community in which people live, work, learn and play, the Mercury News wrote that Coyote Valley "has to have 25,000 homes [under city guidelines], enough for everybody who works there to live there."

Herein lies the problem—a problem the daily would not return calls to explain. While the city has made general claims that any eventual development should give approximately 50,000 workers the choice to be able to live in the valley itself, city planners have never specifically indicated that 25,000 homes will do the trick. On the contrary, Salifu Yakubu, the city's lead planner for the Coyote Valley project, says the city is planning to use some of the 50,000 jobs in Coyote Valley to rectify San Jose's jobs-housing imbalance—meaning workers filling those jobs will drive into Coyote Valley from other parts of San Jose. Yakubu also says the city has yet to complete an analysis to find out how many of those 50,000 workers could fit into homes planned for the valley. Generally speaking, there are 1.6 workers for every home. If the Coyote can handle 50,000 workers, it will need 31,250 homes from which workers can walk from.

Surplus Housing

Meanwhile, the Greenbelt Alliance, a regional land-use group, conducted an analysis released last year as an appendix to its vision for Coyote Valley. According to the group's figures, which factor in an additional 3,000 service workers the city hasn't considered, the city-set target of 50,000 jobs (plus the additional service jobs) will require at least 33,000 homes, a full 8,000 more than the 25,000 homes the city has targeted—the same 25,000 homes the Mercury News wrote would be "enough for everybody who works there to live there." The fear is that the people on the outside looking in will be clerks, maids and other service-sector workers.

"The more fruitful conversation would be to talk about the type of housing that we're going to create, says Jeremy Madsen, a Greenbelt Alliance field director. "Can it be affordable to a wide spectrum of people? There needs to be a range of housing types, for everybody from the CEO to the guy cleaning the office."

Among Madsen's concerns is that the city won't set aside enough acreage for parks, greenways and other open spaces to preserve the rural character of the Coyote. "We'd like to see a design that adheres to the principles of new urbanism vs. tract homes, strip malls, office parks and the other types of sprawl people are, frankly, sick of. It's unsustainable and doesn't serve a social need."

Madsen says so far the city seems to be on track to build a community based on the concepts of new urbanism—planner-speak for a pedestrian-friendly neighborhood. "All the right words are being said," Madsen says. "But we'll learn a lot more June 12." That's the date the city will reveal which of three scenarios it will follow to develop the Coyote.

Meanwhile, some onlookers are concerned that the city's only daily, once a staunch advocate of balanced growth, has now adopted a position that seems to gloss over crucial evidence key to the Coyote's development.

"With whatever housing they put in Coyote Valley, they should do a good job," says Brian Schmidt, a legislative advocate for the Committee for Green Foothills. "[The city's] not responsive to the central question: Is it smart growth to create demand for 10,000 housing units and not satisfy it? When you analyze it, they're saying, Don't look at that; we have surplus housing in the rest of San Jose. Well, look at the Bay Area. We don't need to create a greater demand for jobs than for housing. We would just export that demand elsewhere and so too bad for those other places. What does San Jose want to do with its future? Does it want to create sprawl? Because that's what this is doing to San Jose and its surrounding communities. When they say it's not a project that's going to create sprawl, that's wrong. This project will create sprawl. That's the central issue, that's the central thing that the Mercury News got wrong. It's absolutely incorrect when they said that 25,000 homes are enough to provide for housing demand."

City planners, quite naturally, downplay the potential housing shortage for Coyote Valley, saying precise numbers have not yet been set, and defend the Mercury News editorial. "It's clear when the City Council had the vision [for 50,000 jobs and 25,000 homes], they were going for a much more urban and transit-oriented community," says Laurel Prevetti, the city's deputy director of planning. "That's the point. That's what the editorial was about. If people want, they can work there. We want a critical mass of population in the area. This is San Jose's last big green field. We better use it better than we have in the past. Our council has pretty high expectations to do a stellar plan. We want a mixed-income community that's basically as self-contained as possible and also connected to San Jose. It's all how you build that community. That's the essence of why those numbers are important."
---
Send a letter to the editor about this story to letters@metronews.com.
---
[ Silicon Valley | Metroactive Home | Archives ]