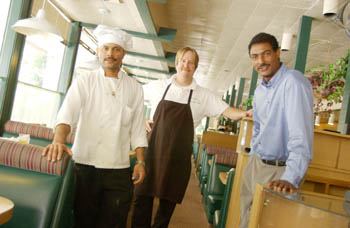 Photograph by Dave Lepori

Multi-Culti: Owner Sahlu Okebato (right) and staff have created a menu with Ethiopian food on one side and American food on the other.

Bread Winner

Pulling the tablecloth from under San Jose Coffee Shop's split personality

By Traci Vogel

IN ETHIOPIA, people eat their tablecloths. This bit of culinary sleight of hand is made possible through the magic of teff, the grain used to make injera, the spongy pancakelike bread on which Ethiopian food is served. Traditionally, injera (pronounced "en-jair-ah") is served draped over a wicker hourglass-shaped table, and diners tear pieces of it off and use it to roll up the bean stews and meat dishes. High in fiber and protein, low in fat and nearly gluten-free, teff is making inroads in the United States at health food stores.

At San Jose Coffee Shop, the injera rests on something like a pizza plate. Cultural dissonance hardly fazes the owners of this friendly restaurant; Sahlu Okebato moved from Ethiopia to the Bay Area when he was a teenager and graduated from San Jose State University with a degree in electrical engineering before taking over the coffee shop space attached to the Super 8 motel along the Alameda. With his sister in the kitchen, Sahlu created a split menu, featuring both American diner food and traditional Ethiopian fare. The restaurant décor itself sports a dual personality—the front room decorated with a distinctly Denny's bent, with a counter and red vinyl booths, and a backroom decorated more formally with tables. The second section has signage ordaining it the "Queen of Sheba" room, which is what Sahlu is considering renaming the entire restaurant. The complete menu is available in either room.

My guest and I sat in a booth in the front room, and although the American menu looked lovely in an American way (Philadelphia Cheese steak sandwich, $7.95; large sundae in tulip glass, $3.50—not to mention the breakfast food), we were there for the Ethiopian food. We were a little wary; both of us have had bad experiences at Ethiopian restaurants. The food can be lip-numbingly spicy, as bland as baby food or just plain off-puttingly mysterious. Almost all of the dishes are served up as stews, and some traditionally call for as many as 12 different spices, so figuring out what one is rolling up in one's injera requires a little detective work.

Sahlu was our detective. After we told him we wanted to try a little bit of everything, he directed us toward a sampler plate, the Queen of Sheba Kitfo ($10.99). (An all-vegetarian sampler is also available, $7.99.) I ordered a Coke ($1.50) to fortify myself against all the unknown, but later wished I would have tried the Ethiopian honey wine (Nebit Tej, $4.50 per glass) or one of the Ethiopian beers, both of which I have heard are delicious. (Another drink possibility is the Ethiopian coffee, which is strong like espresso and can be ordered in individual servings or in a traditional pot for four or six people: $10 for four people, $15 for six.)

When the kitfo arrived, Sahlu patiently pointed out several times what each dish was. The dishes are all served atop one large injera. I tried the most familiar-looking one first: the atakilt wot, simmered cabbage with sliced carrots and potato chunks, tender and delicious. Emboldened, I aimed my injera toward the yemisir wot, a split red-lentil stew, the spiciest of the wots ("wot" is the generic name for a hot spicy stew). I also enjoyed the yeabesha gomen, collard greens steamed with garlic and chilies. A delicious way to get one's greens.

My favorite dish turned out to be yebege tibs, a lamb dish in which the meat arrives falling off the bone in a sauce of onions, green peppers and garlic (order it "juicy"). Stewed to tenderness, the lamb bones yield both meat and marrow, deliciously flavored.

Another standout was the doro wot, a chicken leg simmered in berbere sauce. The dark sauce basted the chicken with a rich, currylike complexity which, when eaten with the house-made "cottage cheese"—really more of a very mild feta—took on a velvety texture.

Don't be afraid to experiment at the San Jose Coffee Shop. Sure, the club sandwich on the American side may be good, but trust me—you want the doro wot.
---
San Jose Coffee Shop
Address: 1860 The Alameda
Phone: 408.294.4313
Hours: 6am-10pm Sun-Thu, 6am-11pm Fri-Sat, bar open until 2am
Cuisine: Ethiopian and American
---
---
Send a letter to the editor about this story to letters@metronews.com.
---
[ Silicon Valley | Metroactive Home | Archives ]