McHugh: Friend in deed.

The Fly

Buddy Buddy

County supervisors would give themselves broad new powers to dispense with public process in filling vacancies for elected offices under a proposal slipped onto Tuesday's agenda at the request of board chair Pete McHugh. The item, drafted by Assistant County Counsel Debra Cauble, cleverly suggested that "If the Board determines that circumstances require an immediate appointment from among qualified persons already known to the Board, then the Board may make an appointment based upon the nomination by any Board member at any meeting" at which the subject has been agendized. If approved, the supes could ignore such publicly spirited annoyances like published notices of vacancies, taking applications, conducting interviews and having candidates answer questions at a public meeting. Instead, they could appoint one of their friends to be the next district attorney, assessor or sheriff. If approved, a majority of three people, without much notice, would be able to determine who controls a large, well-armed organization, sets the tax rate on homes or decides whether to seek the death penalty against accused criminals. The proposal to make democracy more efficient by eliminating public involvement has been deferred to the June 22 meeting. McHugh says he would consider eliminating the appointment without application provision.

Gillingham's Second Coming

The timing of the fast-track appointment proposal is probably not coincidental given the Schwarzenegger administration's interest in appointing Sheriff Laurie Smith to head up the California Highway Patrol. With an ever-growing conga line of wannabe Smith successors, supervisors have a rare opportunity to name someone to a powerful independent position until an election is held. "We can appoint someone who's not going to run for the position," Supervisor Jim Beall observes. "Or we can appoint someone to give them a leg up so they can run in the election as acting sheriff." In contrast to McHugh and Supervisor Blanca Alvarado, who are good bets to stack the deck in favor of Deputy Sheriffs' Association strongman Jose Salcido, Beall says he'd like to "make it as evenhanded as possible" by appointing someone who pledges not to run. "I'm sort of pro-election," Beall hints. If two colleagues agree with him, they need look no further than Smith's predecessor, Chuck Gillingham, whose life revolves around golf and grandchildren since turning in his key card a month ago as H.R. boss at Sunnyvale-based cell-phone chip maker Maxim Integrated Products. Gillingham knows the law-enforcement job pretty well since he spent three decades with the department, including 10 in the top slot. Gillingham, like many retired chiefs on the rent-a-chief circuit, could double-dip for up to six months without giving up his pension. Gillingham admits people have floated the idea of his second coming, and he isn't ruling out the possibility. "Certainly, if [a vacancy] were to occur, I'd be more than happy to help them for a very short period," Gillingham offers. He swears he wouldn't stay past the election, though. "I did my time," he laughs. Smith, who appears to be leaning toward Capt. Lindley Zink as heir apparent, would probably go along with Gillingham as a compromise. As former Sheriff Bob Winter can attest, things don't always go as planned. "I was hoping that my undersheriff would be appointed," laments Winter, who resigned midterm, paving the way for the appointment of Gillingham over his choice, Larry Kelly. "I thought I had the thing wired. I talked to all the supervisors." Winter says that if supervisors select the next sheriff, the new guy will be "obligated to them." He adds, "When the sheriff is elected, they answer to the people. When the sheriff is appointed, the sheriff answers to the board. That's the way it has worked ever since I left."

My Old Kentucky Home

Louisville, Ken., home to the 16th largest population in the country, is among those places in middle America young people flee from in order to find more progressive environs, like the Bay Area. While the phenomenon known as "brain drain" has decreased in the last few years in the land of the Jack Daniels brewery, Louisville has nonetheless lost enough native sons and daughters that it felt compelled to send its mayor and members of the Chamber of Commerce to lure some of them home. A group called Greater Louisville Inc. has invited 4,000 former Lousiville ex-pats to the Hotel Sofitel in Redwood City Thursday, June 10 from 6 to 8:30pm. "We wanted to remind them it might not be the same river town they remember it to be," says Carmen Hickerson, Greater Louisville's PR person. Prizes are guaranteed and there will be a bourbon tasting session. The Bay Area is the third location Louisville leaders have visited—and they don't plan to stop anytime soon. "I don't think we've had a good return on our investment," says Hickerson. But she has received anecdotal evidence that at least a few ex-pats have returned.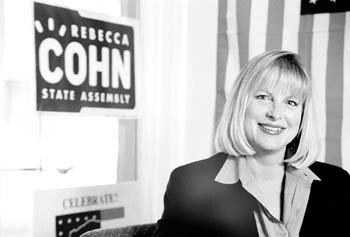 Cohn: Overinsured.
Jeers for Cohn
Assemblywoman Rebecca Cohn has made enemies with a number of her constituents because of who she includes among her friends. Fifty-seven insurance companies have contributed more than $72,000 to her November re-election fund. But people who live in her district want Cohn to support a universal health-care bill authored by state Sen. Sheila Kuehl, a watershed piece of legislation that will guarantee every type of health care except cosmetic surgery to every member of the state's population, even illegal aliens. The bill, however, will effectively cut the insurance business out of California health care, a prospect the multibillion-dollar industry won't accept sitting on its hands. Cohn supports a competing health-care bill, which leaves the insurance industry's money grab intact. "She's concerned about the competition in November," says Jennifer Dunham of the grassroots organization Health Care for All. "She's concerned about her re-election. Meanwhile, we have this awful situation in California." Cohn, who still holds a physical therapist license in California, is chair of the 18-member Assembly Health Committee, which will hear Kuehl's bill June 22. To expose Cohn's friendship with insurance executives, Health Care for All will hold a rally outside Cohn's Campbell office at 11:30am on Wednesday, June 16. "She is really making me furious," Dunham says. "We're pulling out all the stops short of being sued."
---
Send tips to 'The Fly': .
---
---
Send a letter to the editor about this story to letters@metronews.com.
---
[ Silicon Valley | Metroactive Home | Archives ]