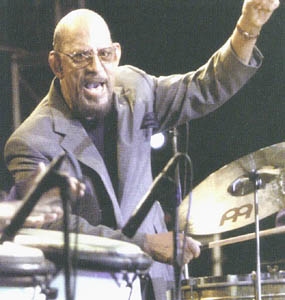 Ill Will: Rosario is an outspoken critic of 'Salsa Monga'--a watered-down style that emphasizes the singers instead of the rhythm.

Big Willie Style

How salsa gorda is re-energizing a new generation to tropical dance music and giving recognition to veteran bandleaders like Willie Rosario

By Chuy Varela

AN OLD-SCHOOL salsa tune by Willie Rosario blasts out of a car radio as I walk on the pier in the tiny town of Cataño across the Bay from San Juan. It's dusk, and streetlights are turning on and glistening across the water. "Que Bonito Es Puerto Rico" ("How pretty is Puerto Rico") is the chorus to the song now fading away in the distance.

During the day, the April colors are vibrant as shades of green blend against the blue of the Atlantic Ocean. The sun is radiant, illuminating the city's Spanish colonial past and its U.S. present. It's my first time on the island, and visits to the beach, El Yunque, El Morro and Old San Juan impress upon me the island's natural beauty.

San Juan radio provides a diverse sonic backdrop of American pop, merengue, bachata and reggaeton—a youth-oriented music fusing reggae with rap. But the solid Puerto Rico stamp on the radio comes from ZETA 93 and WZNT, which play a mix of salsa oldies.

Showcasing '70s/'80s artists like Hector Lavoe, Celia Cruz, Ruben Blades and others, they champion the hard-driving salsa of yesteryear, calling it "salsa gorda" (fat salsa). Founded in 1959, WZNT has a sister station in Ponce (WZMT) that also plays retro salsa gorda, or salsa dura, as it's also called. Right now, there's a movement bringing back the sounds and energy of salsa's golden age as exemplified by a new wave of projects by the Spanish Harlem Orchestra, Eddie Palmieri & La Perfecta II, Soneros Del Barrio and Colombian bands like Yuri Buenaventura, Fruko y sus Tesos and Sonora Carruseles.

Puerto Rican bandleaders who contributed heavily to the original salsa boom but somehow got forgotten are getting a revival. Tommy Olivencia, Raphy Levitt, Roberto Roena, Richie Ray & Bobby Cruz, Ismael Miranda, Sonora Ponceña and Willie Rosario are all hitting the road again. Rosario appears June 19 at the Dia de San Juan, a celebration of the island's patron saint St. John the Baptist. The event, hosted by the Western Region Puerto Rican Council, also includes Frankie Vasquez, Johnny Polanco & Conjunto Amistad, Son Borikua and the Latin Rhythm Boys.

Live in Puerto Rico

Walk into Viera Discos in Santurce, a municipality of San Juan, and it's like walking into a museum of salsa. Wire racks hold thousands of CDs from the classics to the latest hits. In the corner next to a large picture window sits a chair with a typewriter, a straw hat and a guitar next to it. This is where the great songwriter Tite Curet Alonso, who passed in 2003, used to hang with friends.

All the major salsa artists are represented in the choice stock assembled by Rafael Viera, a former distributor for Fania Records. It's a place where collectors and musicians congregate to talk business, hear the latest sounds and sign autographs.

In the Willie Rosario section, I find his Live in Puerto Rico CD. It's a raw board mix of the 64-year-old timbalero and bandleader and his band performing in the town of Arroyo. The 2002 date captures a vibrant show by the seasoned ensemble and the love of his fans.

"Live is live, and that's how recordings should be done. What you hear is what you get! I play for the dancers, and that's what bands like mine are for," says Rosario from his home in Puerto Rico.

Since the early '90s, Rosario has been an outspoken critic of "salsa monga" (flaccid salsa), a tropical romantico trend that watered the rhythm and emphasized the singers. In 1999, he did an album called Back to the Future, trying to recharge the present with influences from the past. Now Rosario feels he has won the battle.

"Last Friday, they had an event at the Tito Puente Amphitheater in San Juan with Luis Enrique, Eddie Santiago and Lalo Rodriguez, and nobody was there. Salsa Monga doesn't fly anymore in Puerto Rico. It's fallen off."

Rosario is a dance-hall warrior. Born in Coamo, he moved to New York City as a teen. Getting the bug to play timbales, he studied drums and percussion and went through several bands before landing his first major gig with Johnny Segui's Conunto orchestra.

In 1957, Segui returned to P.R., and Rosario decided to form his first band using members of the orchestra. Discussing the idea with Tito Rodriguez and Tito Puente, the two contributed charts to his band. With that he went into the Broadway Casino on 137th and Broadway to start his career as a bandleader. Into the early '60s, Rosario and his band got established at nightclubs like El Monte Carlo and Club Caborojeño, where they stayed for three years. He paid dues working two jobs to support a family and playing at night.

In 1963, Rosario recorded for Al Santiago's Alegre Records with vocalist Frankie Figueroa. It set in motion a trajectory that now includes more than 40 albums in a span of 45 years with a band that has produced stellar talents like vocalists Gilberto Santa Rosa and Tony Vega.

Viva Willie Rosario!

Rosario is slated to play at Plaza Del Mercado de Santurce, the weekend before his appearance in San Jose. An open-air market during the day and a hopping scene at night with salsa bars, jazz clubs and restaurants, it's a multigenerational mosaic of Puerto Rican culture. Like Rosario's music, it's a matrix of layers that unfolds into a wonderful experience.

Listening to classics like "El Callejero," "Chango ta, Beni," "Que Bonito Es Puerto Rico" and others from Live in Puerto Rico affirms the role Rosario played in transitioning Latin tropical dance music from the mambo dance hall to the salsa ballroom. And finally of late he is receiving long-overdue recognition for his contributions.

Earlier this year, El Dia de la Salsa, a national holiday in P.R., was dedicated to him, a great symbol of lifetime achievement. The Fiestas Patronales in the city of Carolina were also dedicated to him in May, and in July his hometown of Coamo will name a street after him.

"I can't complain. I've received a shower of recognition over the years and continue being alongside La Sonora Ponceña, Bobby Valentin, El Gran Combo and Roberto Roena as one of the favorite orchestras for dancers of salsa dura. It's been 12 years since I've been in California, and I am going to give the people in San Jose 100 percent."
---
Willie Rosario Y Su Orchesta perform at the Dia de San Juan Festival on June 19 at the Santa Clara County Fairgrounds, 344 Tully Rd., San Jose. The event opens at 11am. Tickets are $15 advance/$25 at the door. (888.200.1488)
---
---
Send a letter to the editor about this story to letters@metronews.com.
---
[ Silicon Valley | Metroactive Home | Archives ]