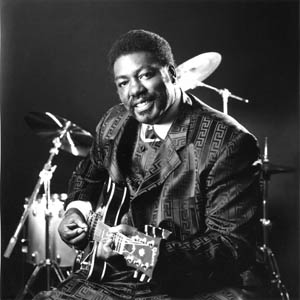 Sharp-Dressed Man: The J.C. Smith Band shows respect for the audience by dressing up. 'You always have to look better than the audience,' he says.

Father's Day

Local bluesman J.C. Smith rejuvenates a family tradition

By Jim Harrington

J.C. SMITH's father, Johnnie J. Smith, was a blues guitarist. But Dad, who was born in 1898, retired his blues licks at a young age. Like many highly impressionable men growing up in the early 20th century, Pops was filled with stories reminiscent of Robert Johnson at the "Crossroads" and how blues was the devil's music (and here we thought that distinction belonged solely to rock & roll or gangsta rap).

Fearing eternal damnation, dear old Dad turned his back on the blues and began playing gospel. The son would not cower before such tall tales although it would take some time before he landed on the right path. It wasn't until after he graduated from San Jose High School in 1973 that he "discovered" the blues while working as a DJ at KKUP.

"It opened up a whole new world of music for me. It was incredible," says Smith, a San Jose resident who still hosts a show for the Santa Clara-based radio station as "Johnnie Cozmik."

He began exploring the local blues scene, attending shows by the masters of the genre and hot newcomers, and finally decided to play ball himself. Smith, a drummer at the time, founded the Tough City Band in 1984. A few years later, he would start the group for which he is best known: the Back to Back Blues Band. He would occupy the drum throne for Back to Back for roughly a decade until he felt it was time to step to the front of the stage with the guitar. He formed his own group, the J.C. Smith Band, about four years ago, right about the time his dad passed away.

"After my father died, I wanted to kind of pay tribute to my father," Smith says. "I promised him that I would take his music a little farther than he did."

Mission accomplished and then some. Thanks to a stage show that mixes updated West Coast blues with an old-school flare, the J.C. Smith Band has quickly become one of the top blues acts in the Bay Area. The group has been packing them in at local clubs and wowing thousands of music lovers at major gatherings like the Monterey Blues Festival. J.C. has even taken his band across the pond to play Europe and has recently returned from a 12-day tour of Mexico.

But it's not just hard work and a tour schedule that would make most granola-loving jam bands blush that has people talking about J.C. Smith and crew. The leader is blessed with a richly distinctive voice, reminiscent of B.B. King, and he's become a master on his new instrument, dishing out solos that recall Albert King, Johnnie Guitar Watson and T-Bone Walker.

But his true genius is as an organizer. He's put together a fabulous band of acclaimed players, including drummer Tim Richard, who kept time for John Lee Hooker for 10 years, sought-after saxophonist Bernard Anderson and keyboardist Richard Palmer, who has written songs for Tommy Castro.

Smith's debut release, The Midnight Creeper, was a definite declaration that there's a new kid on the block looking to steal your lunch money, raid your parents' liquor cabinet and score a date with your sister. The guitarist follows up that strong effort with another winner, That's What I'm Taking About, which was released last month at the Metro Fountain Blues Festival.

The J.C. Smith Band made a big impression with local fans at that festival at San Jose State University, partly due to J.C.'s guitar prowess, partly due to the band's slick attire. The group is known for its snazzy outfits, which Smith calls "ghetto fabulous," and Smith was even named best-dressed bluesman at this year's West Coast Blues Hall of Fame Awards in Oakland.

"You always have to look better than the audience," Smith reasons. "The music can be great, but if you're not being entertained, you might as well stay home and listen to the radio. We try to create an experience."
---
The J.C. Smith Band plays June 19 at Number One Broadway, 102B South Santa Cruz Blvd., Los Gatos. (408.354.4303 or visit www.jcsmithband.com)
---
---
Send a letter to the editor about this story to letters@metronews.com.
---
[ Silicon Valley | Metroactive Home | Archives ]