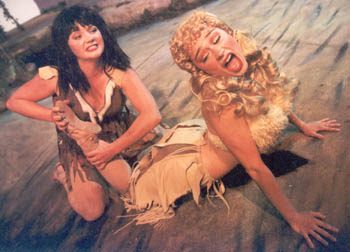 Photograph by Dave Lepori

Wrestlemania: Keite Davis (left) and Lianne Marie Dobbs get it on in a genuine cave match in 'Ug.'

Rubble The Right Way

San Jose Stage Co. goes back in time for 'Ug: A Stone-Age Musical'

By Marianne Messina

GIVE THE musical Ug about two songs, and you'll find it sticking to your ribs like a rack of roast boar. True, it's got a premise only a mother could love (prehistoric man invents theater), and it starts with some overly recognizable types—sexy ingenue, cave-decorating fab gay guy, red-blooded average Joe (his first words: "Look at the body on that chick. Momma, yeah." But within minutes, San Jose Stage's Company's world premiere of this long-sought-after musical becomes much greater than the sum of its parts. The acting bursts free of stereotypes; many of the musical numbers are downright clever; and the humor is divided evenly along a continuum of sophisticated to goofy.

Every new musical number ushers in some topic that has plagued man through civilized history—like the institution of marriage—and looks at it from pre-dawn eyes. So of course there's "The Meaning of Life." Ug (Jonathan Leavy), the alpha male of the six-member tribe, tackles this question just after Bob (Timothy J. Meyers), the flaming cook and cave mom, dies. While Ug stands high on a rock top wrenching out "Is this all there is?" the rest of his merry tribe are in the foreground fighting tooth and nail (and a touch of S/M) over Bob's earthly possessions.

The production makes great use of ensemble work. Ug's idea to represent his boar hunt by acting it out leads to a tribal brainstorming session in the song "Where I've Never Gone Before." As Ug plays himself, Bandala (Keite Davis) gets the idea to take the part of the wild boar and Arg (Stephen Pawley) falls into the role of director. The song is a peak moment for composer Rick Rhodes, who gives each person a melody line and combines the melodic layers one at a time until, like the distinct but blended artistic voices that create good theater, all three parts create one amazing chemistry.

Part of the play's utter charm is this powerful weave of song, action and especially character. Take Tatata (Lianne Marie Dobbs). In Tatata's "What Can You Do for Me?" Dobbs (at first submerged behind what seems to be refried Elly May Clampett) suddenly explodes into a pastiche of blonde bombshells: she's Mae; she's Marilyn; she's Madonna. Tatata's appeal is devastating and so much fun to watch as she disarms and dismantles Ug's nascent rational mind. As for the singing, both Dobbs and Davis, with their crisp, pleasant voices, can hit a mean, crystal-shattering high note.

On the other hand, the tribesmen (Pawley and Leavy) occasionally re-create the intonation of troglodytes. Not so with 14-year-old Shawn Platzker. A charmer as the tribe's youngest (and most cynical) member, Platzker (not surprisingly a veteran Artful Dodger) has the belt-out voice and big-stage attitude that churn out charisma in buckets. The collaboration of Ching-Yi Wei and Michael Walsh on set design and lighting created a lush multilevel primordial cave lit in greens and blues, detailed down to a tiny fish pond (a clever light and mirror trick). And a standing ovation at the end of the opening-night performance celebrated the production's vibrant synergy. Ug smoothly coordinates some varied, often sophisticated (check the discussion of the fourth wall) elements—don't let the name fool you.
---
Ug: A Stone-Age Musical Comedy, a San Jose Stage Company production, plays Wednesday-Saturday at 8pm and Sunday at 2pm through June 27 at the Stage, 490 S. First St., San Jose. Tickets are $20-$42. (408.283.7142)
---
---
Send a letter to the editor about this story to letters@metronews.com.
---
[ Silicon Valley | Metroactive Home | Archives ]