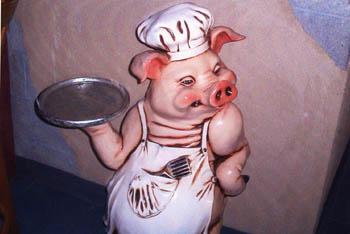 Photograph by Chris Revell

Attached to the San Jose Rep, Hawgs is pig-themed for the halibut.

Fin de Sea Mecca

The downtown Hawgs offers a bounty of fresh seafood, simply prepared and comfortably presented

By Joseph Izzo Jr.

THE NEW Hawgs Seafood Bar sits right next door to the San Jose Repertory Theater and in close proximity to many other venues of downtown activity. In poker parlance, a site like this represents a straight flush for a downtown restaurant.

Though we held no tickets for the play the evening we visited, I watched with pleasure as the many theater patrons finished dessert at a leisurely pace before strolling next door. Must have been nice not to have to rush.

Walking in, we viewed a handsome, yet predictable industrial-chic décor. "It reminds me of where my father used to work, at the Continental Can Company," Pope Bob Russell said of the exposed vents on the ceiling and the cinder-block walls. Woven nicely into the industrial theme are elements of the sea that come to life in tranquil shades of blue and aquamarine. The mounted game fish, to the right of the glass-block bar, sends an imaginary spray of ocean salt into the air.

We felt immediately comfortable at Hawgs. Spacious seating arrangements absorb the busy ebb and flow of the dining room. We barely noticed when curtain call was at hand, and the theatergoers began to shuffle for the exit. While the Hawgs in suburban Campbell jumps with noise and activity through much of lunch and dinner, the downtown version glides like Hans Brinker to the rhythms of a waxing and waning city. This place doesn't have a firm closing time--in fact, our server told us they're open "from 11am until we're done."

The food, like the location, is made up of convenient, easy-to-make items: shellfish in butter-rich, garlic-infused sautés with or without pasta (mostly with), some deep fried, others served on the half in simple formats. Steamed clams ($16.95), mussels ($14.95) and other bar-style delights work well as a quick bite before the show. Hawgs is not the kind of place that will reinvent the code of fine dining. Purpose was served without culinary innovation or new and enticing twists on old themes. I'd like to see more fresh fish on the menu here.

We started with Hawgs' deep-fried calamari ($8.95), each ringlet and tentacle encased in a batter so light it fell to flakes upon contact with the fork. We should have had our oysters straight on the half but drifted off-course when we ordered a half-dozen baked under a cloak of Asiago cheese ($11.95) so pungent and salty the oysters and their delicate flavor went packing.

Fresh Alaskan halibut ($14.95) was handled with extreme care and was as fresh as could be. Like an Italian jacket, the snowy piece of fish hung off the shoulder of a mound of buttery mashed potatoes--not my favorite companion for fish, yet a popular one these days.

Hawgs Prawns ($15.95), of which it was said it was impossible to eat just one, did create quite a stir at our table. Hands grabbed from every corner. These large fresh-tasting shrimp retained both flavor and succulence in a crackling crisp breading without a hint of oil from the deep fry.

Of the many pasta dishes, we settled on the familiar linguini and clams ($14.95) in an exhaustingly rich wine-butter sauce full of chopped clams and unsociable influences of garlic. Small Manila-style clams in the shell surrounded the overwhelming portion of tender linguini. As with the linguini and clams, sautéed scallops ($15.95) breathed heavy with garlic in a rich, butter-based sauce full of basil, capers and tomatoes. This time, although it was somewhat thick in consistency, the sauce still did not overwhelm the ocean sweet scallops.

Although I like the food at the Campbell Hawgs a little better, I like the environment downtown more. The place is well rooted in the downtown landscape and most dishes are smart and tasty. And the service is excellent.
---
Hawgs
Address: 150 S. Second St., San Jose
Phone: 408.287.9955
Hours: 11:30am-8 or 9pm Tue-Sat; 4-8pm Sun
Cuisine: Seafood
Price Range: $9.95-$17
---
---
Send a letter to the editor about this story to letters@metronews.com.
---
[ Silicon Valley | Metroactive Home | Archives ]