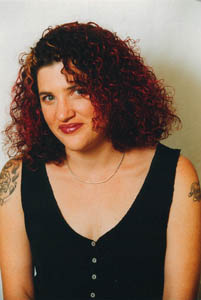 Emotional Gazetteer: Author Ariel Gore recounts her youthful travels in 'Atlas of the Human Heart.'

Coming of Age

Ariel Gore of Hip Mama fame narrates her journeys from Palo Alto to the Far East and back

By Krista Reid-McLaughlin

FOR YEARS, Ariel Gore has counseled readers on everything from pregnancy to collection agents through her zine Hip Mama, her website Hipmama.com and her book The Hip Mama Survival Guide. An avatar of the practical, down-and-dirty mothering style that eschews designer strollers and embraces bringing the baby along to political demonstrations, Gore delivers a clear message: there are no rules, and hip mamas need to remember that "we can only be who we are, after all, and we can give our children only what comes from our hearts."

Gore newest book, the memoir Atlas of the Human Heart, chronicles her journey from teenagedom in Palo Alto to motherhood--as well as across Asia to Europe. In previous writings, Gore has revealed snippets of her earlier years, but in Atlas, she reacquaints herself with that tumultuous time.

Gore, who will return to her old stomping grounds for a booksigning event at the Borders in Palo Alto on June 20, refuses to categorize her book, saying that it is either fiction, "meaning it's 76 percent true. Or it's a memoir, meaning it's about 76 percent false."

But her story at its core is simple: a teenage girl seeking to escape the hell that is her adolescent life. She tries drugs, sleeps around, gets taken advantage of and ends up pregnant. The difference between this story of teenage angst and the many others that have come out recently is that Gore uses the world as her school and spans the globe searching for meaning everywhere--except at home--to make sense of a time that was a cesspool of, as she puts it, "money! cocaine! vanity! marketing! Reagan! sexual violence! homelessness! AIDS!"

Gore infuses her prose with a poetic, humorous voice. She says of that voice, "In writing the story--and then the book--I tried very consciously to stay in my teenage voice. It was important to me not to write a book 'looking back' on those years. I didn't want to overlay an adult analysis or a feminist analysis or a maternal analysis on anything that had happened in those years."

Atlas of the Human Heart begins at a place and time that we can all relate to--high school. Like many of her peers at Palo Alto High School, Ariel is the product of '60s hippie values, "raised with this sense of freedom and power and hope and love--with a very Carole King and Margaret Mead worldview--with the idea that the world was my school." She has a mentally ill and absent "bio-dad," as she refers to him, and a mom with the uncommon philosophy that your children learn independence through neglect.

At home, Gore is dumped by her boyfriend, quietly raped without recourse and unable to find time on her mother's docket--which is taken up with teaching art to death row San Quentin inmates and harboring stray kids.

Gore says that "one day I looked around at the world, and I just wanted to run away. ... I really had a little bit of a breakdown, and then I got it in my head that maybe there were places in the world not like that. Maybe I could travel to the places I saw in National Geographic and find some kind of a 'home and youth of the soul'--some place where I wouldn't have to choose between remaining a child, which is impossible, and the only alternative I saw, which was psychic death."

Instead of acting out or crashing a new BMW like many of her Bay Area peers, Gore fled to China. It takes a certain inner resolve and fearlessness to leave the relative--if dystopic--comfort of American teenage life to travel abroad. "There is fearlessness, and then there is foolishness," Gore says. "Having a well-developed sense of intuition--and the wherewithal to trust that intuition--is so important. But how do you develop intuition without getting into trouble?"

The world, Gore quickly discovers, is not the one she saw in magazines. In China she is warned not to talk of politics; when she persists, she learns that her actions could have devastating consequences for others and mean the loss of own her personal freedoms.

She moves on to a vibrantly hued and pungently scented Tibet, where politics again touch her journey. She finds relief that she has missed a political massacre and notes, "This wasn't my war."

When she runs out of money, she takes on some smuggling assignments that leave her stranded in Amsterdam. There she becomes homeless until she falls in with an endlessly pot-smoking crowd squatting in an abandoned basement and meets Lance, the man who will beat her, belittle her and impregnate her.

Gore's story is centered on her efforts to escape the binds of her upbringing. She moves from place to place without making many conscious choices and ends up in a situation that binds her in one way or another to two human beings--her daughter and the daughter's father.

When asked if she found any irony in that, she responds, "Traveling, in the end, didn't 'free' me in any traditional sense of that word. I don't think I escaped any of the demons adolescence had in store for me. I could have done things more gracefully, maybe, but there are also some lessons you have to go to hell and back to learn."

Those lessons are things that she has tried to pass on to her 13-year-old daughter. "I think I learned to trust my intuition. And that's something you can tell your children about, but unfortunately something they might have to learn for themselves. And I learned not to surrender my imagination to any school or government or dreary adult way of being. I think, in some ways, that's what adolescence is all about--the struggle not to surrender your imagination."

Gore exercises her imagination in Atlas. Words as symbols, shelter and refuge play a significant role in her journey, whether they are written on the body or a T-shirt or in a book or journal. She seems to be piecing together the puzzle of self-expression, discovering writing as a right and a necessity.

Gore ponders, "I wonder if I would have become a writer without those traveling years. I might have, but I think that traveling, being alone a lot of the time, living in places where English was not the primary language, finding a kind of permanence in words and in poetry that I didn't find anywhere else, all those things were so influential. As I was writing this book, there was a point where I became very conscious that I was writing a coming-of-age memoir about a writer. The story of how I got to be a writer."
---
Atlas of the Human Heart by Ariel Gore; 319 pages; Seal Press; $14.95 paper. Gore signs copies of her book on June 20 at 7pm at Borders, 456 University Ave., Palo Alto. (650.326.3670)
---
---
Send a letter to the editor about this story to letters@metronews.com.
---
[ Silicon Valley | Metroactive Home | Archives ]