Buy 'I Hate Hamlet' by Paul Rudnick.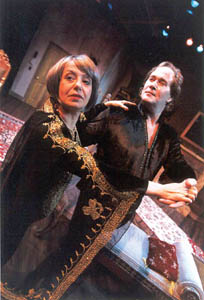 Photograph by Dave Lepori

Thespian Tango: Linda Ayre-Frederick goes for a spin with John Barrymore's ghost (Kevin Blackton) in 'I Hate Hamlet.'

Shakespeare the Clown

Don't hate on San Jose Stage's 'I Hate Hamlet'

By Michael J. Vaughn

I LIKE to call it the Groundhog Day Syndrome: a one-trick pony (as in Bill Murray's filmic ever-repeating day) that somehow gallops to a Triple Crown, creating countless unexpected variations. The latest qualifier is San Jose Stage's I Hate Hamlet, a wondrous feat of humor and insight that should especially appeal to theater buffs.

Playwright Paul Rudnick's gimmick is the ghost of John Barrymore (Kevin Blackton), who turns up at his old apartment to help out Andrew Rally (Bill Olson), a recently canceled TV star who's decided to perform Hamlet in Central Park. According to the not-so-friendly ghost, each "chosen" Hamlet has the option of summoning one dead predecessor for consultation; the ghost/actor must then see his protégé to opening night before he can return to the spirit world.

Rudnick throws in complications even before Barrymore shows up. Andrew himself suspects that he has only taken the part to seduce his girlfriend Deirdre (Shannon Zeig), an exuberantly awful actress who has hung on to her virginity for so long (29 years) that she's seeking some superhuman thespian to take it from her. Once the Actor King appears, Rudnick embarks on a comic debate between traditional and method acting. When Andrew goes into a "Gaffrey Technique" warm-up of sputters, yoga-panting and Silly Putty faces, Barrymore quips, "Why do I feel we should spread newspapers about?" When Andrew accuses him of overacting, Barrymore responds, "I do not overact--I simply possess the emotional forces of ten men."

Andrew's "real" life, meanwhile, is peopled with all species of devils and angels. Representing the great unwashed of Tabloid Society is his real estate agent, Felicia, played by Judith Miller with a thorough Shirley MacLaine wackiness. Gary S. Martinez had a complete soul-ectomy before jumping into the shoes of TV producer Gary, who arrives to dangle a series pilot before our budding Dane. The angels are represented by Rally's agent Lillian (Linda Ayres-Frederick), who seems to have some intimate connection with the late Barrymore, and Deirdre (played by Zeig with beguiling innocence), simply because, as Andrew puts it, "You believe in things."

Olson gives a fine Luke Skywalker balance to Andrew's tarnished idealism, managing, with Rudnick's help, to stay away from the slings and arrows of pat conclusions. The real treat, however, is Blackton's Barrymore. Given Blackton's imposing stature, chocolate baritone and facile tongue, it almost seems like cheating. And you can tell how much he seriously enjoys the part. ("Do you know what happens when you don't have sex?" asks Andrew. "No!" says Barrymore.)

Costumer Michelle Wynne adds some visual humor with Felicia's see-through Fran Drescher lace jumpsuit and Andrew's decidedly postmodern Hamlet getup (spiked hair, athletic-supporter codpiece and plastic-soled boots). And kudos to whoever came up with the globe that converts to a ... well, you'll see. Lastly, the dueling, arranged by Kit Wilder, is rough and excellent, complete with a couple of somersaults by Olson.
---
I Hate Hamlet, by San Jose Stage Company, plays at 8pm Wed-Sat and 2pm Sun, through June 29 at The Stage, 490 S. First St. (at William), San Jose. Tickets are $16-$32. 408.283.7142.
---
---
Send a letter to the editor about this story to letters@metronews.com.
---
[ Silicon Valley | Metroactive Home | Archives ]