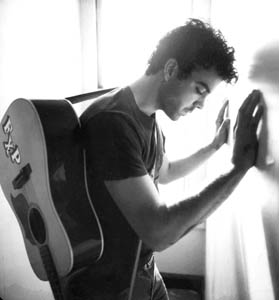 Photograph by James Minchin III

Frank Discussion: Before stepping onstage, Franky Perez motivates himself by head-butting the wall.

Thunder Road

Franky Perez goes to Hollywood and becomes a rock & roll star

By Yoshi Kato

ROAD-TRIP albums. We all have those perfectly sequenced collections of songs that play from beginning to end as the ideal soundtrack to whatever exciting or even uneventful driving destination.

Singer/songwriter Franky Perez's debut album, Poor Man's Son, promises to be one of this summer's road-trip staples. Over the course of 18 tracks, the Las Vegas native and first-generation Cuban-American packs Poor Man's Son with sonic variety. "Cecilia" delivers the hooks, pumping organ and humid Perez harmonica solo to elicit just a bit more pressure on the accelerator. "Southwest Side" has the casual breeze--but not the lingering hangover--of a Jimmy Buffet classic, while "Angel Park" offers up garage pop. "Love & Hate" is a midtempo blues rocker, and the album's first single, the string-laden "Something Crazy," describes an aching story of being trapped by the wrong relationships.

Perhaps what makes Poor Man's Son such a good road album may be the fact that some of it was actually written on the road.

"Each one of those songs is a snapshot of my life over three to four years, and a lot of [the album] was written on the road," Perez says, by phone from his home in Vegas. "Some of it was written at this home in Reseda. I wrote some of it here in Vegas, too."

Coming with a story that's a source of joy for his current publicists and future biographers, Perez did his own "leaving Las Vegas" a few years back when he left the strip and set out for New York City. Driving his trusty truck, Perez ran out of funds heading east and ended up detouring to Miami, where he had some family. He found musical inspiration by taking lessons with conguero Lazaro Valdes, who, like Perez's parents, is a Cuban exile.

"My first instrument ever was Cuban percussion and drums," the multi-instrumentalist explains. "I think the first instrument I ever had was a pair of bongos, when I was a little kid. Sometimes I wish I were just a drummer. I loved playing the drums."

Though Perez was on a performing/songwriting track, his lessons with Valdes both brought him back to his roots and taught him invaluable musical lessons: "Valdes is an amazing person and a remarkable musician," he reflects. "His whole teaching is that all the sound of that drum is in your hands. And that's like life. You hold everything in your hand, and I carried that over into everything I did. You've got to work for it."

During his Miami residency, Perez received a follow-up call from Pete Angelus, a personal manager who has worked with Van Halen and the Black Crowes. Angelus was coming to Miami and wanted to see how he was doing. The result of the meeting was Angelus encouraging Perez to move to Southern California in order to be closer to music-industry contacts and more working musicians who might share his aesthetic. Perez drove to L.A. the next day and quickly assembled the Highway Saints. Within a few weeks, he and his band were working on material he had written throughout the course of his journey from the desert to the tropical southeast to the City of Angels.

Perez eventually signed to Lava Records and released Poor Man's Son on May 13. He compares favorably to other road-trip album stylists, like Jason Mraz, Tim Easton, O.A.R. (whom Perez played with at the Edge last April) and singer/songwriters like John Mayer, Jack Johnson and Ben Harper.

When Perez asks fans for their opinion of his debut, they cite different favorite songs. "I rarely hear two people that like the same song, so that's cool to me," Perez says. "I'm sure the label would like to hear differently, but it's nice to hear that the entire work has been appreciated."
---
Franky Perez performs Friday (June 13) at 9pm at Zoë Nightclub, 417 S. First St., San Jose. Tickets are $1.06 and available at the door. (408.971.6646, www.zoenightclub.com)
---
---
Send a letter to the editor about this story to letters@metronews.com.
---
[ Silicon Valley | Metroactive Home | Archives ]