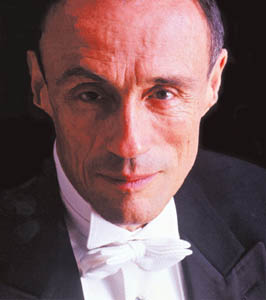 Musical Gestures: Guest conductor Patrick Flynn used his hands instead of a baton to conduct the Symphony San Jose Silicon Valley last Saturday.

I Hear a Symphony

Last Saturday, valley residents said 'no' to reality TV and a triumphant 'yes' to their Symphony

By Scott MacClelland

SYMPHONY SAN JOSE Silicon Valley last Saturday got the fullest demonstration of audience affirmation seen during this inaugural season. Multiple standing ovations were fully charged with home-team enthusiasm. Clearly the people of San Jose love their Symphony.

That fact only underscores the disaffection felt by patrons for the late San Jose Symphony Association but not for the orchestra itself. Revived like a phoenix, the SSJSV has been lifted by a fresh wind beneath its wings and has ended its first season basking in local glory. And there's more good news. According to executive director Andrew Bales, there will be another season, with even more concerts, details of which are expected in the next couple of weeks.

Dmitri Shostakovich's witty orchestration of Vincent Youmans' "Tea for Two" (known in Russia as "Tahiti Trot") opened and, as an encore, closed the program of two 20th-century American concertos and two 19th-century European potboilers, all expertly conducted by the veteran British-born maestro Patrick Flynn. Flynn is a tall gangly man, all arms and legs, with large hands that he uses to pace, shade and shape his interpretations, without a baton. Notwithstanding choreographic tendencies, there is economy in his gestures. More relevant, however, was the orchestra's response to his lead. Even with a couple of minor ensemble blurs, their art and heart came through unequivocally.

Under the name "Tahiti Trot," many patrons didn't realize that it was "Tea for Two" until the main theme emerged on glockenspiel. In a day when symphony orchestras are coming up scanty in attracting young subscribers, one avenue inadequately explored by many of them is the inclusion of unfamiliar works that reference familiar music styles and culture; in other words, those pieces, like this one, that combine orchestral composition with the vernacular. In the case of Michael Daugherty, young composer of "American Icons" like Metropolis Symphony, Dead Elvis and Le Tombeau de Liberace, unfamiliar concert fare comes with "popular" touchstones much to the delight of first-time audiences. Daugherty, who is a virtuoso at it, capitalizes on one of the oldest retail tricks in the book: don't sell them what they know; sell them something new that will excite them and make them want to come back for more.

Happily, Flynn's program in San Jose leaned more toward the unfamiliar, mitigated by two overly familiar chestnuts, Smetana's Moldau and Wagner's Flying Dutchman overture, both of which made the orchestra look good. But it would be Barber's melody-rich Violin Concerto and Copland's unique Clarinet Concerto that reinforced the audience's affection for their orchestra and musicians. Credit for that was channeled through concertmaster Robin Mayforth and principal clarinetist Michael Corner, both of whom gave first-rate accounts of themselves and won standing ovations. Mayforth didn't project a large sound at the CPA but her performance was stylish and authoritative and, thanks to Flynn's sensitive attention, uninhibited by the work's symphonic outbursts. Corner, too, is an accomplished soloist and proved it with the Copland, which is no easy piece. The pastoral first movement gives way to an elaborate solo cadenza followed in turn by a jazzy and syncopated finale. Corner knows the piece well, having played it several times, and made its complexities sound easy.
---
Send a letter to the editor about this story to letters@metronews.com.
---
[ Silicon Valley | Metroactive Home | Archives ]