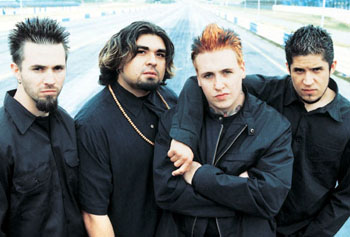 Papa Roach hits the road.

Back for the Attack

Papa Roach prepares to infest again with a new album, 'lovehatetragedy'

By Sarah Quelland

AFTER THE OVERWHELMING success of Papa Roach's triple-platinum DreamWorks Records debut, Infest, the band is about to release the anticipated follow-up, lovehatetragedy, next Tuesday (June 18). I caught up with guitarist Jerry Horton late last week as he was on his way to a radio show in New Jersey. "I can't wait for people to hear the record," he tells me. "We've been getting good responses from kids so far, so I can't wait." He describes the new material as straight ahead rock & roll, adding, "There's a little more punk rock on this one."

Papa Roach is playing LIVE 105's BFD Friday (June 14) at Shoreline Amphitheatre, marking the first time the band has played the South Bay since last year's OzzFest. Horton sounds excited to return. "I'm looking forward to it, 'cause that's where we got the most love outside Vacaville," he says. "We're gonna see a lot of familiar faces."

Despite its speedy rise to the top, Papa Roach doesn't seem to have forgotten its roots or its Northern California fans. In May, the band played small shows at the Phoenix Theater in Petaluma and the Vacaville Community Center. On June 17, one day before the new record hits shelves, the band is holding a special show at the Memorial Auditorium in Sacramento with special guests Die Trying. Tickets can only be acquired by preordering lovehatetragedy from any Dimple Records store in Sacramento (visit www.paparoach.com or www.dimple.com for details). According to Horton, the show will be limited to about 3,000, and the first 1,000 people who preorder the record will get signed copies. "Hopefully," he says, "some kids from San Jo will drive up there."

Early album buyers will also get bonus tracks. The first 500,000 copies include the original song "Never Said It" and a cover of the Pixies' "Gouge Away." Papa Roach's version of Faith No More's "Naked in Front of the Computer" will be available only as a European B-side.

The long-awaited Papa Roach DVD is slated to come out it in July and will be available exclusively through the band's website. "It's really funny," Horton promises. "It's really quick. It's not slowed down by interviews. It's just random stuff and live footage and all our videos--and basically our crazy ride from the last record."

After the two Northern California dates, Papa Roach jumps on the Anger Management tour (which hits Shoreline Aug. 11) with Eminem, Xzibit, Ludacris and the X-ecutioners. Being the only rock band on Anger Management, Horton acknowledges, "We're gonna stick out like a sore thumb. But I think it'll be good. First, we did Warped Tour and that took us to the punk rock kids. And then we went to the Korn tour and OzzFest, and that got us the metal kids. And now we're gonna hit the hip-hop kids. So it'll be good." After Anger Management, Papa Roach flies off to tour Australia, Japan and Europe. Then the group heads back to the States for its own headlining tour when it expects to return to this area.

ALL THE NEWS: Jacek Rosicki denies the rumors flying around about his plans for the Cactus Club space once the rock club closes. "It's not a Mexican place, and it's not called Tiki Lounge," he insists. He still refuses to share his plans for the building but says he should be ready to talk in early July. ... Stunt Monkey is participating in KMBY 104.3's radio show the Itch. The band will play Saturday (June 15) at the Catalyst in Santa Cruz with Trik Turner, Sugarcult, 3rd Strike and the Expendables. Sugarcult also plays the Cactus the night before (June 14) with Flipsides, Fighting Jacks and others. ... Music in the Other Park continues with the Brothers Johnson performing Thursday (June 13), 5-8:15pm in St. James Park in downtown San Jose. ... Camera 3 Theater's Patio Audio series concludes Wednesday (June 19) with Good Night.

PLAN AHEAD: Hell's Belles, June 13 at Plant Fifty One; Blue Eyed Devils, June 14 at Agenda Lounge; Breach, Trip Device, Sikness, Sol Ascending, Forcing Bloom and Soul Aggression, June 15 at the Cactus.
---
Send a letter to the editor about this story .
---
[ Silicon Valley | Metroactive Home | Archives ]