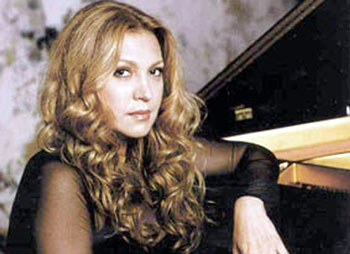 Photograph by John Cooper

Happy About Samba Triste: Eliane Elias remembers being excited by the musical ideas of director Fernando Trueba.

Havana Good Time

Latin-jazz documentary 'Calle 54' launches a companion tour

By Jesse 'Chuy' Varela

"CALLE 54 is my way of repaying a debt of gratitude to Latin jazz--music that has made me enjoy myself and has helped me like no other," explains Spanish filmmaker/director Fernando Trueba on his website.

As scenes peel off in brilliantly shot and edited studio sequences with Paquito DiRivera, Eliane Elias, Michel Camilo, Chano Dominguez, and Jerry Gonzalez and the Fort Apache Band, the passion Trueba has for Latin jazz radiates Calle 54. Musicians tell their stories with stunning performances that include legends no longer with us, like Tito Puente and Chico O'Farrill.

"Fernando Trueba is a phenomenal director," said pianist/composer Eliane Elias last year when in town for a San Jose Jazz Society event. "When he proposed the movie to me, he said, 'There's a tune I want you to record.'"

The song was "Samba Triste." "I was taken by it immediately," Elias said. "I'm very particular about what I play. It's very personal. If I don't feel it, I won't do it! But giving me a tune that I went crazy for showed tremendous sensibility."

Dressed in a full-length black gown, the barefoot pianist delivers a sensual rendering of the Baden Powell classic in the film. Now she headlines Calle 54: The Tour. The show includes legendary Cuban pianist Bebo Valdes, flautist Dave Valentin, percussionist Giovanni Hidalgo, pianist Chano Dominguez with a flamenco ensemble, trumpeter Diego Urcola and saxophonist Mario Rivera.

Calle 54's show at Montalvo falls on Father's Day, and it will be a special one for Bebo, the octogenarian father of Cuban jazz pianist Jesus "Chucho" Valdes. Since appearing in the film, where he played emotional duets with his eldest son, bassist Israel "Cachao" Lopez, the 84-year-old Bebo has undergone a quiet revival.

Last year, Bebo released El Arte del Sabor on Blue Note Records, acknowledging the important bridge he created for jazz on the island nation. Bebo enjoyed a fruitful career arranging and writing for radio, film and television in Cuba and Mexico. He scored dance numbers for Mexican film star Yolanda "Tongolele" Montes; had an important hit--"Sabor a Mi"--with Rolando La Serie and his band, Sabor de Cuba; and continued throughout as pianist/arranger at the Tropicana Nightclub with a featured spot during intermissions playing jazz.

"I arrived in 1960 in Mexico and got a great reception at the Cabaret Rumba Casino," says Bebo in Spanish. "It was a tremendous success, but I got in trouble after the Bay of Pigs invasion when I told a newspaper reporter what I felt about the revolution that disregarded our constitution."

Fearing retribution, he sadly left his family behind in search of political asylum. In Spain, he found the Bruguera brothers of the famed Lecuona Cuban Boys, who were still performing. He joined them, and a new episode unfolded for him in Stockholm when he met his wife, Rosemarie.

Now Bebo rides again thanks to Calle 54. The soundtrack was nominated for a Latin jazz Grammy this year and recently the Jazz Journalists Association (JJA) unanimously voted Calle 54 Jazz Film/Video of the Year.

Jazz writer Howard Mandel, president of the JJA and author of Future Jazz, believes it was an obvious choice. What Calle 54 has done is to help establish the centrality of Latin jazz in the jazz tradition, he concludes in an email.

"The Latin tinge has indeed invigorated jazz all along; now with demographic and political considerations, the Caribbean, Central and South America and Mexico are closer to the United States than ever--and more on their own terms. I think it's highly likely that enjoyment of Latin jazz as a major aspect of jazz will continue, as the talent pool and repertoire is so rich and enriching."
---
The Calle 54 tour performs Sunday (June 16) at 7:30pm at the Montalvo Garden Theater, 15400 Montalvo Rd., Saratoga. Tickets are $45/$50/$55/$65. (408.961.5824; www.villamontalvo.org)
---
---
Send a letter to the editor about this story .
---
[ Silicon Valley | Metroactive Home | Archives ]