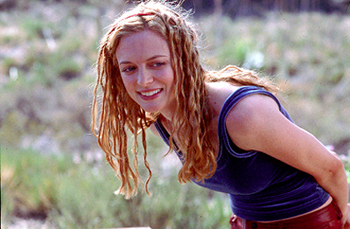 Death Before Divorce: Heather Graham goes the distance to keep her husband in 'Committed.'

Trying Morals

Heather Graham turns into a New Traditionalist for 'Committed'

By Richard von Busack

EARLY IN Committed, Joline (Heather Graham) says that she can tell people who have faith from those who don't: "It's like a flashlight shining between their eyes." Which, given the dim-blonde character Graham plays, is too close to one of the meanest of the blonde jokes: "How do you make a blonde's eyes sparkle? Shine a flashlight in her ear." Committed isn't Graham's fault. If, for the first time on screen, she's charmless and annoying, it's better to pin the fault on director/writer Lisa Krueger, whose simplistic moralizing keeps Committed a dull, trying experience.

Joline is a Manhattan nightclub booker with a commitment to truthfulness; she's a girl promise-keeper. Her marriage to Carl (Luke Wilson) hasn't lasted three years when he suddenly vanishes, leaving behind a note that claims that he's stalemated creatively and wants to leave. This isn't good enough for Joline, who tracks her straying husband down to El Paso. Stalking him, Joline encounters Carl's new girlfriend, Carmen (Patricia Velazquez), a waitress in a fancy Mexican restaurant. Through Carmen, Joline meets a brujo, Carmen's granddad (Alfonso Arau, the director of Like Water for Chocolate). The sorcerer encourages Joline's view that her lost husband is spiritually ill and needs Joline now more than ever. So Joline camps outside of her husband's double-wide trailer. Soon she's joined at her desert campsite by her brother, Jay (Casey Affleck). Temptation arises in the form of a suave, foreign-accented sculptor named Neil (Goran Visnjic). In the film's low point, Neil makes love to an inflatable doll in front of his window. He wants Joline can see what he'd do to the girl, if only she weren't so firmly committed to her marriage.

The film's tiresome daffiness is probably not meant to be taken seriously. Like Krueger's previous film, Manny & Lo, Committed is gooshy and completely ephemeral. If it were any smarter, it might be dangerous. Why go on about it? Simple: some viewers will respond so fervently to the death-before-divorce spirit this film is trying to sell that they may forgive its slackness. Joline even has a tattooed wedding ring, which is as good a premonition of disaster for a marriage as a dead dove hitting the bride.

Committed plugs into the disgruntled spirit of children raised without two parents during the '60s and '70s. I recall interviewing Exene Cervenka of the band X about 20 years ago. She broke the news that she had just wedded her partner, John Doe, by saying, "We didn't want to live in sin like hippies." It was inevitable; a few years later they got divorced like yuppies. In one sense, Krueger's air-headed movie counsels the search for rigor and self-improvement that's typical of youth, finding moral superiority through New Traditionalism. Nevertheless, Committed indulges in the worst intellectual habit of the '60s counterculture--it supports putting a principle ahead of common sense.
---
Committed (R; 98 min.), directed and written by Lisa Krueger, photographed by Tom Krueger and starring Heather Graham, Luke Wilson and Casey Affleck, opens Friday at the Los Gatos Cinema in Los Gatos.
---
[ San Jose | Metroactive Central | Archives ]