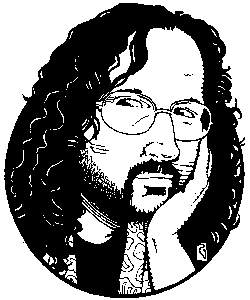 Silicon Alleys

Cloak and Dagger

By
---
[She] suffered from the democratic delusion that all people are created interesting.
—Trevanian's 'Shibumi'
---
MENLO PARK AUTHOR Barry Eisler has finally admitted that he used to work for the CIA. Until now, all he would divulge was that his "checks came from the U.S. State Department Foreign Service." In any event, he's created a whopping-good noir thriller series, all centering around the exploits and mind-states of a Japanese-American assassin named John Rain. It's a "killer thriller" series and even if you're not interested in underground Japanese culture, you'll get a kick out of these novels, as Rain is the most interesting assassin around these days.
Eisler spent years working in Japan and he places scenes in the labyrinth of Tokyo streets with astonishing detail. Just like Lost in Translation, if you've actually been to Tokyo, Eisler's novels—at least the first two—will take you right back. You've got whisky bars, smoky jazz joints, hostess bars, fight clubs, thugs, mobsters and all sorts of seedy goings-on in several Tokyo districts. Eisler describes the dark atmospheric underbelly of Tokyo with precision and flair.
He even includes the Almond Cafe, a main pickup spot in Tokyo's heavily foreign Roppongi neighborhood. In the immediate area, expatriates abound due to the plethora of embassies, and Roppongi is where many young Japanese go to practice their English.
But enough of that. In the books, assassin John Rain is "a freelancer, a straddler, connected to many worlds, but a part of none"—pretty much exactly what it's like being a freelance journalist. Rain has perfected the art of assassination, but makes it look like the target died of natural causes. Inspired partly by assassin Nicholai Hel in Trevanian's 1979 international espionage masterpiece, Shibumi, John Rain represents the romantic concept of the assassin as poet, as artist. But not without the emotional backlash, of course.
Shibumi is an untranslatable Japanese concept referring to the understated beauty that underlies everything in life. It represents an active spiritual tranquility, a personality of overwhelming calm, an effortless state of perfection and a natural urge to find harmony in all action. You can apply it to chess, ikebana flower arranging, architecture, gardening, Japanese rope bondage (nawa shibari) and, especially, martial arts. Just like Nicholai Hel, John Rain applies it to the art of assassination. Of course, Eisler himself is also an accomplished practitioner of mixed martial arts. He holds a black belt from the prestigious Kodokan International Judo Center in Tokyo.
Eisler appears at Kepler's in Menlo Park (1010 El Camino Real) on Thursday, June 23, to launch his tour for the fourth John Rain book, Killing Rain. The first three, Rain Fall, Hard Rain and last year's Rain Storm, don't necessarily have to be read in order, but it helps. And since Eisler has changed his "status," allowing him to divulge his former CIA employment, he's got a lot to say about current world events that you don't hear from all the scream-head circus entertainers on the cable networks.
Killing Rain draws inspiration from recent events in Iraq and Afghanistan—where the U.S. government's bounties on Osama bin Laden and other terrorist figures have spawned a huge private effort to track down these targets. When asked why the CIA can't directly infiltrate Al Qaeda, Eisler says: "The problem is that there are certain things the CIA can't do. Al Qaeda and other terrorist organizations undoubtedly have a test for new initiates that involves killing. It's similar to the mob's concept of 'making your bones.' Why does the mob use murder as a prerequisite to becoming a full member? Because no matter how deep undercover a government law enforcement agent might be, there's no way he can commit a murder. The same holds true for the CIA vis-à-vis Al Qaeda. An undercover agent who tries to infiltrate a group like that will, at some point, be faced with a similar initiation. That's why private organizations are somewhat better positioned to infiltrate these groups. They don't have to explain to Congress how they got in."
[ Silicon Valley | Metroactive Home | Archives ]