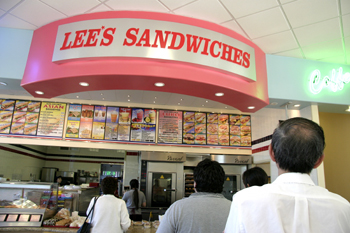 Photograph by Felipe Buitrago

Tenacious Lee's: San Jose gets its first taste of the unusual Lee's Sandwiches chain with the new shop on Santa Clara Street.

More Lee's, Please

A new, better—and multicultural—approach to fast food lands in San Jose

By Stett Holbrook

I'VE DRIVEN across the United States twice, taking a leisurely week and a half to soak up the sights of this great land. The only thing that sucked, besides tossing my transmission on the Georgia/Alabama border and spending several days sleeping on the couch in a trucker's double-wide trailer while waiting for new car parts to arrive, was the food.

While I did come across a few hidden gems here and there, such as the green-chile cheeseburgers at the Owl Bar and Cafe in tiny San Antonio, N.M., and the rattlesnake cakes at the superb Café Diablo in Torrey, Utah, most of the time I was at the mercy of the fast food restaurants that stalk the freeways like bandits, robbing you of your hunger and leaving you with the empty feeling that you've wasted yet another meal on bad food.

Too bad there aren't more Lee's Sandwiches for the wayward traveler. There are 29 locations so far (most in Silicon Valley and Southern California), but we need more. On the road or not, Lee's is my kind of fast food. It's quick, cheap and quite good. In the meantime, we've got plenty of Lee's right here, including a brand-new store that opened on East Santa Clara Street in San Jose last month.

Lee's is a perfect amalgamation of American and Vietnamese food cultures under one roof. The restaurant's signature item is its bahn mi sandwiches, thin baguettes filled with pickled carrots and daikon radish, onions, a few slices of jalapeños, cilantro and your choice of meat—barbecued pork, fried pork, shredded chicken, head cheese, sardines and many other Asian-accented items. Swiped with a quick smear of mayonnaise and sprinkled with salt and pepper, they're delicious and just different enough to break you out of your ham-and-cheese-on-white rut. My favorite is the No. 6, barbecue pork. The meat is tender and sweet, and the pickles and jalapeños add just the right contrast. Lee's bakes its own bread each hour; crunchy, chewy, thin and a perfect conduit for the filling.

Lee's also serves a number of American-style sandwiches (they call them "European" sandwiches) on baguettes or croissants. If you insist, you can get a salami and cheese or club sandwich. But you can get a regular old sandwich anywhere. For me, the real attraction is the banh mi. Lee's also sells chicken noodle and clam chowder soup ($1.99 cup, $3.49 bowl) as well as pastries. What I love about Lee's besides its sandwiches is the array of multicultural side dishes and snacks piled on and under the counter. Right next to the candy bars, packs of gum and bags of potato chips are shrimp spring rolls, chewy pork buns and sticky, green-colored rice snacks. A hot box holds egg rolls (two for $1.20), fried bananas (three for $1) and grilled-pork meatballs ($1.50). Besides the standard soda pop selection, Lee sells a lethally caffeinated ice coffee ($2.25), milk teas ($2.50) and great fruit smoothies ($3.25). I love the soursop smoothie made from a creamy, tropical, custardy fruit that I can't get enough of.

Lee's has a great success story to tell, too. The business was started by the Le family, Vietnamese immigrants who came to San Jose in 1980. Chieu Le, the family's oldest son, bought a catering truck in 1981 and later established Lee Bros. Foodservices Inc. with his brother, Henry Le. The opted for "Lee" over "Le" because they thought it would be easier for Americans to pronounce. Then the brothers' parents got into the act by selling their banh mi sandwiches off the truck. Seeing the potential for a new kind of fast food concept, Chieu Le and his late eldest son, Minh Le, opened the first Lee's Sandwiches in 2001.

Part of Lee's rapid success is due to demographics. The company's first location was in Westminster in Orange County, an area with a large Vietnamese population. In Orange County in 2003, Chieu Le was recognized as the "Business Person of the Year." Subsequent stores in San Jose, Cupertino, Sunnyvale, Sacramento, Fullerton, Irvine and elsewhere have tapped into California's large Vietnamese populations (the menus are in English and Vietnamese), but the restaurant's cross-over appeal has broadened its appeal. I saw evidence of that at the East Santa Clara location. The lunchtime crowd often stretches to the door, including meat and potatoes construction workers from the nearby City Hall project, students of various ethnicities and a large Asian clientele.

Lee's Sandwiches is now focused on expanding its franchise nationally and internationally. I hope it happens quickly. I'm itching for another road trip.
---
Lee's Sandwiches
Address: 260 E. Santa Clara St., San Jose.
Phone: 408.286.8808.
Hours: 6am-9pm daily.
Price range: $2-$3.95.
---
---
Send a letter to the editor about this story to letters@metronews.com.
---
[ Silicon Valley | Metroactive Home | Archives ]