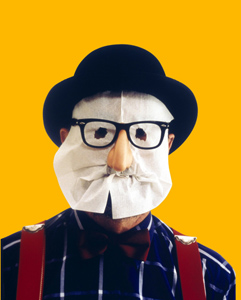 Photograph by Dixie Sheridan

Mime Playing Tricks on Me: Silence is golden for body artist Avner the Eccentric.

Breaking the Rules

Avner the Eccentric practices the art of existential miming in 'Exceptions to Gravity'

By Marianne Messina

IN HIS SHOW Exceptions to Gravity at the San Jose Repertory Theatre, Avner the Eccentric does very little juggling and very few magic tricks, yet he has incredible appeal. The minute he timidly pokes his head from behind the curtain in the wings, he's got you. Avner is the favorite visiting uncle to whom every kid pleads, "Do that again," and Avner will do it again, especially if it gets a laugh.

This disarming avuncular quality brings out uninhibited giggles for even the silliest pantomimes, like the snot or lung ball that won't go away—wipe it off on one thing, and it sticks to another.

In his oversized pants, held up (most of the time) by red suspenders and his red, slipper-bottomed shoes (a person's walk says everything), Avner creates a kind of sandbox head space, an adult-free zone, unthreateningly simple where everything you imagine can be made in the sand, or in this case, in origami. He'll make an origami bird, then eat it.

In Avner's world, if you lengthen one arm (to pick up, say, a paper cup), you might shorten the other arm. Then when you get both arms at equal length, you're suddenly gimping along the stage, one leg shorter than the other. Avner must deal with these make-believe laws of physics, and he never stops trying to find the exceptions. In one sketch, Avner notices that when he gets up off his seat, the stage lights go out (Selina Young, lighting designer).

He is hilarious to watch as he tests the rule in ingenious ways, trying to see how far he can get from the chair without making the lights go out. When he loses, he shakes a fist at the rafters, and he's Everyman railing at the gods. You can read Avner's skills between the lines; though he carries himself like a subdued grandfather, he's in great shape; he's got a pool-shark's eye for angles and an uncanny feel for the center of gravity; and he is incredibly nimble. These skills come out in little surprises, such as when he balances a tall ladder on his jaw.

Some things are just visually fresh. Avner dances with a stack of wax paper cups (topped in a hat) that move as lithe and elegant as the neck of a swan. Or he stuffs the stack of cups into his pants as a third leg. The easy simplicity of Avner's show makes you realize how demanding most theater can be: one is expected to be clever or metaphorical, deep or insightful, current, sophisticated, cynical or ironic. But Avner doesn't ask much. And he doesn't project the attitude that he's going to wow his audience. Rather, he lets it be known that he's going to wow himself. If he can get a cigarette in his mouth and get it lit without his broom handle falling off or the cigarette dropping on the floor or the match box spilling a stream of matches, he's going to be quite proud of himself.
---
Avner the Eccentric presents Exceptions to Gravity Wednesday-Friday at 8pm (plus Jun 29 at noon), Saturday at 2 and 8pm (no 8pm show June 25) and Sunday at 2pm through July 17 at San Jose Rep, 101 Paseo de San Antonio, San Jose. Tickets are $11-$52. (408.367.7255)
---
---
Send a letter to the editor about this story to letters@metronews.com.
---
[ Silicon Valley | Metroactive Home | Archives ]