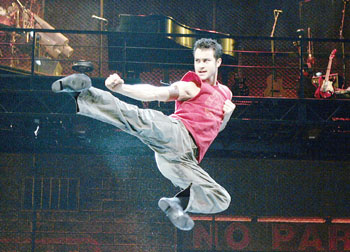 Photograph by Joan Marcus

Leap Year: Rasta Thomas gets airborne in 'Movin' Out.'

Thwarp Speed

'Movin' Out' at American Musical Theatre of San Jose combines moves and music

By Marianne Messina

HOW CAN YOU go wrong with Billy Joel music and Twyla Tharp choreography? Well, you can expect the usual musical fare: dialogue that breaks into song when the emotion gets big. In Movin' Out, which just started its American Musical Theatre of San Jose run, the emotion is dance-centered; the story line comes from Joel's original lyrics, like the story of Brenda and Eddie in "Scenes From an Italian Restaurant."

The musical follows three friends into (and two friends out of) the Vietnam War and spans two decades. Tharp, who conceived the show, recognizes the wartime experience as one that takes decades to sort out and integrate. To resurrect that particular war, Tharp has thrown all her intensity into the choreography. Only one character has a talking part: the drill sergeant. A character marked by energy and urgency, Sgt. O'Leary (from Joel's lyrics to "Movin' Out") embodies the central metaphor of the show.

According to Marin County native Sean Maurice Kelly, the dance captain for the current touring production, Tharp makes the dancers run through real military drills with Stephen Wolfert, a retired drill sergeant. "He's the type—really nice guy, really down to earth, very accessible," Kelly reports, "and yet when he goes, 'OK, gentlemen, now I'm going to put you through some drills,' and he puts on his uniform, he's a different animal altogether."

Kelly remembers that before working with Wolfert he thought drill sergeants were all about the discipline. But Wolfert helped Kelly see the drill sergeant's relationship to the men (and see the dance sequence) in a whole different light. "They need to trust you when you say get down, when you say go here, when you say go there, they do it instantly without questioning it ... because if not, you end up returning and handing the flag to someone's mother." Kelly adds that Wolfert told him he did perform that "'heart-wrenching'" task during his military tour.

In addition to being dance captain, Kelly stands in for six different male roles, and one of his favorites is James, the friend who gets killed. "He comes back in the nightmare sequence blaming his buddy for his death." The nightmare sequence is the one people go home talking about. "Everybody's done in sort of ragged military fatigues so they look sort of like ghost soldiers. It's physically very demanding for the men." According to Kelly, Tharp planned it that way. "She would say like, 'I need to find movement that requires you all to be ... almost a little bit physically overwhelmed by this section, so that your focus and intent begins to scratch the surface of what those men must have felt when they were out on the battlefield.'" The nightmare sequence involves moves that Tharp pulled from advanced yoga. In one move, the dancers must go from standing to seated all on one leg and keeping the other leg extended the whole time. "All the dancers go, 'Oh my God, that's so hard, that's so mean, that's so mean,'" Kelly recounts. But he also admits that the section forces everyone to summon up their full concentration.

Because the story is told strictly through dance, and the dance language is largely balletic, Tharp looked for dancers who could reach beyond good dance form, dancers who wanted to discover and develop the character they were playing. "She might give you an exercise and say, 'Analyze your character, ask a hundred questions about your character.'" Movin' Out may not tell a traditional story, but Tharp, using Joel's music, has trusted the power of the show to a universal energy that comes up from another level.
---
Movin' Out, presented by American Musical Theater of San Jose, plays Tuesday-Friday at 8pm, Saturday at 2 and 8pm and Sunday at 1 and 6:30pm through June 26 at the San Jose Center for the Performing Arts, 255 Almaden Blvd., San Jose, Tickets are $45-$72. (1.888.455.SHOW)
---
---
Send a letter to the editor about this story to letters@metronews.com.
---
[ Silicon Valley | Metroactive Home | Archives ]