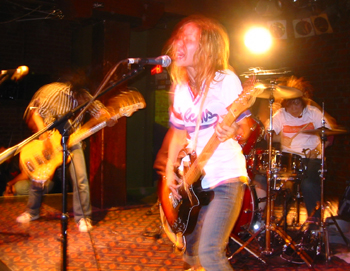 Photograph by Bryan Nelson

Three the Hard Way: Bleach03 specialize in primal scream therapy.

Apocalypse Now

Okinawan aggro-punk trio Bleach03 only look innocent

By Todd Inoue

THE BLANK CLUB'S foundation better be secure, because it's going to get blasted by three tiny Okinawan girls. I saw BLEACH03 (then called simply BLEACH before a run-in with a similarly named artist) five years ago. At first they looked like moppets—short, small, cute, their instruments engulfing them. Then they plugged in and hit their first chord and god-damn! They were the hardest and fastest band I saw at the festival.

They hit this death metal stride that was sprung from the loins of DEATH ANGEL or the MELVINS and maintained this pace for 30 brutal minutes. I kept looking for longhaired heshers flailing away behind a curtain, but the pain was being administered by three girls who looked like they got lost on their way to the international terminal.

Bleach03's first domestic release, a self-titled, 10-song CD on Austin's Australian Cattle God label, shows a slight maturation with a more streamlined form, even pop licks. But when they hit the accelerator—which they do often on "Kuropen Bigaku Tenshi-Chan To Kangaemashita (My Sweet Angel and I Considered the Aesthetics of the Black Pen)" or "Raiko-Kareki Ni Hana Wa Sakanai (Lighting-Flowers Don't Bloom From a Dead Tree)," forget it—game over. Collect your broken teeth, eardrums and stereotypes and proceed to the back. Bleach03 opens a Rock Stars and Bitches show at the Blank Club on Tuesday with Point 3 and VCR. Super highly recommended.

Tubular Bells

THE TUBES were my first indoor, sticky-floor, hot-bodies-pressed-against-the-barrier, claustrophobia-inducing concert experience. I think I was 14 years old, and seeing "Mondo Bondage" and "What Do You Want From Life?" acted out onstage with full props and costumes kept me from sipping weak sauce throughout junior high. I remember coming to school the next Monday, ears still ringing, barely being able to describe to my friends the spectacle I had witnessed.

Despite the highly theatrical show, I realized later the Tubes were criticizing many social constructs that concern us today such as the depersonalization and anonymity in a growing, technologically advancing corporate-owned society. The Tubes were misfits—too rock for punk, too punk for rock, not arty enough for the progs, too pop for the art crowd. The Tubes existed on a plain of their own invention, blending witty social commentary and Zappa's fuck-you-we-do-what-we-want subversion.

Its first album swung all over the place from loping Cuban-inspired "Malaguena Salerosa" to the kooky space-rock of "Mondo Bondage." On the flip side, "What Do You Want From Life" and "Boy Crazy" are theatrical in scope while "White Punks on Dope" is a rebellion anthem that presaged Less Than Zero and The O.C.: "Teenage had a race for the nighttime/ Spent my cash on every high I could find/ Wasting time in every school in L.A./ Getting loose I didn't care what the kids said."

Remote Control flowed with archaic techno electricity on "Prime Time," "TV is King" and "Telecide." The Completion Backwards Principle—anchored by the MTV hit "Talk to Ya Later"—turned them into stars. Then something bad happened—they swung harder for the pop fences and made two lackluster albums, Outside Inside ("She's a Beauty") and the aptly titled Love Bomb. The band broke up for much of the '90s (reforming in 1996 for Genius of America which was largely ignored). I'm waiting for a lot of these no-wave, jerk-off bands to give it up for the Tubes. They'll have a prime opportunity on Thursday when the band plays Music in the Other Park at 5:30pm.
---
Send a letter to the editor about this story to letters@metronews.com.
---
[ Silicon Valley | Metroactive Home | Archives ]