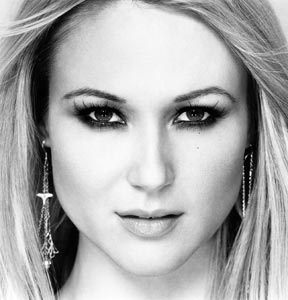 Jewel gets back to her roots.

Simple Girl

Jewel scales back on her commitments and focuses on her music

By Sarah Quelland

'I SEE BLUE sky and snow-capped mountains, yellow 'dandy lions' and the hills of Aspen," Jewel says with a giggle. She's calling from Colorado, where she's spending 10 hours a day writing songs for her next album. She's about to embark on a tour that runs through the end of July and brings her to the Mountain Winery in Saratoga for two nights (June 17-18).

Jewel says the new record will be split between live and studio recordings. "It'll be [a] lo-fi, pretty personal record," she reveals. There's no title yet—"I'm the worst at titles," she admits—but she anticipates that the record will come out early next year.

In the afterglow of her flirty dance-pop album, the controversial 0304, Jewel seems to be simplifying. Currently, she's focused almost exclusively on her music. She dropped out of Wave, a feature film that once had her name attached as producer and star. She hasn't pursued any acting roles and doesn't expect to anytime soon. She's also not sure if her book of love poems will ever be published. The culprit, it seems, is the object of Jewel's affections, her boyfriend, retired rodeo champion Ty Murray.

"I like the poems I have," Jewel says. "I just uh," she pauses. "My boyfriend has a mom, and she's really nice, and I think I'd be a little embarrassed to sit at the dinner table with her after that," she confesses in a rush, her laughter as musical as tinkling bells. She did write them out and stitch them into a book, which she presented to Murray. Since then, she says she's been writing a lot of short stories but hasn't decided if she wants to compile them for publication.

In addition to scrapping those two projects, she recently turned the ClearWater Project, which works to provide safe drinking water to communities in need, over to her mother, Lenedra Carroll, and her brother, Shane Kilcher. Though her role has diminished in the organization, charity is still important to her. She says now that ClearWater is established, she's considering redirecting the 50 cents she collects on every concert ticket sold. "I'm starting to look into other charities. I tend to go environmental or with children." Perhaps thinking of her wiggly tooth or her worrisome kidneys, she adds seriously, "Health care is another one that I find real relevant." Mostly though, she says, "I've just been trying to switch everything over and deal with touring on this record and writing a new record. The rest just hasn't been high on my priority list."

So, why the major shift? "I don't know," she says, with a soft sigh. "I'm not real ambitious. I've worked real hard in my life, and I'm 30 and I've really started to just enjoy my boyfriend and the career that I do have, and I guess I'm not fame-hungry enough to really put the effort in that it would take to build another career."

Jewel seems pretty carefree these days and very little seems to faze the folk superstar, including the bad press she got after that show at the Hampton Beach Casino Ballroom in New Hampshire. "I couldn't even hear myself sing that night, it was so loud," she explains. "People were just really loud and really rowdy and really drunk." Jewel did two sets that night, and she says they were nearly identical. "I told the same stories and the same jokes. I don't think they could hear me talking. They didn't get the humor in anything," she says. "I tried to just do my shtick and tell my stories so that people that were listening still got a show. I still sang good and did all my songs. It's just not the same as when you have a quiet crowd and you can really dig into something. "

Ticket holders to the Winery shows take note: good behavior begets a generous Jewel. "If I have a quiet crowd that's listening, I'll do a two-hour show," she says.

TERMINATED: Due to state budget cuts, the last of the PAY program/Grand Fanali Presents teen shows at the Mitchell Park Center in Palo Alto happens this Saturday (June 19) with Walken, Confident, Salo and An Arrow in Flight.
---
Send a letter to the editor about this story to letters@metronews.com.
---
[ Silicon Valley | Metroactive Home | Archives ]