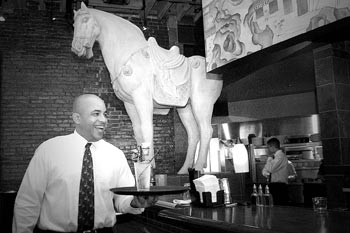 Photograph by Charlie Nucci

Equine Divine: P.F. Chang's décor transports the diner to a realm of spicy niceties.

Fine China

P.F. Chang's brings its brand of perfected Asian gourmet to downtown

By Aaron Robinson

P.F. CHANG'S China Bistro's downtown San Jose location doesn't need a fortune cookie to read its success. Crowds fill the majestic dining room on the weekends, where a spacious sprawl of industrial booths and tables is illuminated under the golden glow of jumbo lanterns. Larger-than-life stone horses stand watch over the bar and dining room.

Besides décor, Chang's takes great pride in the degree of hospitality it holds standard, and its menu proves that it is eager to accommodate each guest's individual needs. A comprehensive "flavor first" wine list (the wines are listed by intensity) is superior to that of any other first-rate chain I can think of, with more than 50 highly regarded varieties by the glass. There is also a training menu designed for athletes—and a gluten-free menu.

We sat in an elevated booth and watched our server conjure before us a custom dip of soy sauce, mustard, vinegar, garlic chile sauce and chile oil to accompany our appetizers (a luxury we were not afforded on our first visit). Scouring the menu for something outside our usual bill of fare, we found the warm duck spinach salad ($8.95). The brilliant combination of sweet mandarin oranges, flash-fried almonds, fried shallots, shredded crispy-tender Canton honey-marinated duck and citrus soy dressing was love at first bite for me. I'm still salivating over it now.

Our other appetizer, the salt-and-pepper calamari ($6.95), came as small, golden slices of tender young calamari steak dusted with potato starch, fried, then tossed with scallions, kosher salt and coarse black pepper and served over rice sticks with a ramekin of sweet Sichuan chile bean sauce. We thoroughly enjoyed every crunchy little morsel, and we gobbled them down by the handful as you would a plate of french fries.

After ordering another glass of the soothing Kunde Sauvignon Blanc ($8.50) for myself and a bottle of Sapporo ($4.74) for my date, we were ready for the entrees: lemon-pepper shrimp ($12.95), Mongolian beef ($11.95), kung pao scallops ($12.95) and pork fried rice ($6.75). My date confessed that she actually has an addiction to the lemon-pepper shrimp and is currently undergoing therapy in order to kick recurring taste hallucinations of the shrimp's slightly crisp flash-fried texture and the peppery, but not spicy, sweet lemon glaze.

I was a big fan of the beef—super tender, thinly sliced flank steak caramelized in a dark sauce of soy, sugar and garlic, hidden in a forest of long-cut scallions. The quick-fired spicy scallops with peanuts, scallions and chile peppers delivered a fiery and delicious addition, and the fried rice gave the final element needed to bring together an even mix of flavor and variety in the dishes.

At this point, we had by our side a to-go bag bursting with leftovers—not necessarily because we had overordered but because we were smart enough to save room for the Great Wall of Chocolate ($6.95)—six layers of rich chocolate cake frosted with semisweet chocolate chips and served with raspberry sauce. As the name implies, it did divide the table in half, creating two ravenous forces that were left battling over who got last bite.

We joined the wall with banana spring rolls ($5.25)—a banana rolled in cinnamon and sugar, wrapped in a won ton wrapper and fried. It is then sliced into bite-size pieces, and served with coconut-pineapple ice cream and drizzled with caramel and vanilla sauces. This dessert encompassed everything I ever wanted from a banana—it was like my dream home in the tropics.

No longer do we need to cope with the drought of decent Chinese restaurants in San Jose. P.F. Chang's has come to the rescue, and I'm confident that it will continue to be embraced with open arms.
---
P.F. Chang's China Bistro
Address: 98 S. Second St., San Jose
Phone: 408.961.5250
Hours: 11am-11pm Mon-Thu, 11am-midnight Fri-Sat, 11am-10pm Sun
Cuisine: Chinese
---
---
Send a letter to the editor about this story to letters@metronews.com.
---
[ Silicon Valley | Metroactive Home | Archives ]