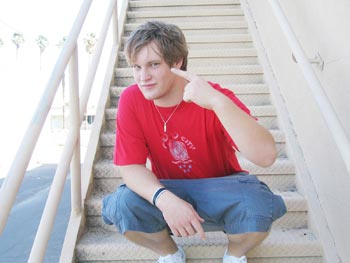 1460 Cume! What?!: MC Lars is more likely to brag about his SAT score than his phat ride.

Word Freak

MC Lars raps literary, keeps it surreal

By Todd Inoue

AN EPISODE of MTV Cribs starring MC Lars might look like this: standard dorm-room layout with IKEA furniture, G5 stack with ProTools and DSL, vintage video games, hacked TiVo, Goonies movie poster instead of the requisite Scarface, classic-rap tapes alphabetized. And textbooks—lots and lots of textbooks.

MC Lars—Andrew Nielsen to the DMV—is an English major at Stanford and aspiring rapper. He just finished his junior year, concentrating on 19th-century American authors.

With his thrift-shop couture and education background, he's much more suited for Jeopardy than Cribs. From his days growing up in Carmel Valley to studying among Stanford's ivy towers, the 21-year-old isn't about repping the streets; he'd be exposed as a phony and eaten alive. Instead, he reps the outcasts and goofballs who love hip-hop, literature, The Daily Show and pop culture. His dream tour would be him, Weird Al, King Missile, Bloodhound Gang and KRS-One.

"There's a whole generation of kids of all races who freestyle and freestyle decently; they talk about their life," he explains. "It's not like I have an 'edge' coming where I come from because that's a challenge. My thing is to tell stories."

Telling stories is something Lars does well. He's perfected a boyish speed-rap flow that induces whiplash, frequent rewinds and intestinal distress (from laughs). Lars crams a semester's worth of pop references into "Hurricane Fresh." To a sample of the Scorpions' "Rock You Like a Hurricane," Lars accelerates through a chest-pounding inventory of oddities that inhabit his brain: "I take chances, I rhyme, so what? / I like James Brown and Beyoncé's butt / Whatever your race I'll Friendster you / and rent two Spike Lee Netflix, too."

One of his favorite techniques is placing classic poets in a contemporary musical context. "Rapbeth (Fair Is Foul)," a summary of Shakespeare's opus in new-school iambic pentameter, landed on Dr. Demento's radio show. "Certified" name-checks Ernest Hemingway, Robert Frost and John Milton in the first 16 bars. On "Mr. Raven," Lars gives a four-minute salute to the notorious E.A.P.—Edgar Allan Poe. "Who's that rapping on my chamber door," he questions before delivering a scratched punch line. "Mr. Raven all up in my grill like 'Never more.'"

"I try to keep my raps clever," he says. "My shtick is I put in pop-culture things. I drop names of poets and artists and expand the frame of reference. And I make a big issue of not cussing. I think cussing is cool, but it's an easy way to fill up space."

MC Lars likes to draw links between poets and their modern-day MC counterparts. KRS-One is like Walt Whitman, he says. Both are prolific, catalog things, dwell on history and are important voices for generations and movements. E-40 is like Mark Twain because of its use of regional dialects—Vallejo "slanguage" and Mississippi twang, respectively.

"I enjoy drawing correlations between the meter of old writers and what rappers are doing today," he says. "If you change the slang a little bit and add a beat or take a beat away, there is similarity in the stories they are telling."

England's Dreaming

Lars fiddled in rock bands during his teens, all the while making weird rap tapes on the side. When he arrived at Stanford, he sought out other musically inclined souls. He got himself a show on KZSU (Pandora's Beat Box) and a cartoon strip in the Stanford Daily (27th Street).

"When I got here, I loved it, but I think the creative part is played up for admissions processes [in order] to make the school look better," he says. "When I got here, I had to create a scene for the genre I was doing and work with the radio station to put on campus events. There are bands, but this place is so athletics or academic oriented, it's easy to get lost if you're not insane enough to build a niche for yourself. I've gotten to the point that most people know what I'm doing, but it took a lot of work."

It was during a 2003 semester abroad, studying in Oxford, England, when Lars got his first big break. He jacked into the local music network and played 11 shows in three months. The indie-rock label Truck witnessed the madness and offered him a deal that resulted in the full-length Radio Pet Fencing. The LP was released in England in September 2003 and in the United States last January. He did a small U.K. tour and found a receptive audience, including BBC's influential DJ Steve Lamacq, who gave it a spin.

"It was weird because I didn't know if it was patronizing," he says. "I thought at first I was getting these gigs because people thought I was a joke. Then the label offered to put out the album. Then I thought maybe people see it having substance beyond the fun facade. That legitimized it. When I got home the response continued."

Lars just finished recording a six-song EP called Laptop last month. His new songs use samples from unlikely suspects: Piebald, Brand New and Hearts That Hate. The music bed is fresh and goofy with crisp, New Wave-y nuances and chopped guitar breaks. Live, Lars runs a minimal setup. He has a bass player and a "hype guy" who doubles as laptop engineer—triggering loops and MIDI samples. Laptop shows Lars moving away from the novelty and literary obsessions. "Signing Emo" pokes fun at cookie-cutter values rampant in the music industry; "iGeneration" and "UK Visa Versa" take ambivalent American attitudes to task. "You gave us Chicken Run and the Teletubbies," he says in the latter, addressing the English population. "We gave you McDonald's and got you chubby."

MC Lars originally went by MC Lars Horris—a dodgy reference to a character on Dr. Quinn Medicine Woman—but recently dropped the surname to avoid comparisons to another dorky white rapper: MC Paul Barman. He intends to keep the MC part, following in the tradition of other legendary storytellers: Lyte, Shan, Hammer, Eiht, Twain, Hemingway and Poe. He wants people to judge him on his brain's dexterity; style points are just a bonus.

"It's different, because I'm not trying to cram as many syllables into a bar," he says. "It's more like I'm trying to tell these stories. The MC thing is an afterthought; I just want people to pick up the CD and be surprised."
---
The absolutepunk.net Tour with MC Lars, Say Anything, Audio Karate and Lance's Hero plays the Outhouse, 4 New York Ave., Los Gatos, on Friday (June 18) at 7pm. Tickets are $6. (408.395.5553)
---
---
Send a letter to the editor about this story to letters@metronews.com.
---
[ Silicon Valley | Metroactive Home | Archives ]