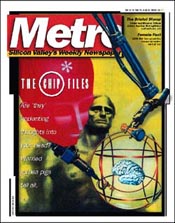 For the Week of
June 18-24, 1998
Cover: The Truth Is In There
More and more people are convinced they have a chip implanted in their body, controlled by conspiratorial forces. Is it anything more than X-treme high tech paranoia?
News: School's Grounds for Firing
A Berryessa middle school faces crisis after two black women are fired.
Public Eye: The phantom judicial candidate?
Black Watchers: Ritual of drinking, watching 'the fights' endures in Los Gatos--at 11:30am.



The Fine Art of Turning Inside Out
'Tis the season for Metro's guide to summer indulgences, with outdoor concerts, theater and our best picks for relaxing daytrips. There's also day-by-day calendar of summer events that you'll want to bookmark for the long and luxurious days ahead.



Trip-Hop Trance: New albums by Massive Attack and Tricky bring back Bronx worship by way of Bristol.
Female Fest: Lilith Fair tour promotes women in rock--sort of.
On the 'Go Go': Guitarist John Scofield gets back to basics.
Summer Soundoff: The valley's concert and club scene is sure to be hot this season.
Audiofile: Reviews of the latest CDs by Jim Nollman, Keel VI, Terry Callier and various artists.



Waiting to Inhale: Hav Plenty is a frame-breaking romantic comedy made on a shoestring. Plus, Richard von Busack interviews director and star Christopher Scott Cherot.
Cold Dish of Careerism: Lisa Cholodenko's icy High Art turns from chic comedy to humiliation.
Poison Envy: Mr. Jealousy tries to imitate Woody.
File and Forget: The X-Files falls flat on the big screen.



Uncle John's Dramaturgy: The Dead get the musical treatment in Cumberland Blues.
In Love Again: San José Rep revives Cole musical.



Rights of Spring: Cafe Primavera finds success in two arenas.



Please don't forget to write! Metro welcomes letters. Like any great work of art, they should be originals -- not copies of letters sent elsewhere. Include address and daytime phone (for verification purposes only). Letters may be edited for length and clarity or to correct factual inaccuracies known to us. Postal: Metro Letters, 550 S. First. St., San Jose, CA 95111. Fax: 408/298-0602. . Emailers, please include name, city of residence and phone number. Letters printed will list email address unless otherwise specified. Letters to the editor are not currently published in the online version of this paper.