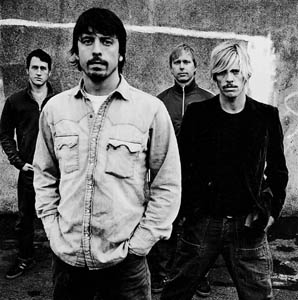 Foo Fighters don't fool around.

Call It a Comeback

LIVE 105 celebrates a decade of BFD

By Sarah Quelland

JUDGING BY LAST YEAR'S poor attendance, interest in LIVE 105's BFD seemed to be waning, but the annual summer festival made a huge comeback this year as it celebrated a full decade of rocking Bay Area audiences. Last Friday (June 13), Shoreline Amphitheatre was packed as people of all ages showed up in droves to check out sets by the dramatically eclectic lineup of punk, pop and rock bands. Hot in some spots, cooler in others, there was a little something for everyone at this year's BFD.

The Subsonic tent was a huge success, filled with fans dancing under the shade of the big top to the sounds of the likes of the Crystal Method and the Roots. Meanwhile, the Used were the surprise hit of the Festival Stage with a rock & roll performance good enough to sway anyone on the fence about going to the Warped Tour. Frontman Bert McCracken (a grimy little rocker with an aversion to bathing who used to date Kelly Osbourne) was a natural onstage, spurring the audience into a frenzy of support and doing no less than two well-executed back flips. While the Donnas were all but swallowed up by the size of the Festival Stage, the Transplants punks were in high gear, barely contained by the stage and closing out the parking-lot portion of the concert in rowdy good form.

Evanescence canceled its appearance, reportedly citing some sort of respiratory infection following a date in Las Vegas. The group's absence was later lamented by Foo Fighters' frontman Dave Grohl, who complained, "I got here early 'cause I wanted to get me some Evanescence, [but] my homies got SARS." He went on to dedicate "Breakout" to "the Evanescence kids." With Evanescence a no-show, the White Stripes opened the main stage with their explosive music-as-theater shtick. With their trademark red-white-and-black color scheme, Jack and Meg White raised the fourth wall, and their performance unfolded like a musical--at once experimental, artful and insolent--driven by borrowed riffs ("Dead Leaves and the Dirty Ground") and borrowed songs (Dolly Parton's "Jolene").

Up next was A.F.I., a Bay Area the goth-punk band long championed by LIVE 105 that recently landed in the national spotlight thanks to its latest, Sing the Sorrow. Sacramento's Deftones followed and were at their best during "Around the Fur."

Main-stage headliner Foo Fighters were the biggest act on the bill, and the veteran musicians played all the familiar hits ("All My Life," "My Hero," "Times Like These (One-Way Motorway)" and "Learn to Fly") with a comfortable ease, indulged in an extended jam during "Stacked Actors" and ended the night with "Everlong." Loose talk backstage indicated that Grohl was in consideration to fill John Bonham's seat in a Led Zeppelin reunion, which suggests that there is, indeed, a Zep reunion in the works.

HOT TOPIC: Trapt plays Slim's in San Francisco with Seether and Smile Empty Soul on June 25. ... dredg closes out its cross-country trek at Bottom of the Hill in San Francisco on June 26 with CodeSeven, Woven and Strata (formerly downside). Strata also performs at the Edge in Palo Alto on July 11 with Alien Ant Farm and Die Trying, two bands signed to Papa Roach's label. ... This Friday (June 20), the Edge's Jimmy Arceneaux celebrates his birthday with a big bash at the Edge. There's a $5 cover for ages 18-20. ... R 2 Cents has moved its operation from De Anza College to the Comcast facilities located on South Tenth Street in San Jose and will be taping on July 1. Visit www.r2cents.org, email [email protected] or call 408.580.9810 for more info.

PLAN AHEAD: For Sale, Spitshine Syndicate, Jim Jones Brigade and the Return, June 19 at the Gaslighter Theater in Campbell; Greenhouse Effect, the Deed and Floating Goat, June 19 at Club Four; Kenny Chesney, Keith Urban and Deana Carter, June 20 at Shoreline Amphitheatre; the Phantom Limbs and Bottles and Skulls, June 20 at the Blank Club; Cecilia and Luckydog, June 21 at the Blank Club; Weird Al Yankovich, June 21 at Paramount's Great America; ZBS, the Cliftons, Throat Oyster and Crop Knox, June 22 at the Gaslighter Theater; Ones and Zeros and others, June 23 at Waves Smokehouse; Trainwreck (featuring Kyle Gass of Tenacious D), the Golden Gods and Atomic Mint, June 25 at the Edge.
---
Send a letter to the editor about this story to letters@metronews.com.
---
[ Silicon Valley | Metroactive Home | Archives ]