---
Book a table online.
---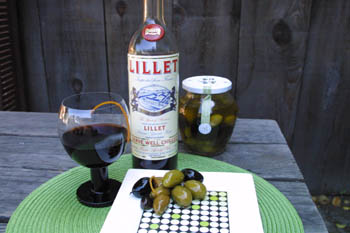 Photograph by Traci Vogel

Lillet of the Valley: Served with light appetizers, aperitifs 'engender civility.'

Breaking the Ice

Let aperitifs awaken your senses

By Sara Bir

I HAVE CREATED, I believe, a great aperitif. At least I think it's an aperitif--a shot of crème de cassis in strong-brewed iced tea over tons of ice, with a lemon wedge. Refreshing and brisk! Both bracing and relaxing! That's an aperitif in a nutshell. But aperitifs are usually served in glasses, not nutshells. Beyond that, defining what is an aperitif and what is not gets challenging. Here, from the textbook Exploring Wine, is a definition: "[an] alcoholic beverage taken before meals to stimulate the appetite." The word itself is derived from the Latin aperire, meaning "to open."

So what's the difference, then, between cocktails and aperitifs? Loosely, it's a question of setting, company and alcohol content. With aperitifs, lightness is of the essence; the idea is to open up the palate, not to pickle it. Lighter drinks pair better with foods than strong mixed drinks do, and they are especially desirable in sunny, summery weather.

A crisp glass of pilsner would even quality as an aperitif; what differentiates an after-work beer from an aperitif beer may well be how you drink it. Aperitifs are for social times, for chatting and relaxing. There's an implicit level of sophistication, as well as a seemingly contradictory element of casual openness, of breezy leisure.

We think of cocktails as a very swank, adult pleasure--there are strong associations with music, with formal dress, with a '50s and '60s aesthetic. Go to a bookstore and you will easily find at least a dozen cocktail guides. You will find, if you are lucky, one book on aperitifs.

Very likely that book will be Aperitif: Stylish Drinks and Recipes for the Cocktail Hour, Georgeanne Brennan's captivating, IACP award- winning volume packed with recipes for drinks, cordials, foods, and including a fair amount of aperitif lore. In it, Brennan writes of the rituals around aperitifs in France, the heart of aperitif culture: "It is a national custom that, by deliberately setting apart time to share a drink and to socialize, engenders civility and conviviality."

The first aperitif most people encounter is Lillet, an aromatized wine from Bordeaux that comes in both blanc (flowery, orangey, lightly sweet) and rouge (sweeter, more syrupy, and spicier) versions. Mario Vega, directeur of the Left Bank Brasserie in Santana Row, says that Lillet is a perfect starting point for the apertif novitiate. "Some things are an acquired taste," he says, "and if you don't have a palate for liquor, an aperitif can seem quite strong. The fortified wines like Lillet or Dubonnet come across as a little bit lighter, more refreshing, and they are served over the rocks so they're chilled."

Aperitifs, Vega emphasizes, are designed to complement a meal, rather than to stand alone like a cocktail. Left Bank does, however, incorporate some aperitif liqueurs, such as pastis, an anise-flavored liqueur, into cocktails. One of the most popular Left Bank creations is the A La Mauresque, a pastis with almond syrup. "In France, they have almond-flavored pastis," Vega says, "but they are not readily available to us here, so we have improvised." Vega suggests pairing these drinks with appetizers such as "a tarte lyonnaise. We also have a Pernod shrimp appetizer--a garlic lemon shrimp. The Pernod softens the shrimp with the licorice flavor."

The ritualistic presentation of pastis or Pernod can also pique interest. "Generally, the pastis is served with your own side of ice and your own side of water," Vegas describes. "So you may temper the drink's strength according to your taste."

Aperitifs represent a different approach to cocktails than many of us are used to, but while a Frenchman might choke over the notion of me proposing that a can of beer could be an aperitif, he probably would not argue that it's ultimately the mind-set, not the drink, that's the determining aperitif factor. Call them what you will, but enjoy.
---
Left Bank Brasserie
Address: 377 Santana Row, Ste. 1100, San Jose
Phone: 408.984.3500
Hours: Tue-Sat 11:30am-11pm, Sun-Mon 11am-10pm
Full bar
---
---
Send a letter to the editor about this story to letters@metronews.com.
---
[ Silicon Valley | Metroactive Home | Archives ]