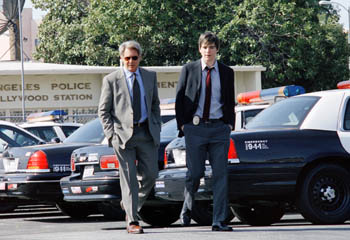 May-December Cops: Harrison Ford and Josh Hartnett play police partners in 'Hollywood Homicide.'

Hollywood Hook Up

Harrison and Hartnett recycle an old genre with a few new wrinkles in 'Hollywood Homicide'

By Richard von Busack

THE BY-NOW ANCIENT PLOT of the old cynical cop and the rookie pup is produced by Joe Roth's Revolution Studio--if this is the revolution, what is the reaction going to be like? The high-concept plot is based on a real-life news story about how members of the LAPD manage to actually live in L.A., where the housing costs are as bad as they are here. Harrison Ford plays Joe Gavilan, a debt-loaded detective who moonlights as a real estate agent. Gavilan's callow partner, K.C. Calden (Josh Hartnett), is a four-month force veteran, the son of a cop killed under mysterious circumstances.

The idea is that younger fans can watch the mole on Hartnett's neck play peekaboo with his collar while the older ones wait for Ford to turn up again. Both cops are assigned to a homicide case that no one (including the viewers) is expected to care much about. The plot leads to a pair of chase scenes: one staged in L.A.'s Venice canals, the other a long, silly finale that goes from Beverly Hills to Hollywood (staged with a little more brio than the car chase in The Italian Job, even at the same locations, including the Hollywood/Highland L.A. subway station).

The hand of director/co-writer (with Robert Souza) Ron Shelton is best in the love scenes. While Hartnett is tossed dumb bimbos as if he were Matt Helm or something, Ford gets some sexy-comic scenes with Lena Olin, who likes to tease him with a blindfold. Throughout this negligible but likable film, Ford's slouchy and crumbly, grumbling his lines, striking up a respectful rapport with the villain, Isaiah Washington (whose backstory is vaguely based on Suge Knight).

Shelton (Bull Durham, White Men Can't Jump) proves his favoritism for Motown and single-malt over hip-hop and malt liquor. Youth does get served, however. When Ford complains about not getting modern music, Gladys Knight (as a retired soul singer) retorts, "You're not supposed to get it." Lines like this aren't as common as they could be. Working to the specs of a dumb Hollywood vehicle, Shelton's efforts are like fine detail work on a clunker car.
---
Hollywood Homicide (PG-13; 111 min.), directed by Ron Shelton, written by Robert Souza and Shelton, photographed by Barry Peterson and starring Harrison Ford and Josh Harnett, plays at selected theaters valleywide.
---
---
Send a letter to the editor about this story to letters@metronews.com.
---
[ Silicon Valley | Metroactive Home | Archives ]