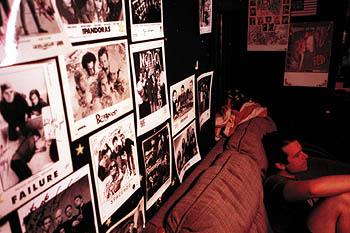 Photograph by Paul Myers

Cactus Gets Pricked

Downtown San Jose is poised to lose a legendary nightclub, as the ABC pounces on 'low-priority' violations

By Allie Gottlieb

Ask anyone who's standing in line to get into the Cactus Club on a Friday night why they're there, and the answer will probably be something like "the Fighting Jacks," "Karate High School," "Lavabone" or "Reaction 31."

For 14 years, the club has helped keep the fire lit under San Jose's local music scene by booking popular bands like these before anyone else would. It even let youngsters under 21 in on the fun! The Cactus also lent its stage to the band that introduced punk to the mainstream and grunge to hippie mag Rolling Stone--Nirvana--back in the early '90s, and a bunch of nobodies called Pearl Jam who headed through town around the same time. In a decade and a half, hundreds of now-known bands have hit the Cactus: Mudhoney, Suicidal Tendencies, Agent Orange, the Breeders, Flock of Seagulls, Quiet Riot, the Supersuckers.

"The Cactus Club is San Jose's CBGBs," Mark Herman told Metro. Herman is co-vocalist of San Jose's Insolence, a band signed to Maverick Records.

In a move that saddened thousands of new-music fans--past and present--who struck up an Internet rant about it and a petition to preserve the club, the Cactus announced that it will close its doors June 30. And now that the Cactus is screeching toward its final show in two weeks, a farewell blowout headlined by the Odd Numbers, officials say, ironically, it doesn't come down to the usual suspects in club implosion: financial mismanagement, problems with the local police or city zoning violations.

In the case of the Cactus Club, the death blow supposedly all comes down to pizza.

According to vice cops and the local liquor agency, the Cactus has to fire more than 15 pies a night to keep its status as a restaurant that can serve liquor and admit minors.

And it hasn't been doing that.

So, while a bit fuzzy on the details, officials at the state Department of Alcoholic Beverage Control (ABC) say that the Cactus Club, which has the same type of hard liquor permit intended for sit-down restaurants as, say, Original Joe's or Spago, is clearly a club, not a restaurant.

"You know when you walk in if it's a restaurant," Lydia Engdol, ABC district administrator told Metro. The ABC planned to revoke the Cactus' liquor permit in July, a move that club owners said make the club financially insolvent. Club owners have had an ABC restaurant license for more than 14 years, allowing them to serve liquor and to admit minors.

In those 14 years, the club has had remarkably few problems with law enforcement or with ABC violations, particularly for a venue that combines underage with drinking-age clientele. However, the ABC has stepped up its enforcement efforts.

Engdol says that ABC now has seven investigators for Santa Clara County (three more than it had a couple of years ago). That, plus generous help from the Sacramento unit and from San Jose's nightly army of police, has helped it bust nightclubs like the Cactus for the "low-priority" (Engdol's term) violation of pretending to be a restaurant while acting more like a club.

So, instead of limiting itself to cracking down on such code-red violations as drug dealing and prostitution, ABC is hitting the small-time operators.

More Than the Music: Metro music editor Todd Inoue recalls his love-hate relationship with the Cactus.
A Club Is Born: Former Metro music writer Rebecca Smith Hurd remembers the early days.
A Million Memories: Metro music writer Sarah Quelland mourns the loss of the Cactus.
Urban Resign: The Cactus Club made a good neighbor, according to Metro editor Dan Pulcrano.

Fried Cactus
But to people on the inside of the Cactus, it's just semantics. "The city has been trying to get rid of us for years and is using the ABC as the club to beat us with," Cactus manager Calvin Trippett told Metro in an email last week.
Trippett's brother, Mike, and Sean Galvin originally owned the club. Now, Mike Trippett co-owns it with Stikmon (his chosen full name), who also does sound at the club's shows. The Cactus is unique because it's licensed to permit dancing, live entertainment, kids of all ages and alcohol.
Following a Jan. 29 hearing, which ABC never transcribed for public record, the liquor authority's Administrative Law Judge Stewart Judson suspended the Cactus Club's restaurant license for at least a month, or until they start making more pizzas. The suspension starts on July 1.
The club's owners say they would have to face giant financial hurdles in order to reopen after the suspension. First of all, they'd have to pour money into renovation to meet the ABC's "restaurant" requirements. Then they'd have to renew their lease, if their landlord agreed, paying whatever rent increase would inevitably come with that. As it is, Stikmon said the club lives close to the edge financially, and Calvin Trippett seems certain the club is doomed.
"Between being closed for a minimum of a month and having all these bizarre restrictions hanging over our heads, knowing that we would have to spend a fortune to renovate when we only have a little over a year on the lease ... we decided the best (read: only) course of action is to let the club go," Trippett said.
While the liquor police's newfound vigor has small-time targets--the punk-looking Cactus, along with comparatively tame-looking Silicon Valley venues like Pockets Billiards and Normandy House, whose licenses the ABC is similarly suspending, according to ABC's Engdol--the effect on San Jose nightlife is huge.
Everyone who's been around long enough to have seen South First Street evolve from the red-light district it was in the '80s to the hotbed for local and touring bands in the '90s to its current ambiguous state knows this: The Cactus Club, along with former venues like F/X, Fuel and Marsugi's, breathed life into a forgotten part of town.
"The Cactus Club paved the way for everyone else down there," said Fil Maresca, a former club owner himself, current owner of Filco Events production company and chairman of the South First Action Committee, which is trying to help save downtown from the blight of empty storefronts.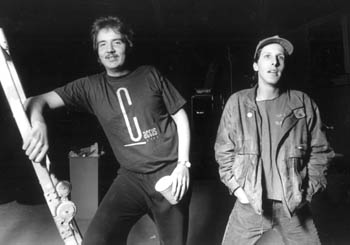 Photograph by Julia Tranchina
Old Day's Dudes: Mike Trippett and Sean Galvin, original owners of the Cactus Club, which opened in 1988.
Get Out
Joey Myers, who works at Streetlight Records and plays drums for five bands, doesn't buy the pizza story: "The city just doesn't like them," he said.
One of his former bands, the King Pins, is reuniting to play a Cactus final blowout. "I think the local band scene is really going to suffer the most. There's going to be no place to play," Myers said. "At the end of the day, I think San Jose's just going to be a glorified cow town."
Myers puts the Cactus' looming death within a larger context by noting several clubs where live bands also used to play during the city's booming club-scene era--clubs that have already left the area. He lists the Ajax Lounge, Fuel, Marsugi's, Laundry Works, the Oasis and F/X, which, he said, closed for different reasons, including "redevelopment and greedy landlords."
"It's really frustrating for me because I really love the place," he added.
Zero music-mag co-publisher and editor Larry Trujillo gave his take. "There are two things going on: people are cracking down on clubs, and people are preventing clubs from opening," he said.
Trujillo said he tried to open a nightclub himself in 1990. "It's hellish," he recalled. "It's mapped out by the Redevelopment Agency," he said, referring to the two entertainment zones where the city permits nightclubs (South First Street and the San Pedro Square area). "They have it all mapped out ... When it comes to independent promoters like the Cactus, it's very unrealistic."
Trujillo, who wrote an article on the Cactus' closing in the Zero June 10 issue, considers the club's situation hopeless. "As far as I'm concerned," he said, "that street's done with."
People aren't just complaining about the Cactus. Other current and past downtown small-business owners and managers see it as a symptom of a larger ill: the way the city's night life core is unraveling. Those San Jose locals who miss places like Fuel, Ajax and others commonly blame rising rents, an overabundance of cops and other arms of the city, including the Redevelopment Agency, for making it nearly impossible to run an independent business on South First Street for anyone but a property owner or out-of-town chain.
"In essence, what happened to the Cactus is almost identical to what happened to us," said Sharrin Spector, who owns Pierce Ink. Spector's tattoo and piercing shop moved out of its spot at 325 S. First St. in 2001 after seven years. "The building sells; the new landlord doesn't want you there. What are you going to do?" she asked.
"Basically, how I feel about this is, I don't think the city did anything [to help]," Spector said, adding that she couldn't qualify for city loans to help with moving costs to their current space outside the downtown core. "I think the city turned its back."
"I think the city is in bed with the landlords," Spector believes.
Who's in Charge?
"Your premise that we have any authority over who a property owner puts in their building is faulty," Redevelopment Agency director of communications Peggy Flynn told Metro during a recent phone interview, when asked for a response to claims from small-business owners that the city supports landlords and not independent establishments like the Cactus.
"It's up to the property owner" to keep the Cactus, she said. "We don't get involved in landlord-tenant disputes."
Of course, despite Flynn's position that the RDA doesn't get to choose the city's tenants, the agency did offer to kick in $2.4 million to entice a 1,200-seat House of Blues nightclub to come to town.
The RDA used to fund a retail-retention program, but Flynn couldn't find anyone at the agency by presstime who was around during the program's tenure and could talk about it. Scott Knies, San Jose Downtown Association executive director, said the retention program ended in ,97 or ,98. Now, he said, the Redevelopment Agency offers more programs to help keep small businesses. What's different is that there isn't a single retention program with a specific point person.
Also, the RDA is currently surveying 200 small downtown businesses to gauge their concerns. The RDA hired downtown marketing research firm Cintara to shuffle through the businesses with an eight-page questionnaire, "in order to better understand the needs of businesses in Downtown San Jose, and to develop targeted programs" to serve those needs, according to the survey's introduction.
"I think [the RDA] is getting a lot more pressure than ever before" to help retain independent establishments, Maresca said. But in response to the city agencies' track record on supporting small businesses like the Cactus, Maresca had his own view: "The only thing I could say about the city is I think that people outside the nightclub business look at people inside the nightclub business with a very distrusting eye."
"Sometimes the pioneers get squeezed out," Maresca continued, when asked about the city's history of retaining (or losing) South First businesses. "And it happened to me."
Maresca owned F/X, a nightclub that moved to South First years ago following the Cactus' lead. F/X left when a potential lease renewal came with an intimidating price tag.
Who's to Blame?
There are various stories bouncing around about the Cactus Club's impending closure and future plans for the next business at that location, 417 S. First St. For instance, the RDA's Flynn said last she heard it was going to become a jazz club. When asked, landlord Jacek Rosicki at first refused to comment, but Rosicki changed his mind and decided to tell his side.
He also showed Metro a written exchange he and Mike Trippett had a few months ago in which Trippett asked to get out of the lease. Incidentally, Rosicki said the lease is good for another two and a half years, not one year as Calvin Trippett has stated. Rosicki said that, at Mike Trippett's request, he agreed to allow the Cactus to stay for three months rent-free as part of a deal to surrender the premises and sell Rosicki the liquor license and fixtures.
"They had the very bad habit of not paying rent," he said. "They haven't taken care of their own club," he added. "The property looks like a dump. It smells."
On a friendlier note, he praised Calvin Trippett's brother and club co-owner, Mike Trippett, for having done "a tremendous job" with the club for many years when he was more involved in booking bands. Ultimately, however, when asked if Rosicki would let the Cactus stay in the event that the club follows the rules in the future, he said, "Maybe, maybe not." Then he followed up with, "I don't need the headache."
While he won't reveal all the specifics at this point, Rosicki has blueprints drawn up for what he intends to do with the Cactus space. "We have a concept, we have names," he said. It'll be another place for live bands ("bands that draw") to play, with upgraded sound and lights and "a dressed-up environment."
He said he plans to transform the 5,600-square-foot club into a 12,000-square-foot venue using an adjoining space on Market Street. Rosicki owns properties in his name at four South First Street addresses and the one on Market Street, according to the Santa Clara County Assessor's office records. He co-owns the Market Street property with his wife, Ann Chin.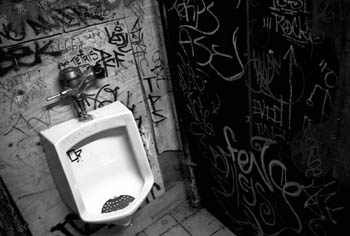 Photograph by Paul Myers
Shake it Off: The Cactus men's bathroom was what one club fan called 'the grossest, most horrible place on earth.'
Liquored Up
Like Rosicki, ABC started out tight-lipped. For instance, ABC's Engdol wouldn't say exactly what instigated the license-suspension hearing. "I can't say that we got a specific complaint," she said, adding that investigators visited the Cactus "randomly." She did, however, also say that ABC makes it a priority to follow up on complaints made by police.
According to San Jose Police Officer Joseph Deras, there have been about 20 police calls to the Cactus for various reasons since last September. The calls, he said, were for four "drunk in public" violations, two assaults with a deadly weapon, three minors drinking, four "peace disturbances," one "person down" (a medical emergency), one stabbing (which could have been the medical emergency), five fights, one person "on a controlled substance" and a fight in the parking lot. Deras notes that some of these events could be duplicates.
Ultimately, though, none of these problems officially caused the club's license suspension. While ABC wouldn't confirm that its Cactus inspections were a response to police complaints (or anyone else's), Deras noted that vice officers reported to ABC that the club was not complying with its legal restaurant status. ABC then sent investigators to perform a series of unannounced inspections of the club.
One ABC investigator "saw no menu boards, condiments or tablecloths anywhere." Another noted that the club's "Food Order" sign marking the spot where menus are kept was "a small sign," and also that while several club patrons were drinking alcohol, on the dance floor or playing video games, only one person was eating pizza.
ABC took action against the Cactus twice before since the club opened in 1988. ABC suspended the club's license for 10 days in 1991 and for 20 days in 1997, both times for failing "to operate as a bona fide eating place." ABC's Engdol said she thinks her agency has given the Cactus "ample opportunity" to fly right.
San Jazzy
Some seasoned scenesters worry about the larger meaning of the Cactus' current predicament. That is, they fear, that San Jose officials' double-decade-long dream of losing ratty youthful nightclubs and other rough-sketch-type joints is finally coming true. Still, there are no commitments on how downtown will transform itself from empty storefronts into upscale shops, white-tablecloth restaurants and jazz clubs.
"It's really a shame to be driven out by what seems to be a penchant for gentrification and a lack of tolerance for kids with spiky hair," said Scott Long, who books shows at Plant Fifty One (formerly Fuel). Long sang with local rock legends the Frontier Wives (which also featured Survivor's Lex Van den Berghe). They practically kicked off the young Cactus in the late '80s when the club first opened, Long says.
Powerslave.com, "the voice of the Northern California underground metal scene," concurs. "The city's redevelopment efforts have now focused on the nightclubs that exist in San Jose, working to make the area a ritzy, upscale environment and running the existing clubs out of town or looking to change their focus and clientele," reported the rock rag on May 13.
"I like the death metal," 46-year-old Tom Heckley, a Cactus regular, said simply. Heckley blames the "yuppification of downtown San Jose" for pushing out the only place where, he says, "I can be a freak."
Comparing the comfy-dive rock institution to the bankrupt San Jose Symphony, Heckley added, "There's no place for arts and culture."
The Downtown Association's Shannon Wright said what sounded like almost the exact opposite: "This is really San Jose's place for arts and entertainment." Actually, it seems as if Wright doesn't so much disagree with jaded Cactus fans such as Heckley--at least they agree on where the funky part of town is supposed to be--as she believes the city has art in its future. "I think it's an area of consensus to keep the arts in the district," she said.
In light of Wright's point that the downtown community prioritizes keeping art, it's odd that at the Downtown Association's last South First Action Committee meeting on May 16, when committee chair Maresca brought it up for discussion, no one said anything about the impending loss of the Cactus.
Just Redo It
The city's self-defined role in turning downtown San Jose into a place where people want to be seems conflicted. On the one hand, officials claim downtown is already on its way to vitality because of big office buildings and theaters heading its way. On the other, along with various city residents and Cactus fans, they suggest the community has abandoned downtown in the past (the mayor called the area the hole in the city's doughnut) and must support existing small businesses.
"I think there's a great myth floating around that nothing is happening downtown right now," Mayor Ron Gonzales said during his Downtown Rotary Speech on June 12. "That's wrong. I'd like to address that myth head on." Gonzales listed the new homes, office towers and theaters under construction to back his point.
The mayor then gave props to current small businesses. "They are the ones that enrich to local unique character of San Jose," he said. In the same breath, however, rather than acknowledging current independent San Jose businesses that he thinks the city should support, he proceeded to list "recent and soon-to-happen" corporate chain openings, including Starbucks, Krispy Kreme, Kinko's and Bally's. He also threw in some future restaurants and bar and grills, none of which are moving in on South First.
Other city officials, such as Councilmember Cindy Chavez, have been attending meetings to plan downtown's future. Chavez went to the city's first community meeting about the South of First Area (SoFA) Strategic Development Plan on March 12. Chavez, whose District 3 encompasses South First Street and the Cactus Club, remarked at the meeting that "it is powerful to hear what the community wants and collaboratively plan." She did not return Metro's call for her take on the Cactus closing.
Comments at the SoFA plan meeting included neighborhood businessman Maresca's point that the city must "find ways to make it easier to do business in the area," for example by adjusting the permit process, and attendee Sherri Lakey's contention that consumers aged 13 to 21 "need to be targeted in SoFA" and "the answer is to support smaller businesses and not large corporations (i.e., the Gap)."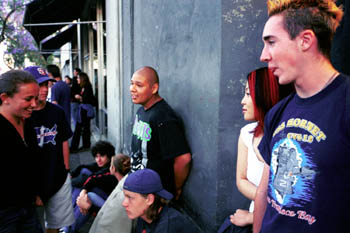 Photograph by Paul Myers
Cactus Patch Kids: A staple of the SoFA streetscape, Cactus patrons line the sidewalk before a show.
Stick It to the Mon
"We haven't made money in two years," Cactus Club co-owner Stikmon said. Rosicki took over as landlord about 3 1/2 years ago, Stikmon estimated. Rosicki wouldn't confirm or deny that. According to the county assessor's office, Rosicki's name appeared on the lease in February. County records show that Rosicki bought the space with the help of a $450,000 bank loan in March 1999.
Following Rosicki's takeover, Stikmon continued, he tried to raise the rent to market levels which were higher than Cactus owners deemed reasonable. They reached a rent price based on appraisals and arbitration. In the last three years, according to Stikmon, the rent's gone from $4,000 to $12,000. According to Rosicki, it went from $5,200 to "$11,000 and change."
In terms of the Cactus Club's future, Stikmon is sure it has one. He said he's cozied up to some well-connected musicians. He intends to move the club to a new nearby location with the help of these musicians' "power broker" buddies within the next few months.
In the meantime, at the Cactus on June 11, he was busy delivering his passionate sermon on the sins of San Jose's political cohabitation with landlords. The enviably energetic local music-scene booster said he works eight-hour days as a carpenter. Then he heads to his club three to four nights a week still wearing his dusty carpenter clothes.
On this warm evening, an oppressively loud band was playing a free happy-hour show to a handful of people. When the band stopped, one member came over to the bar and thanked Stikmon for letting them play. "Are you digging it?" he asked.
Stikmon answered in the affirmative. The band member asked to do a second set. Stikmon gave him another 20 minutes because that's what the Cactus Club is there for, he later said, to help out the local scene.
---
Send a letter to the editor about this story .
---
[ Silicon Valley | Metroactive Home | Archives ]