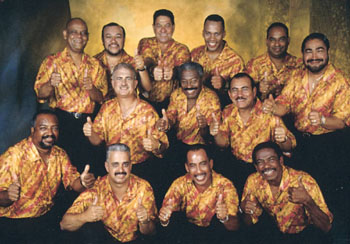 Combo Platter: El Gran Combo heals the rhythmically challenged.

Boricua Fever

Dia de San Juan celebrates Puerto Rican heritage

By Jesse 'Chuy' Varela

WALKING INTO the annual Dia de San Juan celebration in San Jose is like going to Puerto Rico for a day. Nonstop salsa music pours out of the sound system, and the red, white and blue colors of the P.R. flag show everywhere.

El Dia de San Juan celebrates St. John the Baptist, the patron saint of the one-time Spanish colony. The Western Region of the Puerto Rican Council, which organizes the event, is a fraternal nonprofit group established in 1972 and made up of chapters throughout Northern California. With booths serving traditional foods, crafts, information, services and rumba music competing for attention under the trees, El Dia de San Juan is considered to be the largest gathering of Boricuas (Puerto Ricans) on the West Coast.

Singing and drumming traditional bomba y plena beats--the Afro-Caribbean rhythms of the island--the rumba fills out the sound between bands and DJs with choruses of "Que bonita bandera" (What a lovely flag).

This year, on its 30th anniversary, the council brings El Gran Combo, the crown jewel of Boricua salsa, to its fiesta. The group has reached a 40th anniversary as a musical institution. With countless hits and a roster of acclaimed singers--Andy Montañez, Pellin Rodriguez, Gilberto Santa Rosa and others--El Gran Combo grew out of the pivotal combos of percussionist/bandleader Rafael Cortijo.

It was Cortijo who took the indigenous bomba y plena beats of the island and brought them into dance halls with a horn-driven combo that included the traditional Latin rhythm section of timbales, congas and bongo. Vocalist Ismael Rivera propelled the group with a string of hits like "Quitate de la Via Perico" and "Negro Bembon." At the piano was a young man named Rafael Ithier, who later would form El Gran Combo de Puerto Rico.

"We created a sound that people liked," said Ithier. "We wanted to play traditional tropical music but began to include distinct instruments like violin and trombone, and rhythms like boogaloo and pachanga. We have continued down that same path with EGC, now under the umbrella of salsa but always playing the best music we can."

Born into a family of musicians, Ithier was influenced by Cuarteto Marcaño, Claudio Ferer and big-band dance music. Ithier, who grew up in Santurce, Puerto Rico, formed a combo in 1955 with Cortijo, who was playing congas then. They took San Juan and New York City by storm and would prove to be a pivotal force in the development of salsa dance music. But Cortijo, despite the success, suffered a series of personal problems that led to the splitting up of the combo.

"Robert Roena, Miguel Cruz and the others in the band came looking for me," says Ithier. "I didn't want to start a group. My intention was to finish my studies in accounting and perhaps study law. But after three to four weeks, the boys in the band convinced me. And who would think we would last 40 years?"

The secret to the band's longevity is "sharing everything." With more than 50 albums and a long list of salsa hits, El Gran Combo has established a sound and style that keeps it on the road. Almost 70, Ithier still enjoys making people happy with his music.

The down-home environment of El Dia de San Juan will also be jumping with Stanley Robles y Los Jibaros Modernos and DJs "La Coqui" and Bosco Vega. The family-friendly event includes free drum lessons for the kids, dance contests and a Father's Day dance, where dads dance with their daughters. But for raw Puerto Rican rumba follow the choruses of "Que bonita bandera" and the organic roots salsa of El Gran Combo.
---
El Dia de San Juan Festival takes place Saturday (June 22) at 11am at the Santa Clara County Fairgrounds, 344 Tully Rd., San Jose. Tickets are $20 adv/$25 door. (For tickets, 888.200.1488; for info, 707.534.5128)
---
---
Send a letter to the editor about this story .
---
[ Silicon Valley | Metroactive Home | Archives ]