ON A SUNNY day at the little Milpitas Certified Farmers' Market, a guitarist plays cheerful folk tunes. Farmers have driven three hours or more from rural parts of the state to hawk exotic strains of organic nectarines, peas and bittermelon. Local families brave the heat radiating from the concrete at the edge of a parking lot in search of produce that is fresher and riper than what they can find at the local supermarket.
But if this is a certified farmers' market -- where growers selling their own harvest are given a reprieve from certain state laws -- then where are the certificates? More than half of them have not been posted conspicuously at the stalls as required by law. The certificates are supposed to list which products the farmer grows, and can legally sell at the market. Without the certificates, there's little guarantee that a vendor here isn't simply buying someone else's produce at a wholesale market--or even a Safeway--and reselling it as phony homegrown at a higher price. In fact, even with the certificates, there's no guarantee.
The market manager at this particular market says she checks the certificates of the 32 vendors here every day, and most of them are located just out of sight. But a peach grower who goes to six markets a week in the Bay Area says she knows the score. "At all the markets I go to there's always two or three hanging around who don't grow what they sell," she says. Asked to point out who she suspects of peddling at the market today, she blushes like her peaches and declines to make a guess.
There are some 300 farmers' markets in the state this year, more than triple the number of a decade ago. Four new markets are opening this year in Santa Clara County alone, bringing the county's total to sixteen. Farmers' markets owe at least part of their success to their wholesome image. One imagines Farmer John shoving his thumbs into the straps of his overalls, chewing a blade of grass and rocking on his heels as a customer asks him when tomatoes will hit the market this year.
It's true that farmers' markets have been vital to the health of the state's small farms.
But the explosive growth of markets across the state has revealed the farmer's trade to be as competitive as any other. Many markets have long waiting lists for farmers hoping for stalls. Excluded farmers accuse market managers of favoritism or even file suit against the markets. ("I've been accused of having affairs with farmers I've let into the market," says one market manager.)
Farmers' market associations have been wracked by controversies over how or whether governing boards should be elected. And growing market associations have accused each other of elbowing into each other's territory.
Within the markets, small farmers worry about how they can compete with larger farms that have caught on to the farmers' market craze. And most of all, they worry about peddlers--vendors who buy produce gleaned from other farmers, packaging houses or wholesale markets and then show up, as faux farmers. Unlike farmers, peddlers can buy and sell whatever crop is cheapest without worrying about being wiped out by cold frosts or pests. They also aren't limited to whatever crops are seasonal.
Farmers hope that bills now pending in the California Legislature will help to eliminate the bad apples in their midst. Few of their customers are even aware there's a problem.

How do you know if the produce is all that it claims to be? Ask these questions.

THE FIRST so-called direct marketing laws, passed in the late 1970s, aimed to limit the influence of the packers, distributors and grocers that divert profits from farmers. (Agricultural authorities estimate that farmers get as little as 25 cents for every dollar spent for their produce at grocery stores.) Certified farmers make a bargain with the state: they avoid regulations on packing and fruit size--expenses incurred by farmers who sell to wholesale markets--in return for a guarantee that they are directly marketing only what they grow. Regulations on quality remain in effect.
But certification laws appear to be loosely enforced. Ibarra-Cruz Organic Farms, a 150-acre farm in Gilroy, is a case in point. For years, Ibarra-Cruz had been selling lettuce without any problems at the Berkeley Farmers' Market, a market with a widespread reputation for eagle-eyed management. Then the floods of 1995 devastated lettuce crops. Lettuce disappeared from farmers' markets, and imported lettuce at supermarkets sold for as much as two dollars a head.
"Ibarra was the only farm at our market to continue to bring lettuce," says Clem Clay, co-manager of the market. "That seemed suspicious, because when we visited them in February there didn't seem to be much more lettuce."
At this point, Clay could have looked the other way as customers flocked to his market seeking lettuce. Instead, he sent a letter to farm owner Moses Ibarra demanding an explanation. When Ibarra did not respond, he asked the Santa Clara County Agricultural Commissioner to step in. In late April, the commissioner's inspection confirmed Clay's suspicions: Ibarra wasn't growing any head lettuce at his farm.
Clay sent out members of his governing committee to other farmers' markets to check up on Ibarra. He says that Ibarra was selling "boxes and boxes" of lettuce at other markets. That was the last straw. In June, Ibarra became the first farmer Clay had kicked out of his market in his three-year tenure at Berkeley.
Ibarra denies that he was reselling produce. He says that at the time Clay had made his accusations, he had started a partnership with a lettuce farmer in Hollister. While the Hollister farmer owned and cultivated the land, Ibarra harvested, hauled and marketed the produce. But Ibarra admits that when Clay first inquired about the lettuce, the partnership agreement was only verbal. (Partnerships are a grey area in farmers' market law. "The line between legal and illegal lease and partnership agreements is very hard to draw," says Mike Thompson, editor of the Farmers' Market Monthly in Inglewood.)
Ibarra blames other farmers at the Berkeley Market for his troubles. He says they were jealous because he was doing brisk sales as a newcomer. "The markets are different than when my father started going in the 1950s," he says. "Back then it was competitive, but farmers always helped each other out when things went wrong. Now, it's a cutthroat situation. When you're at a certain level, there's always people trying to knock you down."
Ibarra says other market managers were satisfied enough with his explanation to keep him in their markets even after they heard of his eviction from Berkeley. The government also let him off. State law allows agricultural commissioners to punish resellers through measures as drastic as revoking their certification. But neither Santa Clara County, where Ibarra's farm is located, or Alameda County, where he sold the goods, took any action against him. Ed Williams of the state Department of Agriculture estimates that commissioners suspend or revoke only eight to 10 certificates a year.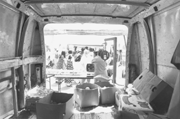 Christopher Gardner
Open Door: At a Certified Famers' Market, the certificates showing what a farmer can grow and sell are not always prominently displayed -- or accurate.
FRANCIS SCHMIDT Leon, who commutes to her family farm in Selma from her home in San Jose, says some market managers ignore peddling so they can carry a wider variety of produce. "They might need that product at the market to get more customers there, or they just need to fill the stall space," she says.
The temptation to allow peddling can be strongest during the winter months. In winter, supermarkets can carry produce from around the world but markets are limited to what farmers can grow locally. But farmers' market ideologues say it is ecologically sound to get consumers in tune with the seasons and the local market supply. They say it supports local farming and farmland preservation and saves the petroleum and materials used in packing and shipping to distant markets.
Even the most honest market manager may find it difficult to seek out peddlers because of loopholes in the certification process. Current laws make it possible for farmers to "carry" other farmers' certificates and sell their produce. The laws were designed to allow neighboring farmers to assist each other, but they have opened the door to peddling. "You'll ask a farmer where some produce on their table came from, and they'll pull out 15 or 20 certificates," says Williams of the agriculture department.
Typically, market managers who sense shady dealings will request an investigation by the county agricultural commissioner. But certification programs are underfunded when compared to other programs that occupy the commissioners' time, like pesticide control and inspection of imported fruit. Santa Clara County now charges farmers a yearly $15 certification fee, regardless of farm size. As a result, county biologists can't personally inspect all farms every year to ensure that a farmer is growing what she claims.
Even a visit to a farm can't insure against fraud. Lucero says a county biologist visited him in February this year, before he had even planted his summer crops. So he had to guess how much he would grow in summer, and the biologist approved his guess on the certificate. "It's a brief and not a very critical check," Lucero says. "Unforunately, it leaves it kind of open for anyone who wants to cheat."
FACING COMPLAINTS by honest farmers and underfunded mandates, the state Department of Agriculture last year began an effort to reform farmers' market laws. "The department didn't want to face another year of not being able to enforce the regulation," says Lynn Bagley, director of the Marin Farmers' Market Association. "They were saying, if you don't pay for enforcement, we're not going to provide it."
Bagley is part of the Integrity Task Force, a committee of farmers and market managers that advised the state on regulatory reform. After 18 months of meetings, the task force has come up with a new law that requires farmers and farmers' markets to pay the agricultural commissioners for their certification inspections. The law also allows commissioners to levy fines of up to $1,000 on farmers or markets that are flouting the law. (Currently, commissioners can only write a violation notice or suspend a certificate, which requires a lengthy administrative process.) And new regulations are in the works severely limiting the allowed number of carried certificates.
Assembly Bill 2340, written by the state agricultural department and sponsored by Assemblyman Sal Cannella (D-Modesto), sailed through the Assembly last month and is due to be heard in a Senate committee June 18. It has widespread support from farmers markets' associations and the state Farm Bureau. Observers expect its quick passage into law, and Bagley hopes that the new programs will be in effect by early next year.
The bill does not address the fact that larger farms have started to wake up to the profitability of farmers' markets, upsetting some smaller farmers who worry about their ability to compete. But observers hope that the new legislation will increase the frequency of inspections and generally help to ensure that everybody at the farmers' markets plays fair. "I've been very impressed by the speed and aggressiveness with which the industry is getting itself organized to stop these problems," says David Visher of the University of California Small Farm Center in Davis. "They know that the core of their business is to make sure consumers trust them."
[ Metro | Metroactive Central | Archives ]