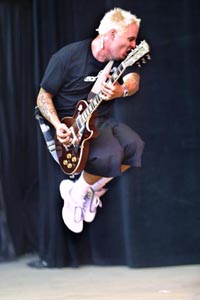 Outside No More

Staind 'Breaks the Cycle' at eight-annual BFD concert

By Sarah Quelland

Photographs by George Sakkestad





For some, it was the day after high school graduation. For others, it was the official start of summer vacation. For those who've forgotten summer breaks, it was the perfect excuse to play hooky from work. The first big, all-day rock music festival of the summer was held last Friday (June 15) at Shoreline Amphitheater as LIVE-105 presented its eighth-annual BFD.

This year's lineup, divided among the Main, the Dysfunctional and the Subsonic stages, featured close to 30 performers, including Blink-182, Staind, the Cult, Fuel, Saliva, Systematic, the Living End and Alien Ant Farm.

Summer festivals have become a mainstay in rock culture and a study in human tolerance that starts with the wretched lines of agitated people waiting to get in and ends with the mad rush of sun weary cars struggling to get out of the parking lot after the show's over. And yet, despite everything, these festivals repeatedly sell out because people can't get enough of the all-day assault on all five of their senses.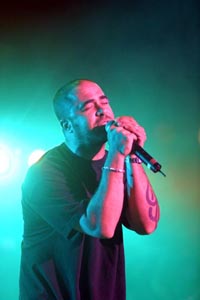 Hands down, this year's biggest draw was Staind, whose third album, Break the Cycle, entered the charts at No. 1, selling more than 716,000 copies and holding the record for the second-highest first-week sales of any album so far this year.
Staind first started picking up steam with its second album, Dysfunction (and the songs "Just Go," "Mudshovel" and "Home"), but it wasn't until the live version of "Outside," a duet with Limp Bizkit's Fred Durst, was spontaneously released on the Family Values Tour 1999 album that the band really blew up.
When Break the Cycle came out on May 22 and some stores started selling them at 12:01am, eager fans were lined up at Tower Records to be the first on their block with a copy of the new disc that includes a studio version of "Outside."
That the breakthrough took so long and happened somewhat by chance might explain vocalist Aaron Lewis' apprehensive posture onstage. With pleading, soulful eyes, the sincere frontman carries himself like an abused puppy dog that's only recently been taken in and treated with kindness.
When Lewis took centerstage, alone with his acoustic guitar, to perform "Outside," he gazed out at the audience in amazement as it sang along, word for word. For one transcendent moment, he stopped singing and allowed himself to drink in the sound of the crowd.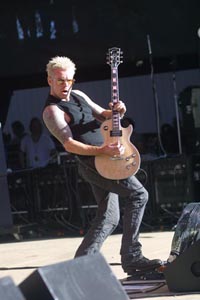 Cult Following
Another highlight of the day was the Cult's performance. The long-standing rock band known for hits like "Firewoman," "Sweet Soul Sister," "Edie (Ciao Baby)" and "Lil' Devil," smartly kicked off its set with its current hit "Rise," from its latest album, Beyond Good and Evil, to set the tone for the young crowd that wasn't apt to be familiar with the band's earlier material.
Rebellious and full of fire, frontman Ian Astbury ran out wearing a big fuzzy hat and a black leather jacket--both of which were shed after one song--and grabbed his trademark tambourine. Repeatedly addressing the audience, he introduced the second song, "War (The Process)," by saying, "This next song is for the boys. Gentlemen, it's time for rock."
The band focused on the new album but included "She Sells Sanctuary" (1985's Love), "Wildflower" (1987's Electric) and "Firewoman" (1989's Sonic Temple), as well as the rare "The Witch." In a playful mood, Astbury kept throwing in lyrics from rapper Mystikal's "Shake Ya Ass" ("Shake ya ass Show me what you workin' with") into his own songs.
At the end, after trying to run out into the crowd only to be held back by a mic cord that was too short, Astbury got his hands on a wireless mic and ran deep into the screaming crowd before charging back and shoving the monitors off the stage.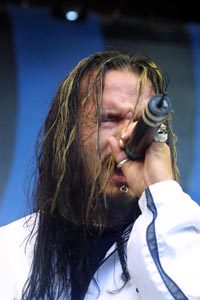 Spit and Polish
The surprise hit of the day was Saliva, a Southern-fried hip-hop/hard-rock quintet from Memphis, Tenn. Based on the success of its current single, "Your Disease," hot tracks like "Click Click Boom" and "Superstar" from its debut album, Every Six Seconds, and a remarkably strong live performance, Saliva appears to be a band on its way up.
Though frontman Josey Scott generally looks like a leather-clad bad ass, his appearance in a white lightweight jumpsuit, may have turned some people off. Still, the charismatic band tore through its powerful set with confidence and showed grateful appreciation toward its fans.
While no one's going to come out and say this was the best BFD ever, there seemed to be something to accommodate everyone's tastes.
[ San Jose | Metroactive Central | Archives ]