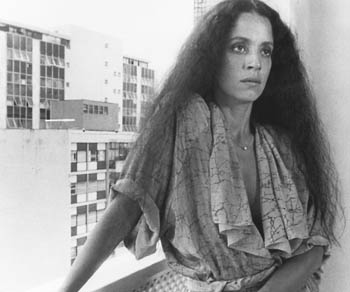 Brazilian Beat: Sex symbol Sonia Braga is more about promise than tease.

Spider Woman Forever

A timeless sensuality enfolds Brazilian star Sonia Braga

By Richard von Busack

THERE'S A SCENE in Angel Eyes where Jennifer Lopez meets with her estranged mother, played by Sonia Braga. The mother pats her daughter's shoulders and smoothes her hair, getting a good look into the girl's eyes.

Perhaps it's an unremarkable moment in an unremarkable film, and yet it has its significance: the reigning Latin sex symbol of her time encountering the reigning Latin sex symbol of our time. It's said of Lopez that she's a role model for Latino girls in a culture where the blonde holds court, that her multimedia success reflects the triumph of a multicultural society. Maybe so, but Sonia Braga was there first. And the difference between Lopez and Braga is the difference between tease and promise.

Braga, the Brazilian actress best known for the iconic movie star she played in Kiss of the Spider Woman, will be in San Jose on Thursday (June 21) for a benefit screening of the soon-to-be-rereleased 1985 drama. Braga has a complex role in Kiss of the Spider Woman, her most prestigious movie; she's the soul of the story, and yet she's only on screen for about 15 minutes.

Most of the film takes place in a prison in a country unnamed but obviously Brazil. William Hurt plays Molina, a homosexual who has drawn eight years for corrupting a minor. His cellmate, Valentin (Raul Julia), a political activist, is being tortured by the prison officials.

Molina tends to and gently courts Valentin. To soothe him, Molina retells, scene by scene, a favorite movie starring the siren Leni Lamaison (Braga), a 1940s German-made romance filmed in occupied Paris. As Kiss of the Spider Woman proceeds, the movie within a movie (titled Her Real Glory) turns out not to be just an entertainment but an allegory. The story is Molina's subtle way of confession.

The specifics of the story aside, Kiss of the Spider Woman is something every moviegoer understands: not just how movies are refuges from the tortures of everyday life but how scenes from beloved films take root and flower in the mind.

My problem with Kiss of the Spider Woman is that it's insufficiently lyrical; the movie within a movie is stiff and uncomfortable. Director Hector Babenco, originally a neorealist (as seen in his harrowing classic Pixote) is showing his condescension to old-fashioned studio-style melodrama.

While Hurt is memorable, one mourns for the original casting of Burt Lancaster, who had to withdraw from the film because of heart problems. The bigger-than-life Lancaster evinced Latino theatricality; and, as it's been commented, Hurt does seem like a visiting North American swept up by the junta.

When Hurt copped the Best Actor Oscar in this film, made under tight budget outside the studio system, he was making a kind of history. Babenco's film was remembered as having the first sympathetic gay role to win an Oscar. Still, in light of the various definitions of gender made since this film was released, Molina's not really a homosexual but a pre-op transsexual who longs to cut off the "mistake" he was born with. And Braga is the woman Molina would love to have been.

BEFORE SHE MADE Kiss of the Spider Woman, Braga was a star in erotic Brazilian movies--Dona Flor and Her Two Husbands, I Love You--in which she took the blatancy out of nudity. When she turned up unclothed, there was something Edenic about it, a lack of trying to make an effect.

In Kiss of the Spider Woman, Molina tries again to tell Valentin his secret by making up a story of a Spider Woman who rescues a castaway; she's under a curse, trailing her web with her. Most of the iconic images of Braga indeed are photos of the woman with yards of cloth furled around her. There's a famous photo, posed for Playboy: Braga stands, all regal, an open, pale satin robe like butterfly wings on either side of her flawless body. Behind her are ice-colored oblong mirrors.

In the sadly neglected comedy Moon Over Parador, one of the final images is of Braga, a huge-bellied moon behind her, wrapped in white silk disarrayed by prop-wash from a vintage Lockheed Elektra--the same kind of plane that was the last plane out in Casablanca. Braga's beauty matches that beautiful machine.

A lustrous and luscious presence, Braga was seemingly too powerful for her co-stars, particularly Robert Redford in The Milagro Beanfield War. By the time she'd gotten to American movies, not much was left for her but tough terrorists or wary moms.

On the release of Angel Eyes, Braga wittily complained to the press that since she's being cast as mothers these days, she doesn't get to have sex onscreen as much as she likes. (Oh, you should have seen the man who played Braga's husband in Angel Eyes--face like a chafed bulldog, with a hearing aid the size of a communications satellite lodged in his ear.)

I left Angel Eyes thinking, By God, it's a feat, I didn't think anyone could make me tired of looking at Jennifer Lopez, but director Luis Mandoka did the trick. However, the director hasn't been born that'll make me tired of looking at Sonia Braga.
---
Kiss of the Spider Woman will receive a benefit screening for the Community Technology Alliance on Thursday (June 21) at Camera One in San Jose at 7:30pm. Sonia Braga will appear in person. A reception at d.p. Fong Gallery will precede the screening at 6pm. The film will open for its regular run on July 27 at the Camera Cinemas.
---
[ San Jose | Metroactive Central | Archives ]