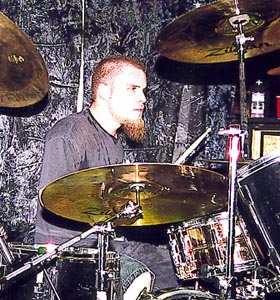 Kentucky Bound
True to Form drummer Kevin Jackson of San Jose joins hip-hop metal band Primer 55 for national tour
By Sarah Quelland
SUCCESS STORIES run rampant in the Silicon Valley computer world, but the local music scene is another matter. As many local bands can attest, it's just about impossible to break into the national market. But one hard-working drummer is about to become the latest in a short roster of San Jose musicians to do just that.
Last week, True to Form drummer Kevin Jackson officially signed on with Island Records recording artist Primer 55. The hard-core Kentucky-based hip-hop/metal hybrid is gearing up for a whirlwind 28-city, two-month tour with OzzFest (featuring Ozzy Osbourne, Pantera, Soulfly, Static-X, Methods of Mayhem, Kittie and others), and Jackson's dropping everything to jump onboard.
"I met Primer when True to Form opened for them at Slim's with Dope back in April," Jackson explains over the phone.
It's Monday (June 19), and Jackson is in the middle of wrapping things up at his 3Com workplace. His last day is June 23, and he leaves for Kentucky the next day, which gives him less than a week to move out of his apartment, pack, catch up with friends and family and prepare for the rigorous touring schedule ahead.
Using words like "stunned," "amazed" and "excited" to describe his current state of mind, Jackson, age 24, says, "This is something I've always wanted. It's my opportunity to take my musical career where I want it to go."
Still, it's obvious talking to him that the reality hasn't completely sunk in. "My mind doesn't know how to process it yet," he admits.
Jackson will spend three days rehearsing with Primer 55 in Kentucky before doing a warm-up show June 28 at a Louisville, Ky., club. Then he and the rest of the crew (vocalist J-Sin, guitarist Bobby Burns and bassist Mike "Jr." Christopher) hop on a tour bus east to West Palm Beach, Fla., where they'll play the second stage at the kickoff of this year's OzzFest July 2 at the Coral Sky Amphitheatre (OzzFest comes to Shoreline Amphitheatre in Mountain View Aug. 26).
"I'm going to be meeting musicians that I've been fans of for years," Jackson says, mentioning Pantera and Ozzy in particular. "I've been an Ozzy fan for years." He'll also be sharing a tour with former Mötley Crüe drummer Tommy Lee's new band, Methods of Mayhem. "I was a huge Mötley Crüe fan in the '80s, [and] now I get the chance to be on tour with Tommy Lee, who was an idol of mine back when I started playing drums," Jackson says.
When OzzFest wraps Sept. 2 in San Bernadino, Primer 55 will continue on, touring straight through Christmas. After that, it's anybody's guess.
"I want it to just hurry up and happen already," Jackson says anxiously, clicking away on his computer keyboard as he talks. "This last week has been the longest week."
Watching from the sidelines is enough to make ones head spin. It was just last week that Jackson flew to Louisville to audition. To prepare, he says "I learned every song on the list that they gave me." There were 11 songs on that list, mostly from Primer 55's major label debut, Introduction to Mayhem. Though he was up against several other drummers, Jackson says he and the other band members were "able to gel with new ideas right off."
Primer 55 was looking for a skilled drummer with a strong musical background who was capable of contributing creative input, and Jackson fit the bill.
Fans of True to Form won't be surprised. The notable local band made a name for itself by delivering aggressive, thrashy metal without forfeiting musicianship or melody. Jackson himself built a reputation as one of the hardest-working musicians on the circuit. He put in the time, practicing for hours on end both before and after band rehearsals. On an almost nightly basis, he could be spotted downtown at various clubs fliering for upcoming True to Form shows.
Jackson's outgoing nature and remarkable dedication are likely part of the reason he's been so successful and earned so much respect from his peers. "I'm getting a lot of support from my friends and family," he says. "Everybody's really excited."
Jackson is a hometown boy through and through. Born and raised in San Jose, he graduated from Santa Clara High School in 1994. He attended De Anza College for three years before transferring to Santa Clara University, where he spent one year before dropping out to pursue his career in music.
In addition to his work with True to Form, a band he cofounded with vocalist Ron Taniguchi and guitarist Dave Fabris (the current lineup is Taniguchi, guitarist Steve Schmidt and new bassist Michael "Cliff" Alcantara), Jackson worked as an instructor for the percussion sections of the Homestead, Santa Clara and Oak Grove high schools' marching bands.
But now, there's no telling when he'll be back in San Jose for any length of time. In a short matter of weeks, his life has taken a dramatic turn, and it seems he's still coming to terms with the change.
"It's sad to be leaving True to Form," he says, "but I can't turn down this opportunity."
Making room in his hectic schedule for one last hurrah before heading out, Jackson is inviting friends and fans to the Cactus Club on June 22. It should be a fun, if bittersweet, blowout.
[ San Jose | Metroactive Central | Archives ]