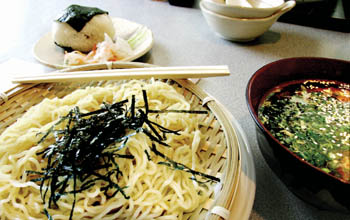 Photograph by Felipe Buitrago

Goes Down Smooth: Tanto's ramen is perfectly textured.

Ramen-o-rama

Savoring the South Bay's other noodle soup

By Stett Holbrook

AWHILE BACK I wrote a column (Live Feed, Dec. 8, 2004) in which I nominated pho as Silicon Valley's signature dish. If I had friends visiting from out of town and they wanted a taste of local flavor, I'd feed them a bowl of the Vietnamese beef noodle soup. I think it's the South Bay's most distinctive regional dish.

But coming in a close second in the noodle soup department is ramen. I'm talking about the real thing, not the four-for-a-dollar packages of dried noodles with the foil flavor packet inside. (At least that's what they cost when I was a malnourished student.) While not confined to Silicon Valley, the South Bay makes a mean bowl of these Japanese-style noodles. At its best, broth, noodle and toppings combine to create a sublime and slurpable gastronomic experience. To sample the state of ramen in Silicon Valley, I recently stopped in on several top ramen houses as well as one newcomer.

Halu

San Jose's Ramen Halu should be the first stop for ramen aficionados and first-timers alike. The restaurant exemplifies the culinary heights a high-quality bowl of ramen can reach.

Ramen Halu has an understated surfing theme, owing to owner Kumao Arai's other passion besides ramen. The low-key vibe helps when the place gets busy. And it does, because the word is out. I tried the restaurant's flagship ramen, Halu ramen ($7.30). As Arai lovingly describes on the back of the menu, the rich, almost gravylike broth is made by combining two separate stocks. One is made from pork back and thigh bones and boiled over high heat for 10 hours. The other is decocted from chickens, feet included for their rich collagen content and flavor. Combining these two stocks produces a supremely flavorful, silky, milky broth with bits of pork fat floating on top. There is a world of pleasure within each spoonful. The ramen is unabashedly rich; if you'd like a little less pork fat, just ask.

Like the broth, the toppings are top-shelf as well. In addition to succulent roast pork shoulder, the soup is topped with velvety Chinese black fungus, pickled bamboo shoots, sliced green onion, a square sheet of nori and emerald-green fresh spinach.

Halu recently changed its noodles, news which is posted on fliers above each table. After what he describes as painstaking experimentation, Itari says he finally hit upon a flour and alkaline water formula that makes a superior noodle. The thick noodles are chewy but supple and seem tailor-made for the luxurious broth.

Itari's reverence for top-quality ingredients and technique create a one-of-a-kind bowl of ramen. As Metro music editor and ramen devotee Todd Inoue says: "He's the Thomas Keller of ramen."

Do-Henkotsu

But then there's Do-Henkotsu, located just a few blocks from Ramen Halu on Moorpark Avenue. Do-Henkotsu looks like what I imagine a ramen house in Japan looks like. It's a tiny, L-shaped restaurant dominated by a narrow wooden bar. Signs in Japanese paper the walls while a television tuned to a fuzzy Japanese station hangs in the corner. The menu is in English and Japanese.

Do-Henkotsu specializes in Tokushima-style ramen, ramen made like they do in the southwestern Japanese city of Tokushima. The broth is made from a combination of pork, chicken, dried sardines, kelp and various fruits and vegetables. It all cooks for 12 hours and makes a dark, reddish broth that looks as deep and rich as French onion soup. But in spite of its heavy appearance, it's wonderfully light and sparkles with layers of flavor. The noodles, thinner than the usual ramen noodle, are imported from Tokushima, and have a delicate, almost nutty flavor.

I tried the negi ramen ($7.50 medium, $8.50 large). The soup combines feathery slices of tender pork belly and a haystack of sliced green onions. Because it's so rich, I'd save Ramen Halu's ramen for special occasions, but I could eat Do-Henkotsu's ramen daily. Just don't ask for it to go. They won't give it to you. Ramen is meant to be enjoyed as soon as it's ladled out, a fleeting moment when noodle, broth and toppings come together in delicious trinity. Transporting the carefully prepared soup in Styrofoam containers will not do it justice.

Ramen Rama

Newcomer Ramen Rama shows promise but isn't quite up to the lofty ramen heights of Halu or Do-Henkotsu. I tried the tonkotsu ($6.99) with roasted pork loin. The flavor of the cloudy, pale broth was a bit thin but it finished with a pleasant, lingering ginger flavor. The roasted pork loin was tender and flavorful and shared the bowl with a soy-flavored hard-boiled egg, a tangle of black fungus and the requisite nori and green onions. My biggest complaint was the noodles. They lacked the satisfying bite and texture found at Halu and Do-Henkotsu. Ramen Rama serves a few dishes not typically found at ramen joints, like ma bo tofu ramen ($7.99), a Szechuan specialty of ground pork and tofu served in a miso broth, and grilled seafood ramen in a soy sauce (shoyu) broth ($8.99) with prawns, squid and crab.

Ramen Rama plans to open a sake bar next door called Red Miso. The place will also serve a menu of Japanese bar food like grilled meats and other rice wine-worthy snacks. Interestingly, Ramen Rama and Red Miso will share the same kitchen.

Tanto

My final stop on my ramen ramble was Tanto Japanese Restaurant in Sunnyvale. Tanto is a full-fledged Japanese restaurant complete with tatami mats and shoeless dining and not a ramen house per se. But they make a fantastic bowl of clam ramen ($8.50). This unique dish is the gastronomic equivalent of putting your ear to a seashell. The clams are so sweet and fresh you can almost taste the ocean. Only the ramen is a lot less salty than the ocean.

Little neck clams clinging to their shells fill the steaming bowl along with green onions, spinach and a heaping sprinkle of sesame seeds. Pickled radish slices and a nori-wrapped rice ball stuffed with meaty marinated kombu are served on the side. Mixing in the salty seaweed-filled rice and tangy radish add another dimension to the soup. The thin noodles were perfect, silky yet offering slight resistance between the teeth. The broth is light but has a depth of flavor that had me spooning away long after the noodles and clams were gone. And with more great ramen out there, you could be spooning and chopsticking your way through the South Bay for months to come.
---
Do-Henkotsu
4330 Moorpark Ave., San Jose; 408.255.8244.
11:30am-2pm and 5pm-9:30pm daily.

Ramen Halu
375 S. Saratoga Ave., San Jose; 408.246.3933
1:30am-1:30pm and 6-9:30pm Mon, Tue, Thu-Sat; 11:30am-1pm and 5-8pm Sun. Cash only.

Ramen Rama
19774 Stevens Creek Blvd., Cupertino; 408.996.8830.
Hours: 11am-9pm daily.
Cash only.

Tanto Japanese Restaurant
1063 E. El Camino Real, Sunnyvale; 408.244.7311.
Cash only at lunch.
---
---
Send a letter to the editor about this story to letters@metronews.com.
---
[ Silicon Valley | Metroactive Home | Archives ]