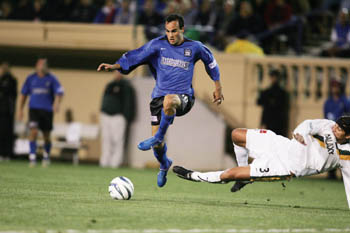 Landon, We Hardly Knew Ye: Once upon a time in a non-Galaxy galaxy, Landon Donovan proudly wore a San Jose Earthquakes uniform.

Landon's Back

By

FOR FOUR SEASONS, 2001-2004, San Jose Earthquakes fans got to see Landon Donovan, the best soccer player America has ever produced, grow up right in front of them. He led San Jose to two MLS Cup Championships. He put this town on the map. His performance in the 2002 World Cup is now legend, and he flew right back to San Jose to play at Spartan Stadium only 37 hours after walking off the field in South Korea. I remember the press conference. He had just graced the cover of Sports Illustrated. Does the city of San Jose care about any of this? Then, it appeared not. Is there a future for the Quakes in San Jose? No one but a selected few actually know. All this was most likely part of Donovan's reasoning when returned to Germany and then back to the United States to play for the Quakes' bitter enemy, the Los Angeles Galaxy, whom they face this weekend.

Of course, Donovan is a SoCal dude, he has a Hollywood girlfriend and his family is all down there, so who would blame him? I'll tell you who: Every Quakes fan who will attend this Saturday's match. It will be damn interesting to see what happens. In fact, the entire soccer community in the United States will be watching to see what happens. Here are some of the things the fans have in store for the game: folks will take their Landon Donovan bobblehead dolls, cut the heads off and put them on strings. There will be Donovan piņatas in the parking lot. Club Quake—the team's fan club—is raffling off Donovan Galaxy jerseys with big red X's on them.

Which makes you wonder why so many folks in the valley don't give a darn that we have the world's biggest game right here in town. Or why the Mercury News has hated the sport for the last 20 years since Fred Guzman left. For the 2002 World Cup, minions of Japanese women were shaving and dying their pubic hair to resemble David Beckham's Mohawk. That's how huge soccer is. Once the Quakes have a modern facility to play in, the sport will put San Jose on the international map much more than any stinkin' baseball team will. During a recent email exchange with a guy in Croatia, he finished by asking, "San Jose? That's where Landon Donovan's from, right?" Ugh.
---
The Earthquakes play the L.A. Galaxy Saturday (June 25) at 7:30pm at Spartan Stadium, San Jose. Tickets are $35-$45. (408.985.GOAL)
---
---
Send a letter to the editor about this story to letters@metronews.com.
---
[ Silicon Valley | Metroactive Home | Archives ]