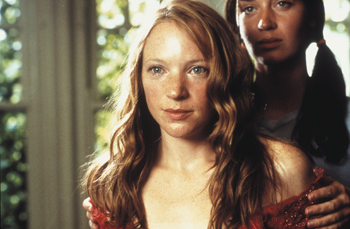 June Swoon: Natalie Press (left) falls for Emily Blunt in 'My Summer of Love.'

Swans Swimming

A trapped teen finds romance in director Pawel Pawlikowski's 'My Summer of Love'

By Richard von Busack

A GIRL NAMED Mona (Nathalie Press) is trapped in her room trying to draw a face on a rough white wall. My Summer of Love begins with this image of a girl scrawling. The film tells a simple story of how she was trapped and how she frees herself. As an immigrant, director Pawel Pawlikowski sees things in England that the locals don't. His eye for the coastal squalor in Last Resort was as sharp as Paul Theroux's was in his travelogue The Kingdom by the Sea. By chance, Pawlikowski's shoot in a village in West Yorkshire took place during the hottest summer in half a century. The heat wave lies over the film like a haze. This ordinarily rainy, remote sector thus looks close to the viney vision of rural England in Lady Chatterley's Lover.

At 17 or so, Mona is free from parental authority. Her mother is dead. Her family's pub is being converted into a storefront church by her hard-case brother, Phil (Paddy Considine), who found Jesus in jail. "He went inside, and he came out funnah," Mona says. Mona's only transportation is an engineless minibike she foot-propels like a scooter. One afternoon, she rides out to a field to daydream. On her back, Mona sees, upside-down, the girl who will be the object of her affection.

Tamsin (Emily Blunt) lives in a mansion. She is temporarily out of boarding school and staying with her troubled family. Her father cheats; he has never been the same after Tamsin's sister perished of anorexia. Her mother is on the road somewhere—it's a long story of abandonment, as upper-class tragic as that posh Olde English name Tamsin bears. The petite culture vulturette swoons over her own cello version of "The Dying Swan" by Saint-Saëns. (Tamsin names the tune after she plays it; the drama of the title is rich in her voice.)

The chemistry works hard and fast: a tough publican's daughter and this fairylike aristo. Mona wins Tamsin's favor by hurling a garden gnome through the window of her father's mistress's house. As the affair develops, it is complicated by the Christian revival in town. The parishioners at the ex-pub (also called the Swan) prepare to raise an immense cross on the local hill.

The covert lovers vs. the straights in town: that dynamic justifies Pawlikowski's title reference to 1967. So does the sequence of psychedelics taken just before a visit to a village pub. Alison Goldfrapp's music scores the pub scene; she's a sultry, trancey vocalist who hits below the garter belt. But My Summer of Love isn't an airy film, nor is it cheesecake. Pawlikowski always stays on the erotic side of prurient, from the first dab of a kiss to Mona and Tamsin sinking out of sight into the depths of summer wildflowers on a hillside. The two sharp performances by the leads contrast with the heat-struck love affair. Watch this film and decide whether it is romance at its most heady, or intellectual attraction at its most passionate.
---
My Summer of Love (R; 84 min.), directed by Pawel Pawlikowski, written by Michael Wynne and Pawlikowski, based on the book by Helen Cross, photographed by Ryszard Lenczewski and starring Natalie Press and Emily Blunt, opens Friday at selected theaters.
---
---
Send a letter to the editor about this story to letters@metronews.com.
---
[ Silicon Valley | Metroactive Home | Archives ]