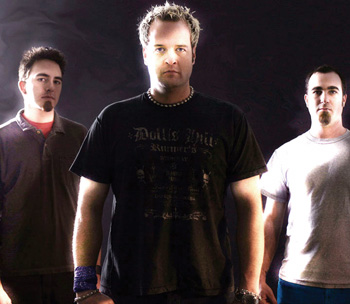 Smashing Records: Trip Device worked with Sylvia Massy Shivy who produced Tool and System of a Down.

Stay Focused

Trip Device are rockers with a master plan

By Erik Fong

PLANNING IS not rock & roll. But don't tell that to Bryan Wright, lead singer and guitarist for the TRIP DEVICE. The technology-driven hard-rock band will hit the Blank Club for a one-off show on June 28, and it's just one step in their carefully crafted master plan for world domination.

Contrary to rock forefathers like Johnny Rotten, Kurt Cobain and Elvis, the Trip Device's business plan—a long-term goal with short-term milestones to ensure constant growth—is a little more calculated, without any plans for crudeness, suicide or drug-addled obesity. "Our business plan is a different approach than most bands would take," explains Wright. "We're pretty strictly adhering to the plan so that when we do go to producers, A&R reps and labels, we're coming from a position of strength rather than ŚLove my band! It's really good!"

The Trip Device's next step on the plan is the mid-August release of the band's new 10-track CD, tentatively titled Inside I Feel. The CD, which has been in the making for two years, will feature three tracks produced by Sylvia Massy Shivy, a Grammy Award winner who has worked with such artists as Tool and System of a Down.

Winning Massy Shivy over was certainly not in their plans; it was blind luck. "Back when Steve Ratcliff was in the band," explains Wright, "he was working [sound at] a show and setting up the console, and happened to put on some rough mixes of our record to see what it sounded like." Another crew member complimented Steve on his band's music and recommended they send a demo to Massy Shivy, who then asked if she could produce some of their material.

Massy Shivy's studio—converted from an old theater—perfectly complemented the Trip Device's sound, which mixes the drive of Helmet with the ambient exploration of Stabbing Westward. Led by Wright's vocals that go from breathy to husky to bitter without warning, the Trip Device teases progressiveness without getting pretentious. The loose grooves of drummer Steve Slater switch between half-time and double-time feels with programmed beats, providing the pocket for Brian Hart's syncopated bass pop and Wright's guitar riffage.

A producer himself who spent much of the '90s working for Digitech (and confesses to being the technologically obsessed "nerdy type"), Wright learned much while under Massy Shivy's wing, implementing many of her techniques into the other seven tracks on Inside I Feel. "It's more about getting the sound and capturing the energy than perfection," explains Wright. "It's a combination of science and art. You push them together and use your ears and figure out what's going to work the best."

In addition to his time with effects-pedal manufacturer Digitech (where he wrote many of the owner's manuals in the era during which a co-worker invented "the grunge pedal"), Wright's also handled artist relations and live sound engineering, as well as corporate production management, marketing and branding—the perfect tools for promoting a band.

Despite Wright's music industry experience, his growing success with the Trip Device has not come without his share of firsts. He just secured an endorsement deal with Manne Guitars, an Italian company that endorses ex-Deep Purple bassist Glenn Hughes. The group recently took its first tour, a two-week West Coast excursion that was "rock star" by definition, complete with sex, drunken foolishness and the digital cameras to prove it. They've also hooked up with their first management company, Broken Ocean, which helped them put together the business plan that has become their holy grail. And as long as everything goes according to the plan, they'll be rich within a few pages. Trust them. It's all documented.

"I think it's on page nine," muses Wright. "There's a date in there somewhere."
---
Send a letter to the editor about this story to letters@metronews.com.
---
[ Silicon Valley | Metroactive Home | Archives ]