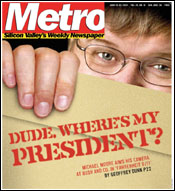 For the Week of
June 23-29, 2004
Cover Story: Dude, Where's My President?:
Michael Moore aims his camera at Bush and company in 'Fahrenheit 9/11.'
News: Invisible Men
Once a footnote to electoral history, Muslims are growing politically in America but in what direction.
The Fly: This week's political bites.
Junior's High Times: Why more kids smoke marijuana than cigarettes.



Biter: Biter loves hippies.
Techsploits: The history of the Pledge of Allegiance is one of creeping conservatism.
Rev: Customers are more likely to pay attention if you get permission to interact with them: a free sample, a contest, a survey or, yes, a milk carton to assemble.



Bite Marks: The new 'Legacy Collection' of classic 'Dracula' films proves that old monsters never die, they just go to DVD.
Eye of the Tiber: 'Facing Windows': Roman setting, roaming plot.
Quicksand: Nicholas Sparks strikes again: 'The Notebook' is '50 First Dates' for the geriatric set.



Who Are You?: Photographers, poster artists and a collector clash over copyright law.
Aural Fixation: Jewel gave a warm performance on a cold night at the Mountain Winery.



We'll Always Have Paris: Alistair Horne explains why we love the city of lights in 'The Seven Ages of Paris.'



Zucca Keeper: Big flavors and intimate atmosphere turn the focus on Zucca.



No Walk in The Park: Dense 'Arcadia' at TheatreWorks tackles thorny subjects in two eras.
Celebrating Chopin: Dance and romance dominate Margaret Wingrove Dance Company program.



Please don't forget to write! Metro welcomes letters. Like any great work of art, they should be originals — not copies of letters sent elsewhere. Include address and daytime phone (for verification purposes only). Letters may be edited for length and clarity or to correct factual inaccuracies known to us. Postal: Metro Letters, 550 S. First. St., San Jose, CA 95111. Fax: 408/298-0602. . Emailers, please include name, city of residence and phone number. Letters printed will list email address unless otherwise specified. Letters to the editor are not currently published in the online version of this paper.