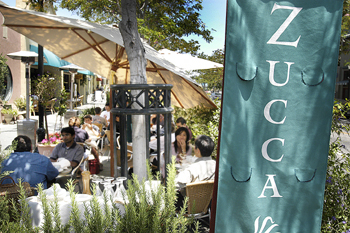 Photograph by Charlie Nucci

The Umbrellas of Zucca: With its sidewalk seating, Zucca gives off a Mediterranean air.

Zucca Keeper

Big flavors and intimate atmosphere turn the focus on Zucca

By Joseph Izzo Jr.

TUCKED LIKE a blanket between Asian restaurants along Mountain View's celebrated Castro Street is a little piece of the Mediterranean called Zucca. We spotted it not by its sign but by the linen-covered tables along the sidewalk out front. It was a warm night, and each table was fully engaged with patrons drinking champagne over plates of fresh tapas. The summer currents in the air and a rising moon further enhanced the Old World sensuality of the scene.

I've wanted to visit Zucca since I first read it described in a letter as an "intimate cafe awakening memories of Europe." We really did feel swept away, to a place where time slows, the air is delicious and a simple meal can last all night.

Zucca's bar is the gateway to this fantasy, with its cushioned stools and twinkling bottles arranged in tidy rows. Many customers like to sit here, have a cocktail and watch people stroll down Castro through the tall street-side windows. Our table offered us a similar view of the outside activities, but under lighting more muted and appropriate for our dining purposes. We enjoyed the atmosphere with its understated touches of elegance warmed by the buttery hues of the walls.

Zucca's menu offers a wide variety of dishes that appeal to the casual as well as the serious diner. For something light, especially before a show, a menu of small plates or tapas is inserted into the regular menu. Many of these items are based on Turkish and Arabic recipes, made from fresh ingredients and presented in colorful displays. We had a Turkish mezze ($15.95) of grilled eggplant with garlic yogurt, grape leaves stuffed with pine nuts, rice and raisins, ewe's milk cheese with Kalamata olives, cracked wheat with tomato, parsley and chile peppers, and the Turkish perennial of spicy tomatoes and red peppers served as a pulpy spread for grilled pita seasoned with oregano and sea salt.

We then ordered a second round of appetizers from the regular menu. While still noshing the remnants of our Turkish mezze, we received a generous portion of lamb kofte ($8), another Turkish specialty, consisting of ground meatballs broiled juicy and served with garlic yogurt as a condiment, plus spicy Spanish shrimp ($8.50) in a sturdy butter sauce flavored delicately with garlic.

Our favorite entree of the night was the Spanish paella ($17.95), a saffron-infused rice dish steeped with the juices from clams, mussels and chunks of sausage. Some of us thought the Kurobuta pork prime rib chop ($18.95) was a little overcooked. I did agree that the meat was dry on the outer edges of the chop, but thought it more succulent closer to the bone. Caper mashed potatoes and a ratatouille of seasonal vegetables proved adequate complements. We were disappointed with the small portion of meat served with our nicely aged Angus hanger steak ($19.95), arranged in slices over mashed potatoes.

The seafood selection proved complicated as well: large scallops ($16.50), four in number, stood like giant corks in a bright red sauce made with beets. On its own, the sauce had good consistency and true beet flavor. It just didn't work with the shellfish--it muddled rather than enhanced the flavor.

Desserts were served on a three-tiered apparatus that made it convenient to reach each confection from all corners of the table. The crowning glory was the Sicilian cassata ($6.95) of sponge cake layered with chocolate, ricotta cheese and candied fruits. The baklava ($6.95) was sweet beyond words.

The servers at Zucca were pros. Our waiter, a handsome fellow from Istanbul, managed our table with a graceful hand and pleasant temperament.

Zucca brings both the taste and the atmosphere of the Mediterranean to ethnically diverse Castro Street. It fits well into the scheme envisioned by those who set out to revitalize downtown Mountain View.
---
Zucca Ristorante
Address: 186 Castro St., Mountain View
Phone: 650.864.9940
Hours: Lunch 11am-2:30pm daily; dinner 4:30-10:30pm daily
Cuisine: Mediterranean
Price Range: $5-$35 (prix fixe dinner)
---
---
Send a letter to the editor about this story to letters@metronews.com.
---
[ Silicon Valley | Metroactive Home | Archives ]