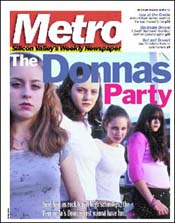 For the Week of
June 24-30, 1999
Cover: Brave New Girls
As the Donnas prepare for their second European tour, they're shaking off the ghosts of their Palo Alto past and the stigma of being young and cute and female in the world of rock & roll.
News: Cross to Bear
In an era of Bible-thumping homophobia, gay Christians are flocking to churches where their sexual orientation is not considered a sin.
Saratoga: Brewing dispute with Starbucks ends on agreement with neighbors.

Los Gatos: An arbitrator resolves El Gato Penthouse price-hike dispute.

Willow Glen: Vandals rip rock garden stones from Booksin, but not for long.
Public Eye: Councilman Manny Diaz won't take Honda for a ride.

Spurring Change: Fairgrounds sport a rodeo with a little kick.






Summer in the Air: San Jose bands Stunt Monkey and Smash Mouth shine in sun at Live 105's BFD.
No Smoke and Mirrors: Willie Nelson plays old favorites with refreshing honesty at Villa Montalvo.
On the Road Again: Pavement's new 'Terror Twilight,' is far more coherent than its recent albums.
Spawn's Early Light: San Jose's Salmon returns for second go-round.
The Duke's Century: The Stanford Jazz Workshop kicks off its summer with a celebration of Duke Ellington.
Aural Fixation: Polly Esther's plans club at Studio Theater.
Audiofile: Review of the latest CD by SECURITY.



Whatever Lola Wants: Tom Tykwer's 'Run Lola Run' mixes Hong Kong action with European philosophy.
Country Mice: Small-towners give big-city slickers a lesson in 'Desert Blue.'
Hollywood & Vine: Disney soars on animation, flops on music in new 'Tarzan' adventure.
Moore Isn't Less: 'An Ideal Husband' isn't an ideal movie--but, hey, it does have Julianne Moore.



Grotto Escape: Reviewer Joe Izzo extolls the flavors and ambiance of the Marina Seafood Grotto in Alviso, one of the last great places to leave Silicon Valley behind.



Starshine Age: The '60s live again in City Lights' 'Hair.'



Please don't forget to write! Metro welcomes letters. Like any great work of art, they should be originals -- not copies of letters sent elsewhere. Include address and daytime phone (for verification purposes only). Letters may be edited for length and clarity or to correct factual inaccuracies known to us. Postal: Metro Letters, 550 S. First. St., San Jose, CA 95111. Fax: 408/298-0602. . Emailers, please include name, city of residence and phone number. Letters printed will list email address unless otherwise specified. Letters to the editor are not currently published in the online version of this paper.