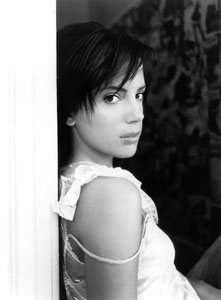 Jessica Andrews hits the Saddle Rack on Thursday.

Cowboy Up

Kenny Chesney brought his down-home hits to Shoreline Amphitheatre

By Sarah Quelland

THE PARKING LOT at Shoreline Amphitheatre was loaded with supersize pickup trucks whose windows were painted with suggestions like "Save a horse, ride a cowboy" last Friday (June 20), as California cowboys and cowgirls scooted into the Mountain View venue to catch the Señoritas and Margaritas tour, featuring Deana Carter, Keith Urban and headliner Kenny Chesney. Chesney put on a country concert with a rock & roll attitude that kicked off before he even hit the stage with AC/DC's "You Shook Me All Night Long" coursing through the speakers. At the end, Carter and Urban returned to join Chesney on a cover of John Mellencamp's "Jack and Diane," and Chesney's band finished up the night with an instrumental jam on Aerosmith's "Sweet Emotion" as the three stars signed cowboy hats, dollar bills and anything else fans offered up from the front of the stage.

Country fans are notoriously enthusiastic, on their feet screaming, clapping and singing along from start to finish. Much like, say, a Bon Jovi concert, Friday's crowd was dotted with handmade signs with messages like "Kenny, oh how I'd love to lay you down" and "We'll be your señoritas!" Country artists take care of their fans, too. Chesney's stage was bordered by two giant screens that broadcasted the concert live and helped everyone get a closer view. Behind him, a huge screen aired the same live broadcast interspersed with video footage.

Making a grand entrance by rising up from the back of the stage, a sunburned Chesney appeared wearing faded jeans and a muscle shirt that read "Laguna Luau" and was topped by his trademark outlaw-black cowboy hat pulled down low over his eyes. He proved to be a man of few words as he opened up the concert with songs from his latest hit record, No Shoes, No Shirt, No Problems ("Live Those Songs," "Young," "Big Star" and "Never Gonna Feel Like That Again"). During his new summertime hit, "No Shoes, No Shirt (No Problems)," a beach ball landed onstage, and Chesney trapped it with his boot before batting it back into the crowd. Still, it wasn't until about six songs in that he paused and introduced himself good-naturedly, saying, "My name's Kenny. We're gonna play some music for y'all if that's all right." He also promised, "We're gonna sing just about every single song off that Greatest Hits record."

Chesney went on to power through a number of his greatest hits ("Back Where I Come From," "The Good Stuff," "Don't Happen Twice" and "How Forever Feels"). "She's Got It All" merged into "Fall In Love," and "That's Why I'm Here" coasted into "I Lost It." Covers of Conway Twitty's "I'd Love to Lay You Down" and Jimmy Buffet's "Cheeseburger in Paradise" (during which Chesney's crew came out and sang in the spotlight) rounded out the set.

After exiting the stage, Chesney returned and sat down alone to sing the heartfelt ballad "I Can't Go There." Although he said it would never be released as a single, he called it his favorite song off the new record. By then, the concert was nearing its close. After about 17 songs, the lights turned John Deere green, and the rev of a diesel engine rumbled from the stage, signaling "She Thinks My Tractor's Sexy," a huge hit with the ranch set and the song that helped put Chesney over the top.

No way is Chesney the best country singer or entertainer out there, but he has a likable ability to sing down-home songs that people relate to--and it's good party music. In fact, the party continued in the parking lot after the show. While a massive traffic jam clogged Shoreline's arteries, some folks stayed parked, cranked up their radios and danced in their truck beds until the coast was clear.

GONE COUNTRY: Country music seems to be experiencing a boom in the South Bay. The Rodeo Club (at 610 Coleman Ave., San Jose) has just gone 18-plus. The King's Head Pub in Campbell has just introduced King's Country on Tuesdays with live music by Wild at Heart. And of course, the Saddle Rack is back, and Jessica Andrews headlines the Fremont club this Thursday (June 26).

PLAN AHEAD: Graveyard Farmers, June 27 at the Blank Club; Unjust, June 29 at the Gaslighter Theater in Campbell; the Forgotten, July 2 at the Edge in Palo Alto.
---
Send a letter to the editor about this story to letters@metronews.com.
---
[ Silicon Valley | Metroactive Home | Archives ]