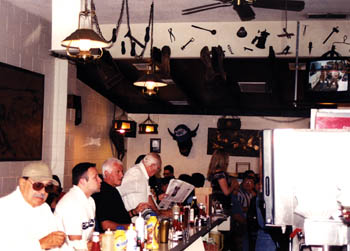 Photograph by Chris Revell

Home on the Range: Bite of Wyoming's breakfast menu centers around the charms of the buffalo.

Early to Rise

Joe Izzo scouts out two great breakfast wake-up calls for those who like to greet the dawn with food in hand

By Joesph Izzo Jr.

MY GOOD FRIEND Tony drives a '64 customized T-Bird, wears black leather coats and cowboy boots with pointed toes and claims that breakfast is served every morning at 6am in heaven. For those like Tony who like their victuals earlier than later, here are a couple to investigate.

At A Bite of Wyoming, I get the sense I'm way out West sitting in a lonesome cafe where, from the windows, I can see the prairie and the jackrabbits listening to the wind sing lullabies. When I'm here, I get a good feeling that spreads across my innards with the soft, creamy warmth of butter over whole-wheat toast.

For more than 40 years, A Bite of Wyoming hasn't changed. This fixture along Alum Rock still serves an honest breakfast at a reasonable price. The parking lot is filled with the pickup trucks of San Jose's hard working citizens, who come from hither and yon for the type of grub that jump-starts the day, launching good will among the many.

I like to take a booth and immerse myself in the warm, fragrant atmosphere, watching people eat, listening for deals on tile and bricks and automotive parts. The waitresses never miss a beat, pouring coffee strong and hot into thick mugs.

Buffalo meat remains the protein of choice. If you haven't heard, buffalo is lower in fat, cholesterol and calories than even chicken breasts. It tastes almost identical to beef but is slightly denser, most certainly heartier in flavor and no less juicy. A Buffalo sirloin with eggs ($10.25) kicks off the morning with a jolt of good protein. When the eggs are cooked over easy, the yolk mixes with the juices of the meat, the perfect sauce for soaking with toast. And if toast doesn't work, one of the favorites of this cafe is the homemade biscuits and gravy for a meager $4.75. On every visit, I see patrons in big jackets hunkered over dishes sopped to the gills with thick hot gravy and biscuits that stand about three fingers high.

I also like the Denver omelette ($7). It's flavorful and large and generously filled with fresh green peppers and diced ham that lace the fluffy eggs with distinctive flavors.

"When I eat a bagel here," says Robin Yeaman's of Saratoga Bagels, "I feel like I've eaten a bagel."

Saratoga's bagels are among the best in town, made fresh every morning in a labor-intensive process--boiled first, then baked until the circumference waxes golden and crisp. These bagels are not the faddish kind that look like inner tubes--or are inflated with air or stuffed with ungodly combinations that make no sense, some so sweet they taste like donuts. The place is a little operation run by a family of sisters who work from the early morning until the late afternoon. They know their patrons and converse with them with the familiarity of longtime friends. I like to see that corporate America has not done away with little, independently owned places like this.

The bagels are made with great integrity. New Yorkers I know who have had these bagels deem them the closet to the real deal served by the thousands in Manhattan. Each one costs 65 cents, with cream cheese $1. They're crunchy and warm but not armor-hard or difficult to eat. The teeth chime against this exterior, sinking into a soft, chewy (not doughy) interior that grabs the dentifrice and feels good all over the mouth. The perfect balance is achieved.

In the morning, I like my bagel sliced and filled with a fold of fluffy eggs topped with tomato and basil, or with pesto cream cheese ($2.25), everything melded together into a creamy, luscious breakfast sandwich. I could eat two--and have. And they're messy. I always need extra napkins. When I'm stuck on tradition, I order a warm poppy-seed bagel piled high with fresh lox ($7.50 open-face; $5.25 closed).
---
A Bite of Wyoming
Address: 2227 Alum Rock Ave., San Jose
Phone: 408.259.4819
Hours: From 5:30am Mon-Fri, 6am Sat, 7am Sun
---
---
Saratoga Bagels
Address: 12840 Saratoga-Sunnyvale Rd., Saratoga
Phone: 408.867.6834
Hours: From 6am daily
---
---
Send a letter to the editor about this story to letters@metronews.com.
---
[ Silicon Valley | Metroactive Home | Archives ]